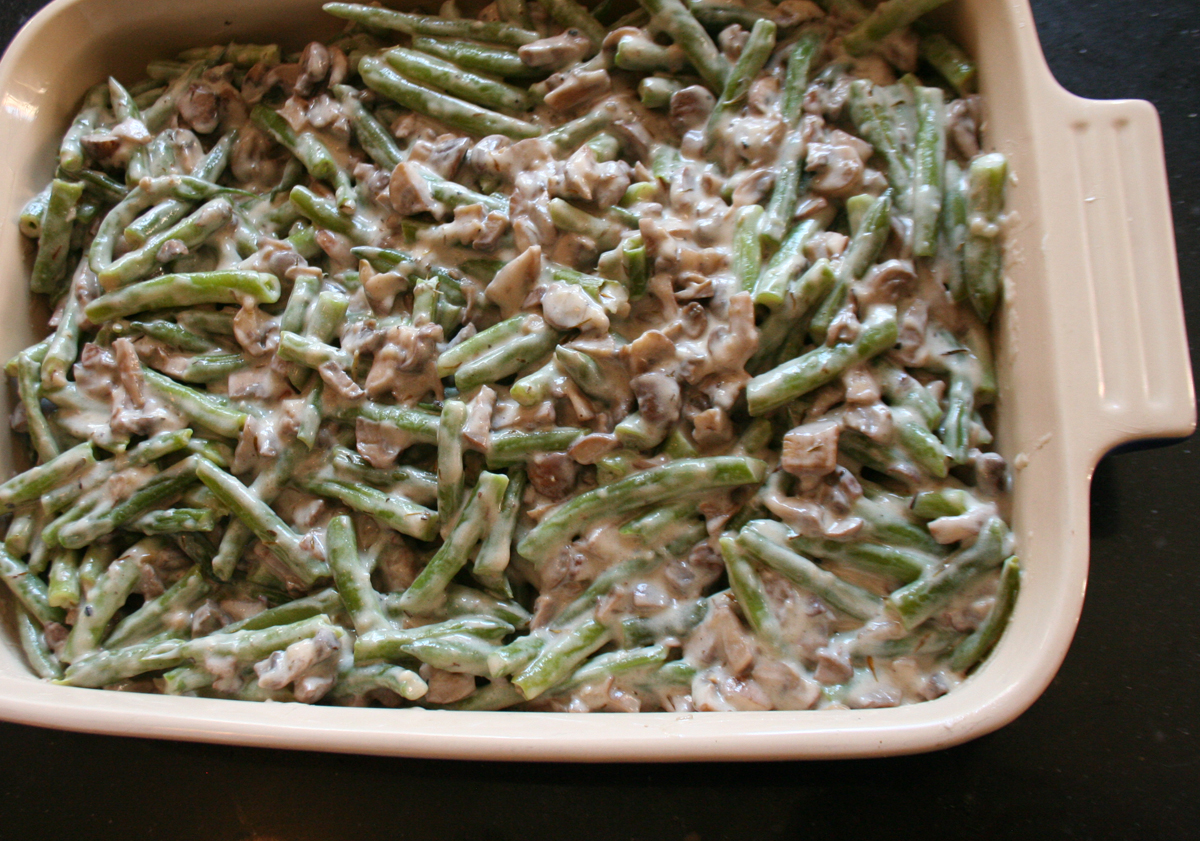 Fresh Green Bean Casserole from scratch
A holiday food tradition at our house is Green Bean Casserole. Of course, being a child of the 60's and 70's, back in the day, my Mom would open up two cans of green beans, a can of Cream of Mushroom soup, mix them together and top with canned fried onions. Four cans, a little baking time, and she was done! I guess I can't blame her for doing things the easy way, but now that I'm the cook for the holidays, I'm more than willing to trade convenience for taste. In that spirit, I've revisited that just-okay version and used fresh ingredients to make a homemade Green Bean casserole from scratch. Is it as easier? No, but it's infinitely better tasting.
If you break it down, Green Bean Casserole is just green beans, plus a creamy mushroom sauce with a crunchy onion topping. The canned green beans especially turn me off and the goopy, processed Cream of Mushroom soup leaves me cold. I have to admit that the fried onions on top are a guilty pleasure, but I'm sure that I can do better than something that has been sitting in a can on a shelf for months. If you just change the canned green beans to fresh and make a simple cream sauce with sauteed mushrooms, you're almost there. You just have to come up with a satisfying crunchy topping.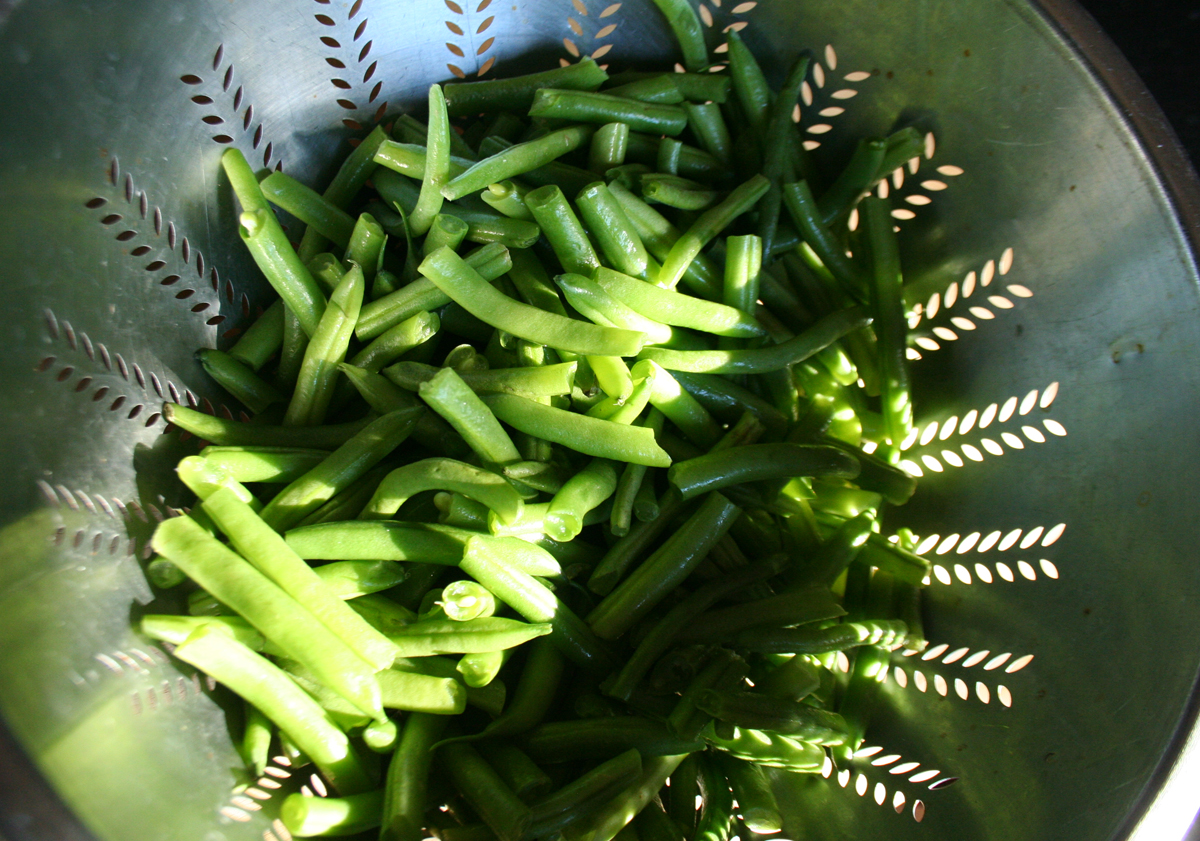 First, let's start with fresh green beans. Even in the late fall and early winter, it's possible to get really good snap green beans at the market. Then, we'll make a classic white sauce – a Bechamel sauce made from butter, flour, stock and milk. A flour gravy or white roux, in other words. Once we add the mushrooms and garlic, we'll have a mushroom cream sauce that is so much more flavorful than canned soup.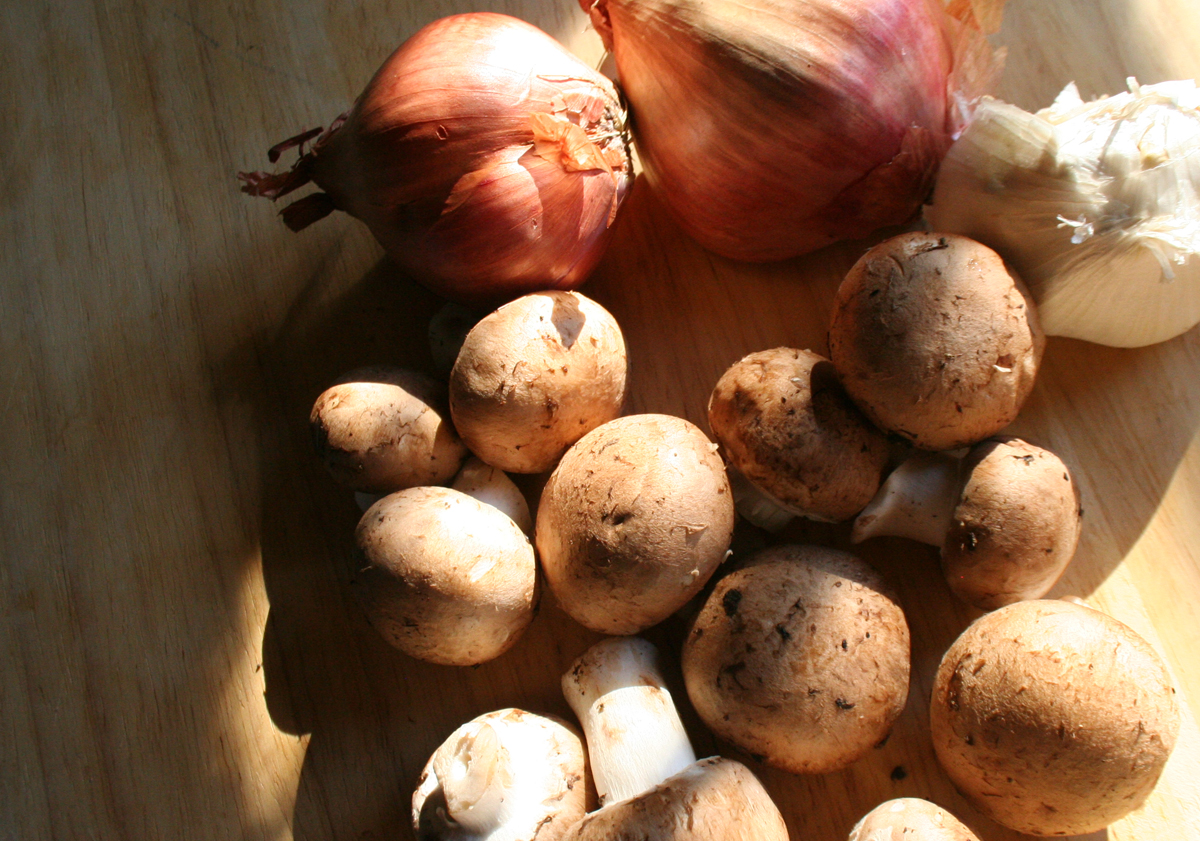 Then, we'll make the onion topping by dredging shallot, or onion slices in seasoned flour, then baking them on an oiled pan until crisp. All these elements can be made a day or two in advance and assembled and cooked the day of your big meal.
Fresh Green Bean Casserole from Scratch
1 1/2 lb. green beans, snap variety is best
Mushroom Cream Sauce
1 lb. of portabello mushrooms
1 teaspoon dry thyme (dry marjoram also works really well)
salt & pepper
3 cloves garlic, minced
5 tablespoons butter
3 tablespoons white flour
3/4 cup chicken stock
1 pint heavy cream
Casserole Topping – The Un-Fried Onions
3 large shallots (or onions), sliced thin
1/4 cup bread crumbs
1/2 cup flour
1 teaspoon seasoning salt, like Lawry's
1 tablespoon olive oil
1/2 cup grated parmesan cheese
Directions
Clean, de-stem and snap the beans. Place in a large saucepan, fitted with a steamer and with the bottom filled with water. Steam the beans until they are bright green and just tender – about 7-8 minutes. Remove from the steamer and place into a large bowl to cool while you make the mushroom cream sauce. 
Making the Mushroom Cream Sauce
Chop the mushrooms into small pieces. They should look like this…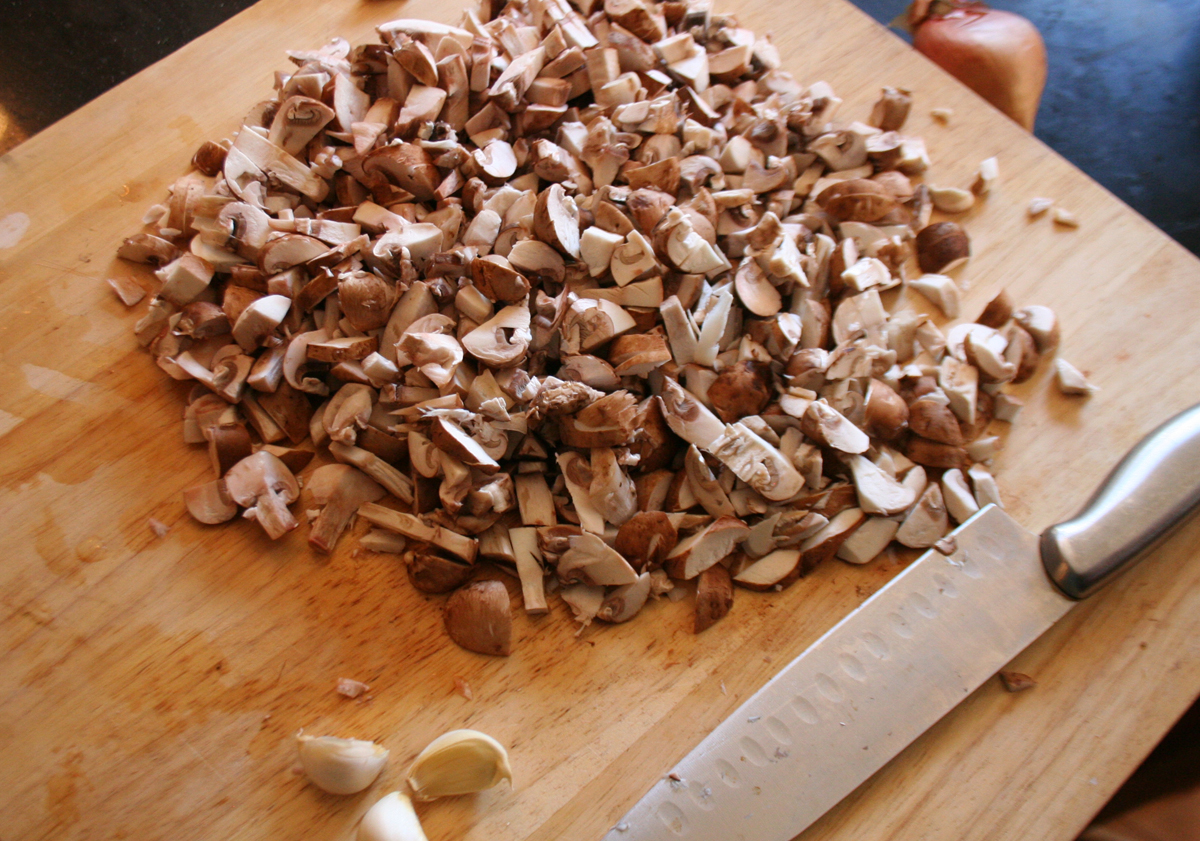 Mince the garlic and set aside.
Add 2 tablespoons of butter into a large saute pan. When the butter has melted, add the thyme and garlic. Stir and saute briefly (half a minute, tops). As soon as the garlic and thyme butter is fragrant, add the chopped mushrooms and stir to mix. 
Add salt and pepper and cook down the mushrooms until they are tender and release their juices. Put into a bowl and set aside.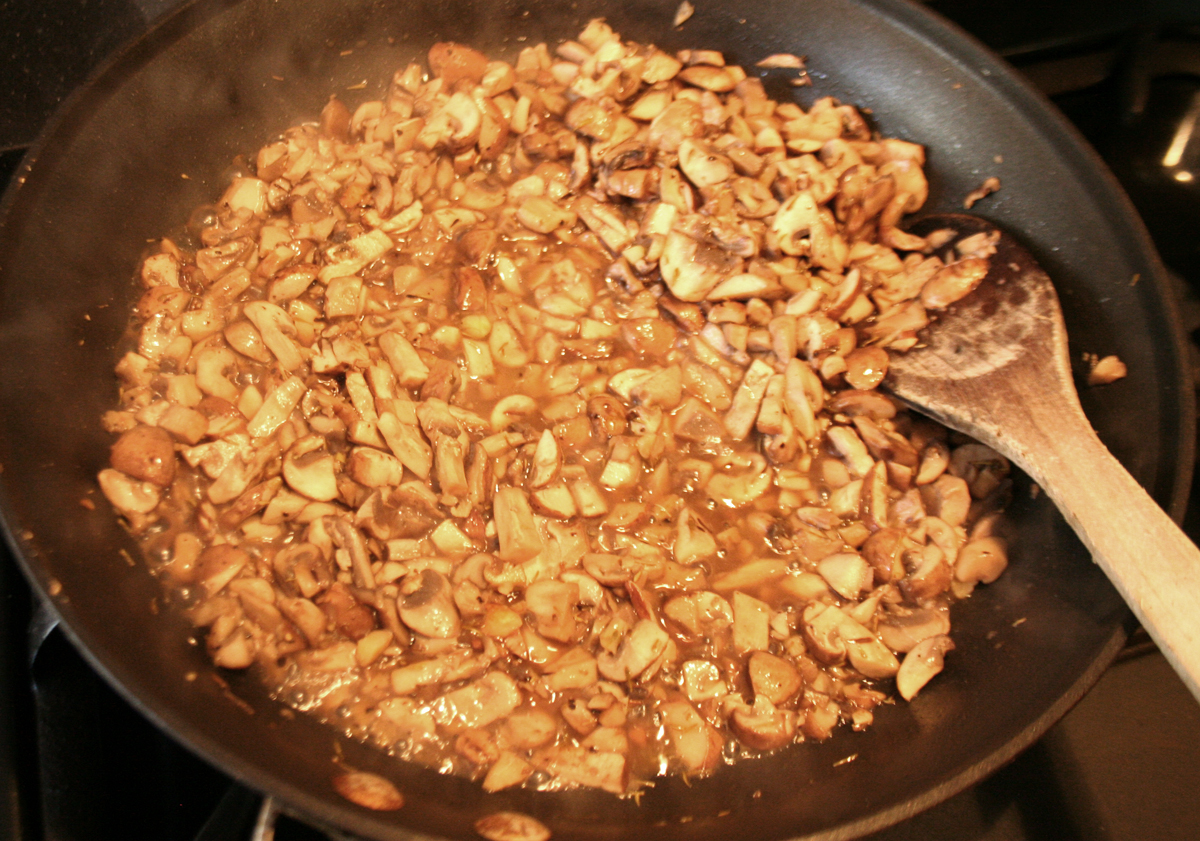 In the same pan, add 3 tablespoons of butter. When the butter melts, add 3 tablespoons of flour and begin stirring immediately. Stir to blend the flour and butter, then keep stirring while the mixture starts to turn a creamy color and gives off a nutty fragrance – about 2 minutes. As soon as it takes on the creamy color, add the chicken broth and cream. Stir to blend. It should immediately start to thicken and look like a gravy. 
Pour the Mushroom cream sauce over the green beans and mix. Spoon the mushroom/green bean mixture into a buttered 9″ x 12″ casserole dish. MAKE AHEAD NOTE: At this point, you can cover with aluminum foil and put it into the fridge overnight. The next day, pull out of the fridge about 30 minutes before you put in the oven, to bring it closer to room temperature before baking.
Making the Crunchy "Un-Fried" Onion Topping
The onion topping can also be made the day before and set aside.  
Pre-heat oven to 350 degrees. In a medium size bowl, mix the bread crumbs, flour and seasoning salt. Slice the shallots into medium-thickness rings and toss in the flour mixture until all the rings have separated and are coated with flour.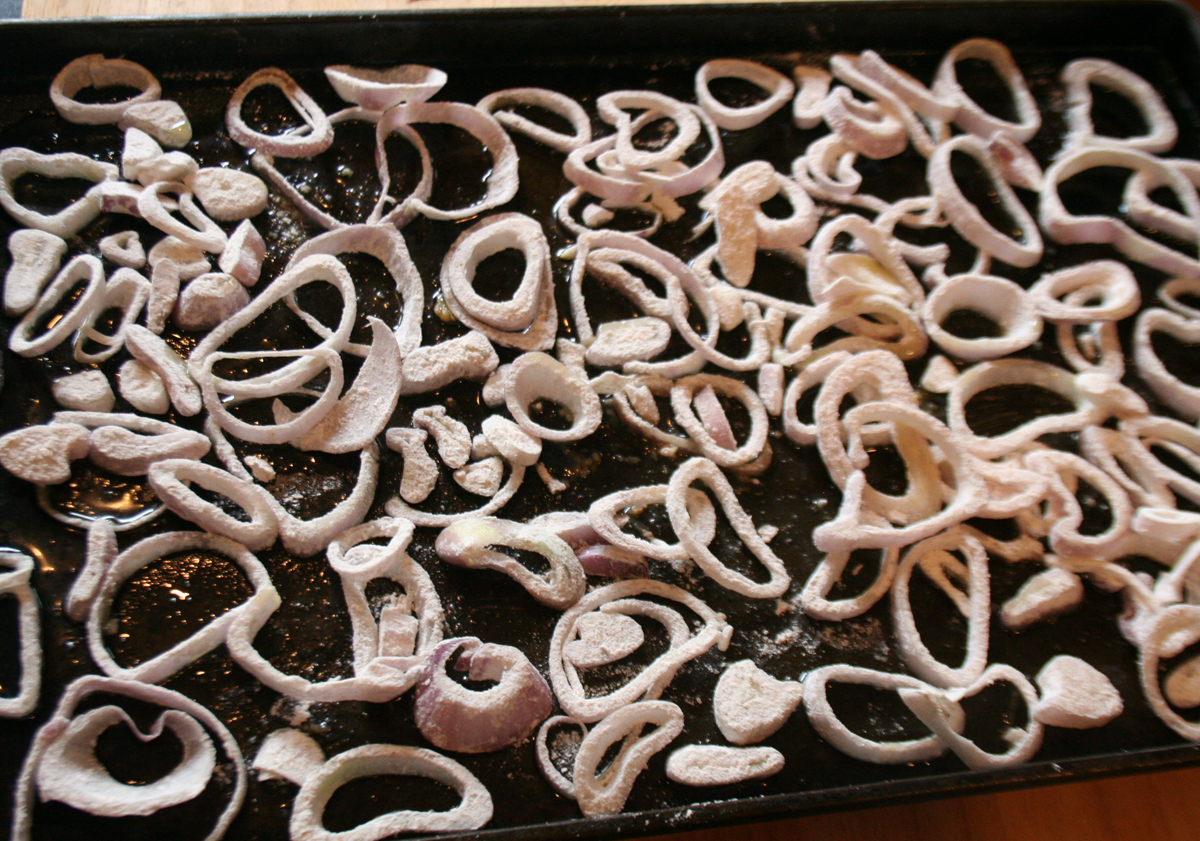 Pour a tablespoon of olive oil onto a cookie sheet. Spread the oil evenly over the sheet. Shaking off any excess flour, place the coated shallot rings on the oiled sheet. Place in the pre-heated oven. 
Watch carefully and take out after 10 minutes to stir the onions and check for doneness. Place back in the oven and give it 10-15 more minutes for the onion to brown. When they are evenly brown, remove from the oven and put aside.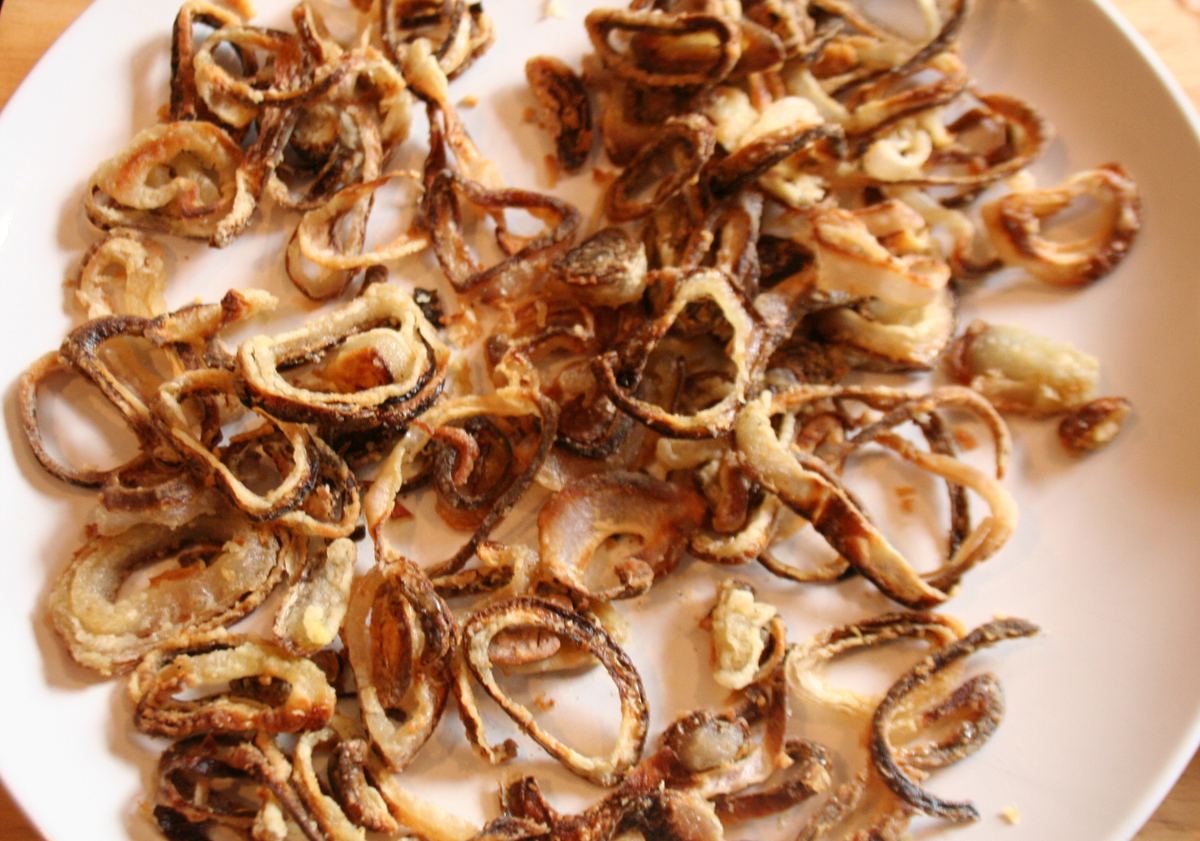 Assembling the Green Bean Casserole
In a pre-heated 350 degree oven, place the green bean-mushroom casserole WITHOUT THE TOPPING. Bake for 30 minutes until it is starting to bubble. At this point, take out of the oven and sprinkle the top with parmesan and the Crunchy Onion Topping. Place back in the oven for 5-10 more minutes, or until top is golden brown. Remove and serve.