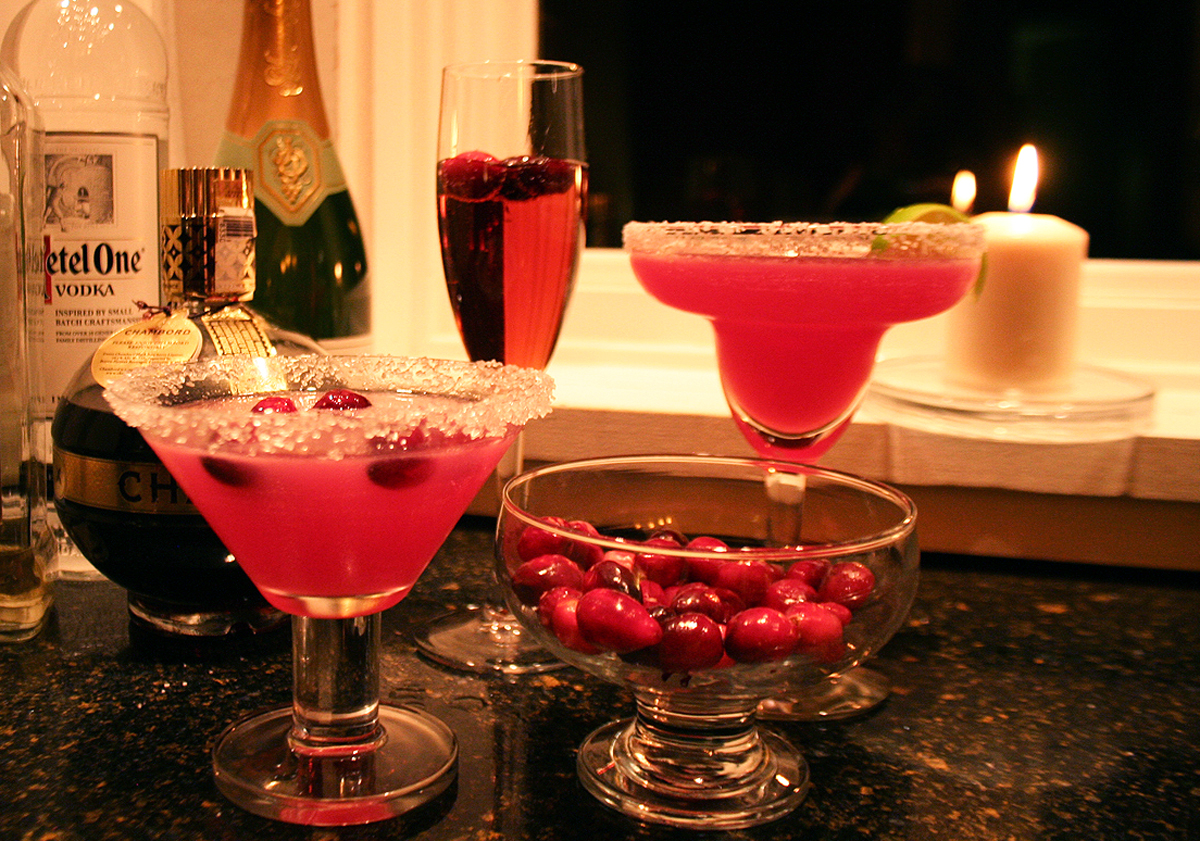 Thanksgiving Cocktails with cranberries and more
Thanksgiving Day, to me, is the best holiday of the year. It's low key. No pressure to buy presents or decorate. Just family, friends and good food. My sister and I both love to cook and hang out in the kitchen while the turkey is roasting. We divide up the cooking chores, put on some tunes and open up a bottle of wine and start chopping the onions and sage for the dressing and snapping the green beans. My sister especially loves champagne or sparkling wine, so we'll often open up a bottle of something sparkly right away. And we might just add a little something to make it more festive. If friends are around, I'll pour a fun cocktail or two. With a well-stocked liquor cabinet and some cranberry juice, you can make quite a few great Thanksgiving cocktails with cranberries and more.
Thanksgiving cocktails HAVE to include cranberries in some shape of form. And if you're going to use cranberry juice, I would recommend bypassing the sweet Cranberry Cocktail juice and just use the unsweetened 100% cranberry juice. Straight, unsweetened cranberry juice is VERY tart, but it gives you more flexibility when you're making cocktails, because it give you control over how much sweetness to add with the sweet liqueurs or simple syrups. Of course, you can certainly use Cranberry Cocktail juice, but just adjust your sweet additions to taste.
Cranberry is tart and needs sweetness to counter balance the flavor. It pairs well with most white liquors – gin, vodka, rum, tequila. If you think of the formula as white liquor + cranberry juice + a little citrus juice + something sweet (like Chambord, Cointreau, or simple syrup), you can pretty much mix and match your own cranberry-flavored cocktail drink. Here are three that I like.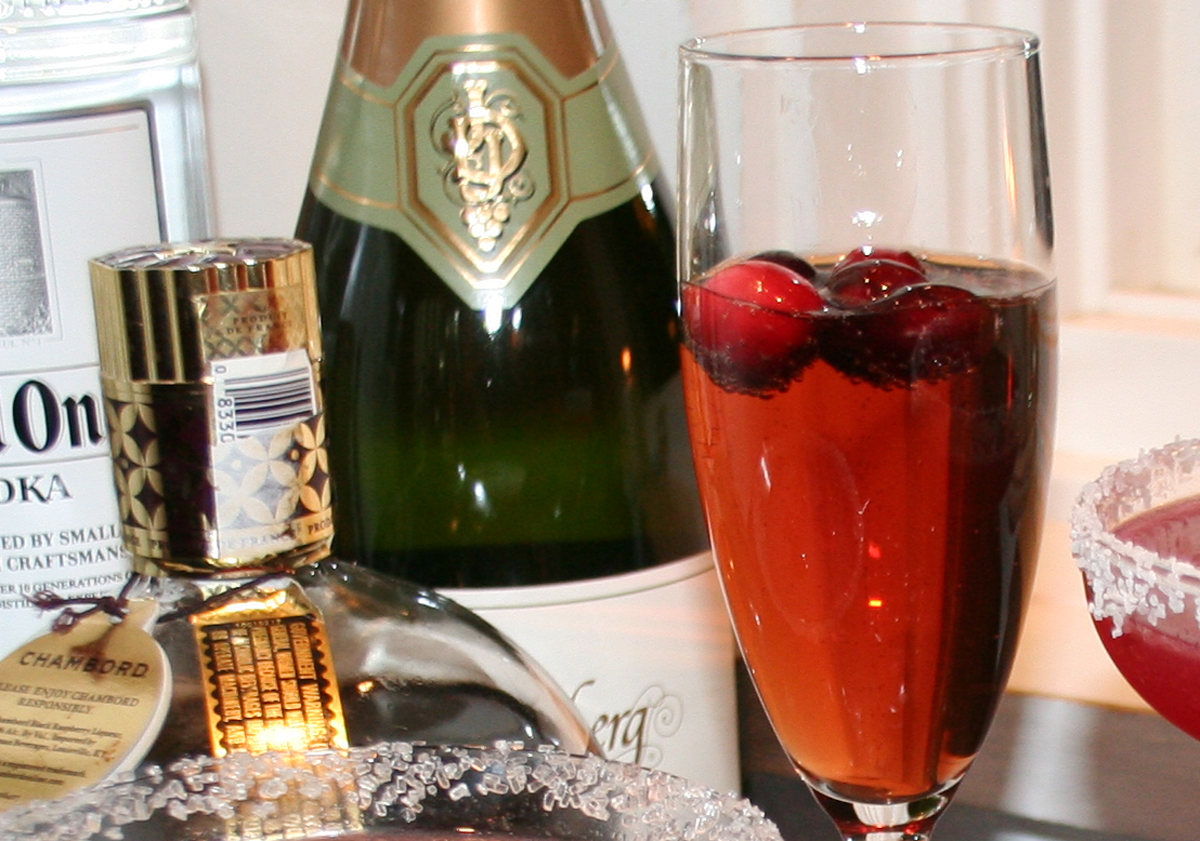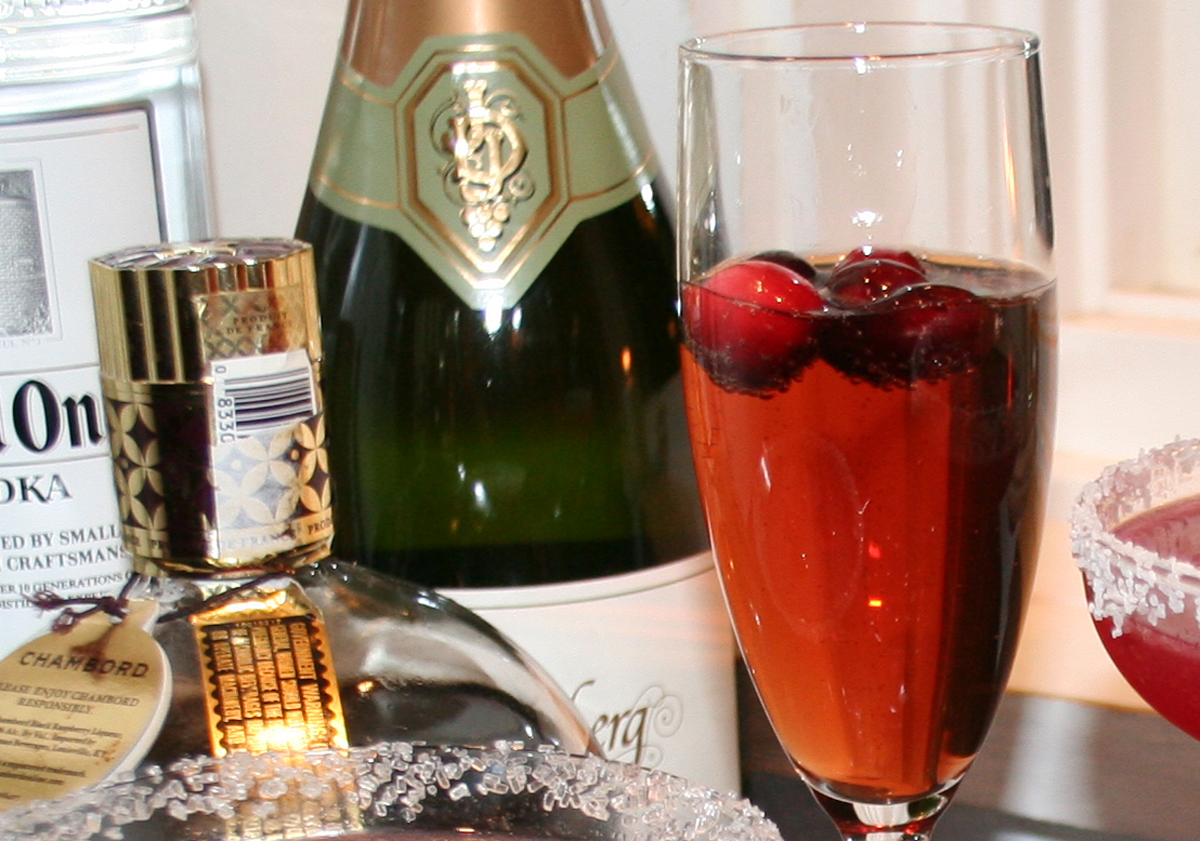 Chambord  Champagne Cocktail
This cocktail is a favorite. The champagne is light and festive and the Chambord & cranberry give it a nice sweet & tart mixture. 
1 oz. Chambord raspberry liqueur 
4 oz. sparkling wine, such as Proscecco or Champagne
1/2 oz. unsweetened cranberry juice
Pour the sparkling wine into a champagne flute. Over that, pour the Chambord and the cranberry juice. Garnish with fresh, whole cranberries.
Before a really big meal, I just want to whet my appetite, not spoil it. So, I usually just stick to wine and lighter cocktails.  But if your in-laws are being particularly trying or you've had it up to here with tv commercials for Black Friday doorbusters, maybe it's okay to make that drink a little bit stiffer. If you want a REAL cocktail, enjoy a Thanksgiving-themed Cosmopoitan or Margarita.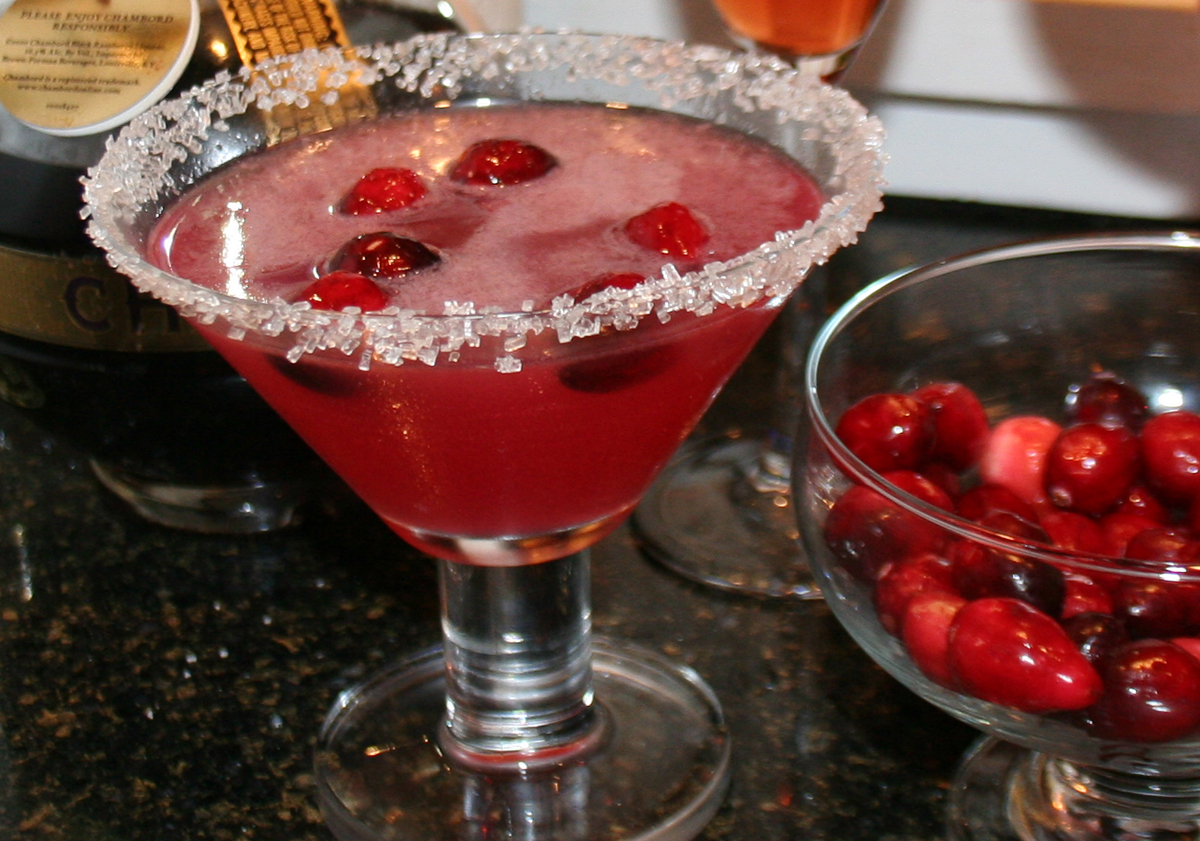 The Cosmopolitan Cocktail, or Cranberry Cosmo
The Cosmo is a classic cranberry & vodka cocktail. An older version from the 1930's actually uses gin instead of vodka, so that is definitely an option. Using a citrus-flavored vodka is a very popular version.
1 1/2 oz. vodka (you can use Citron vodka)
1/2 oz. Cointreau
1/2 oz. fresh lime juice
1 oz. cranberry juice
Shake all the ingredients in a cocktail shaker filled with ice. Pour into a cocktail glass with a sugar rim and garnish with fresh cranberries and a lemon twist.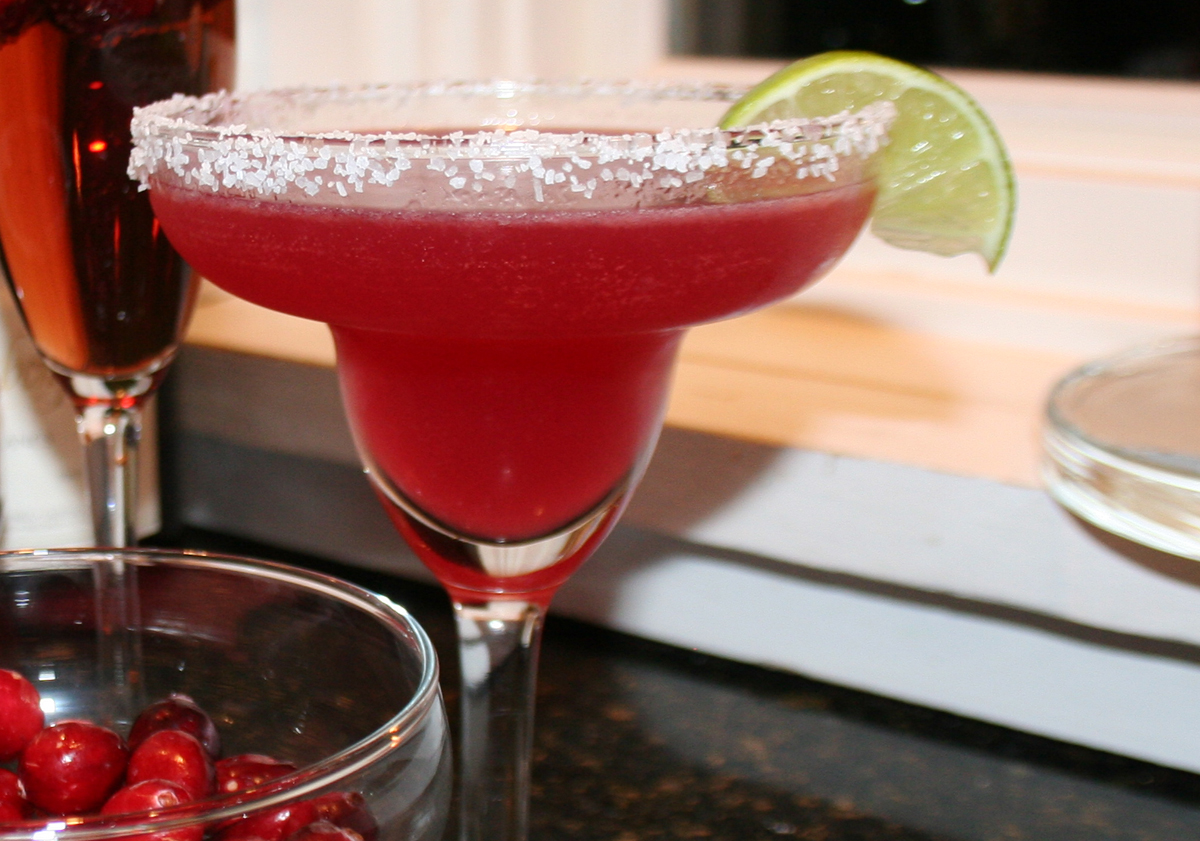 Cranberry Margarita
2 oz. silver tequila
1 oz. unsweetened cranberry juice
1 oz. fresh lime juice
1 oz. Cointreau, or other orange liqueur
1 teaspoon agave nectar
Shake all the ingredients in a cocktail shaker filled with ice. Pour into a margarita glass with a salted rim and  a slice of lime.
Autumn Pear Sidecar cocktail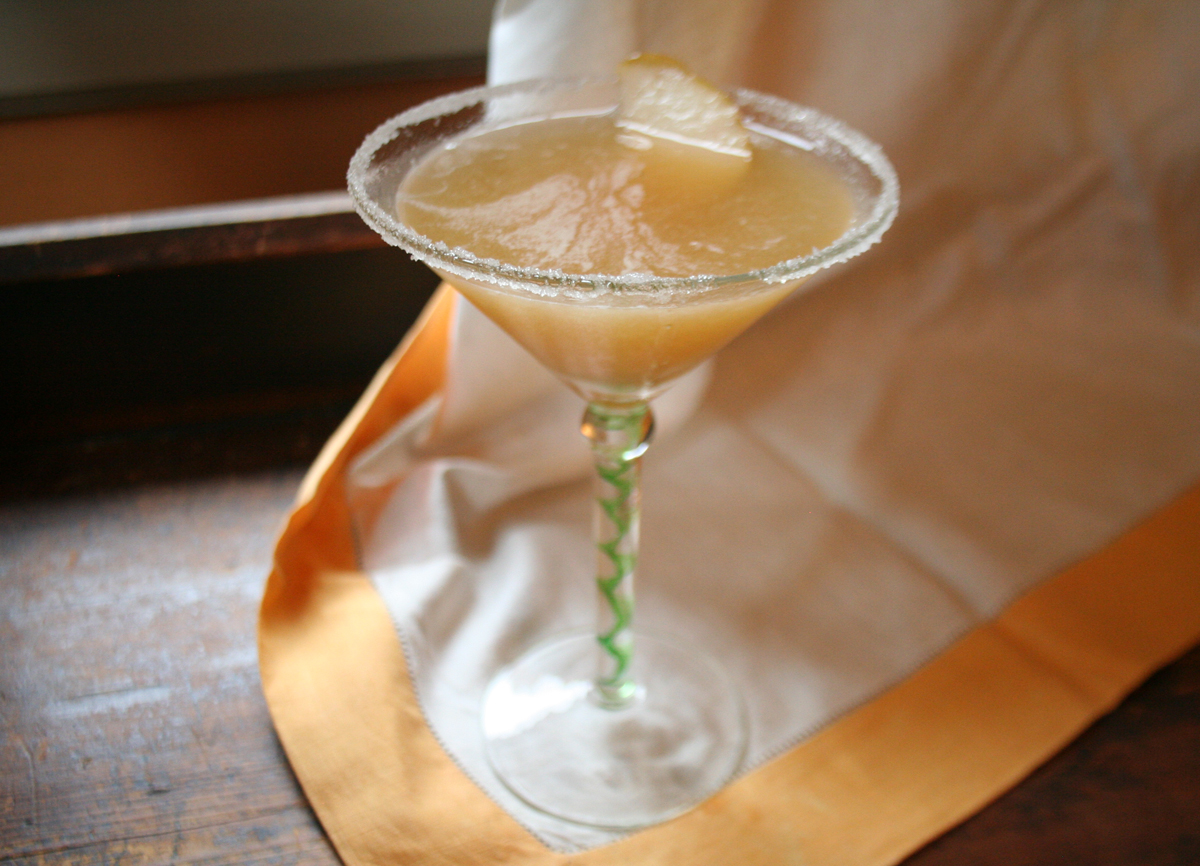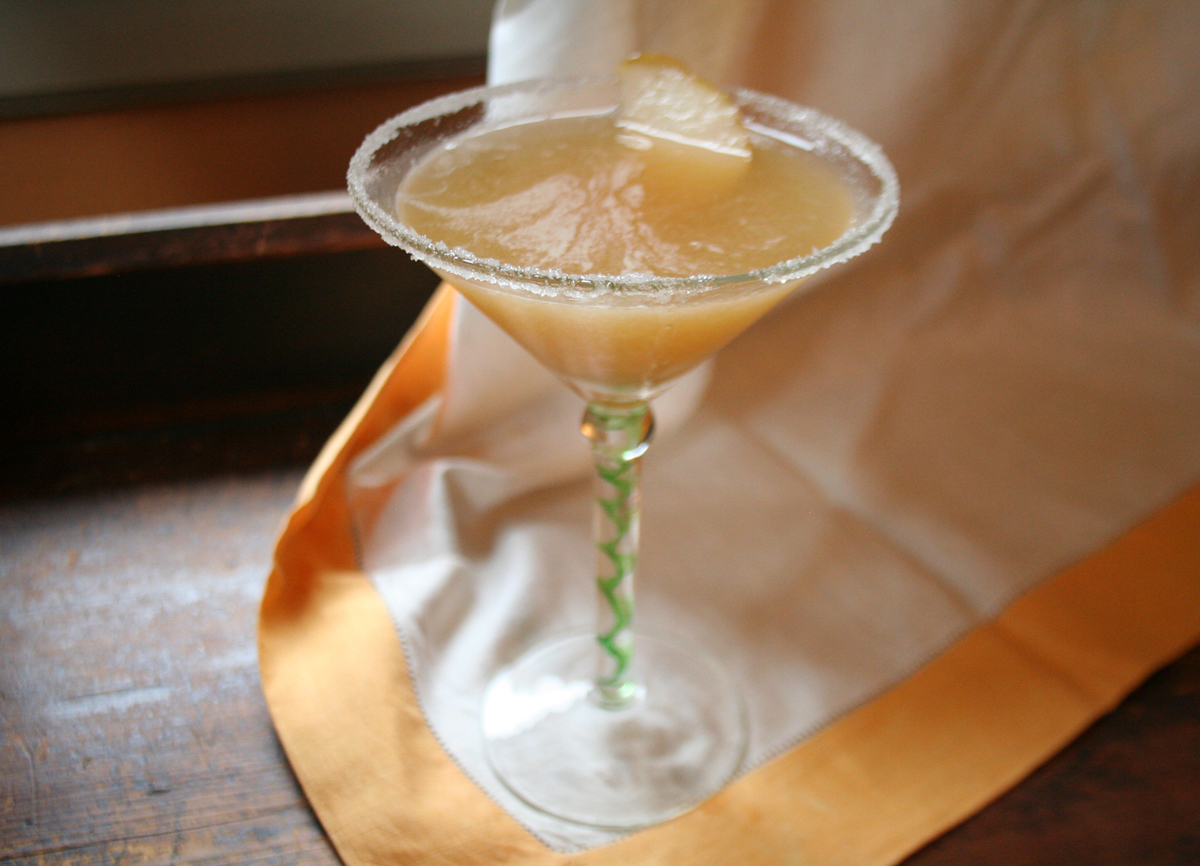 Another fall cocktail that is appropriate for Thanksgiving is the Autumn Pear Sidecar Cocktail, which I posted earlier. Follow this link to the recipe.
***