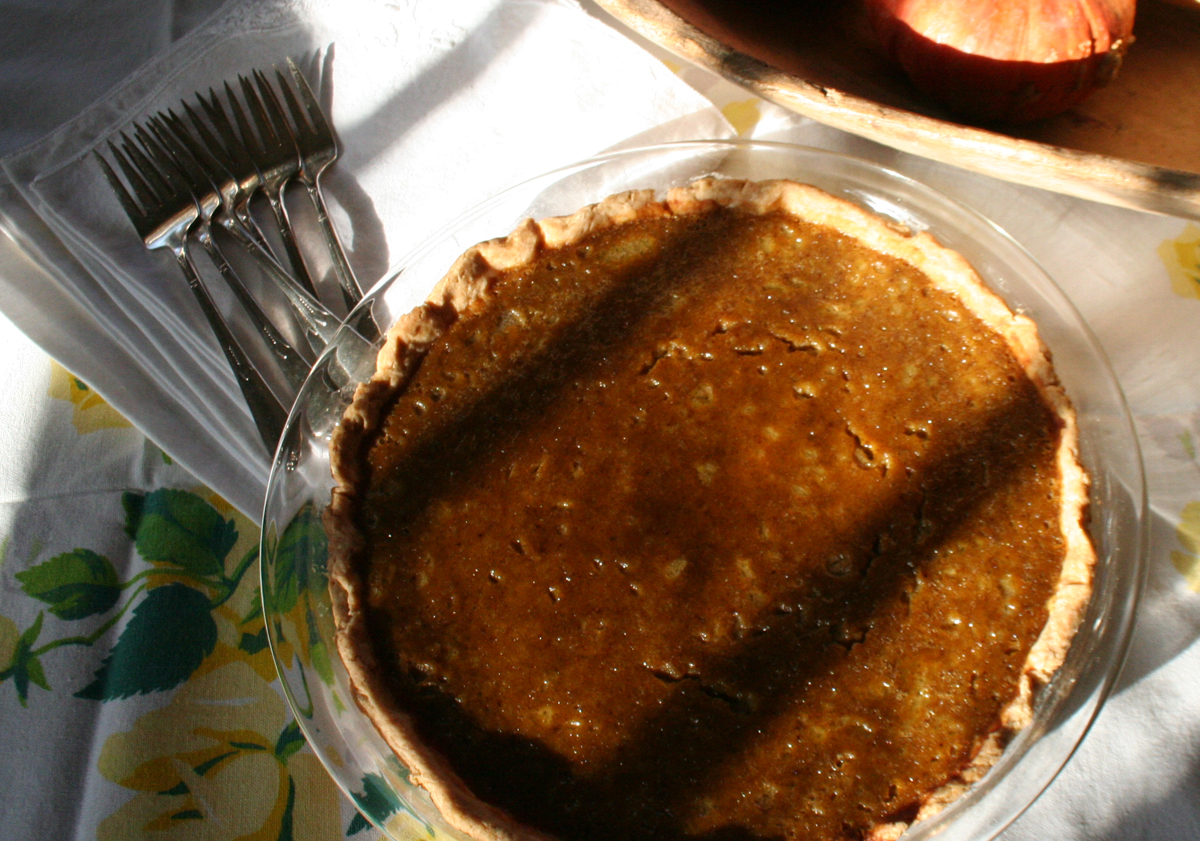 Thanksgiving is in a couple of weeks and I'm already starting to plan for the annual feast. If your family is like ours, then the Thanksgiving holiday is a time when you put aside new recipes and return to traditional food favorites and guilty pleasures. Even though I love the turkey and the sides, the dessert is what I most look forward to. Pecan and Pumpkin pies are always a part of our holiday meals. Here is step-by-step recipe to make your pumpkin pie from scratch, starting with roasting your pumpkin and finishing with a whole wheat crust.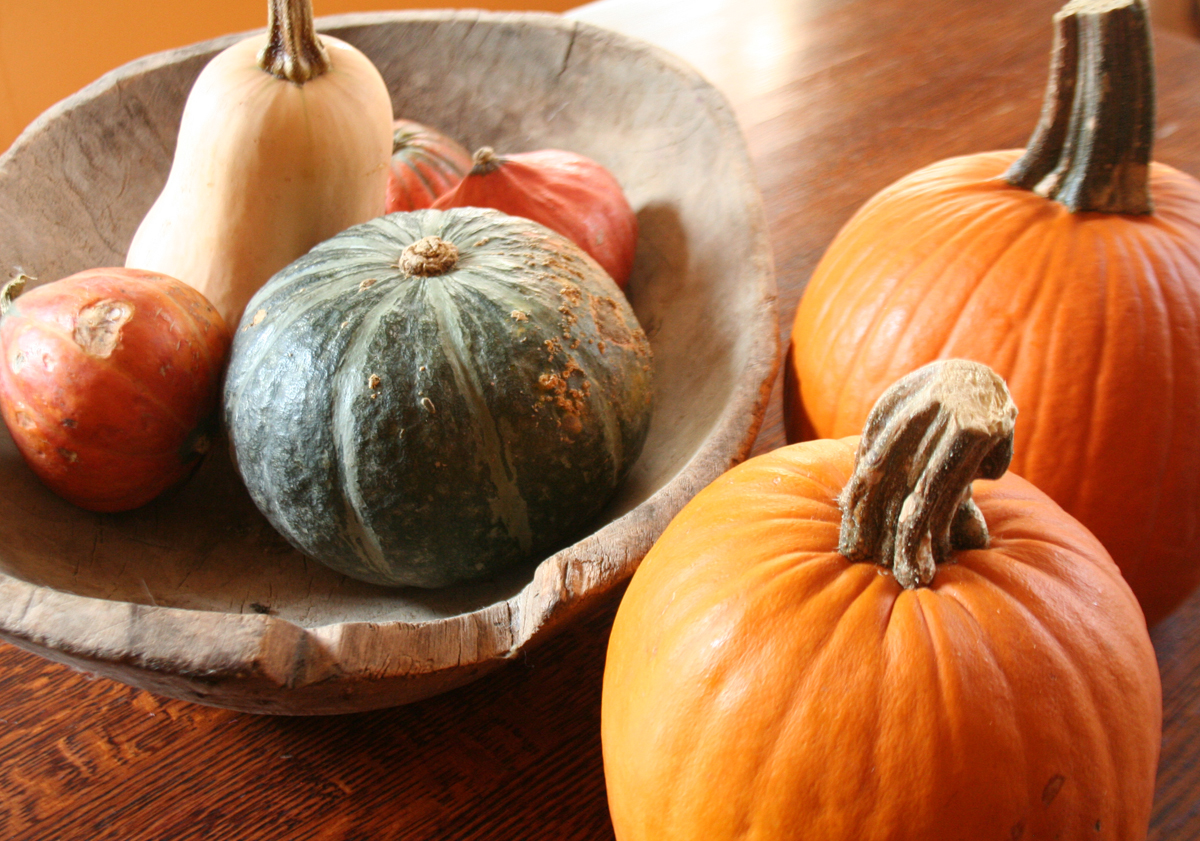 Winter squash types for pies, including pumpkin
If you came home from the pumpkin patch in October with a car-load of ornamental winter squashes, chances are that you can use all of them to make a pie. Besides pumpkins, you can use Hubbard, Butternut, Kabucha, Acorn and Cinderella winter squashes in a pie. What you want is a squash with a deep orange color and a sweet, smooth texture. Ironically, the big pumpkins that you carve for Jack-O-Lanterns are not really the best choice for a pie. They are not bred for taste and they have a stringy texture. For pie pumpkins, stick to the sweet sugar pie pumpkins.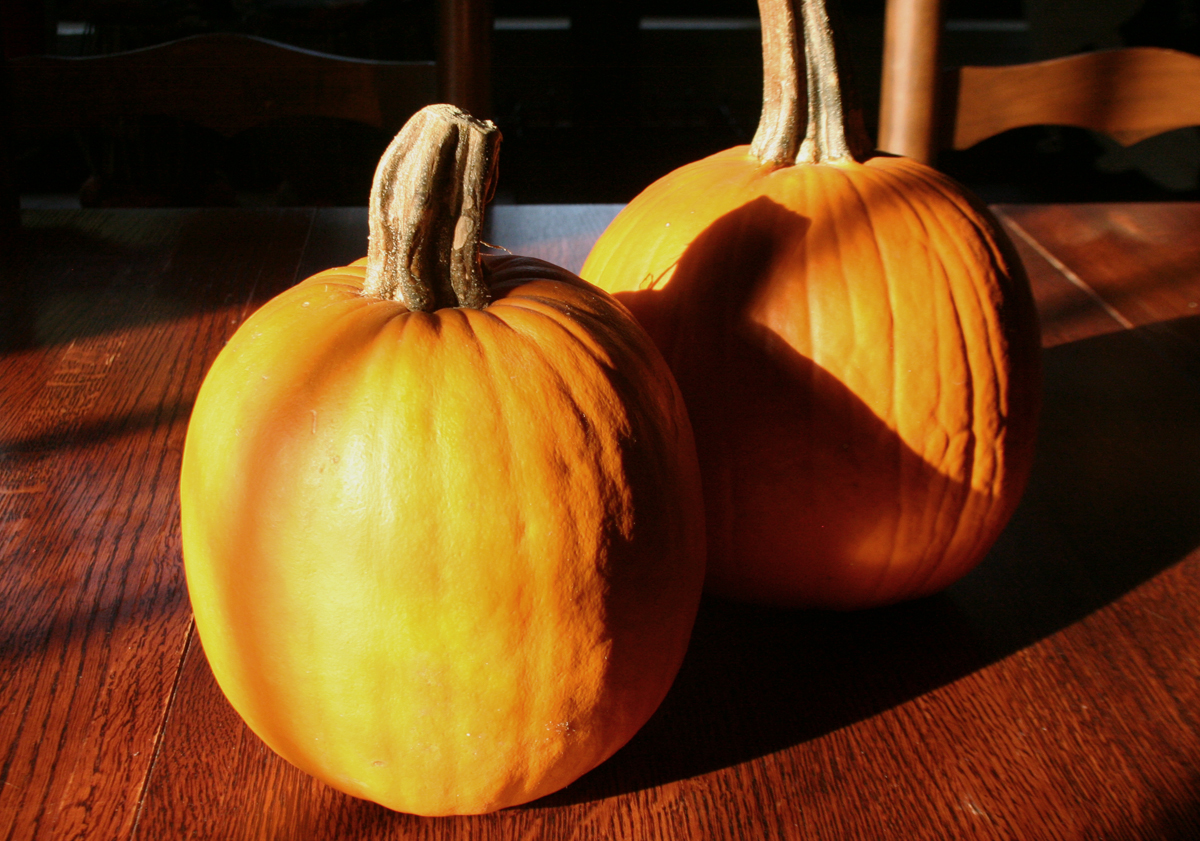 Pumpkin Pie from Scratch
For this recipe, we'll use a small sugar pie pumpkin.
A small sugar pie pumpkin can be anywhere in size from 1 to 4 lbs. My pumpkin was 3 lbs. before roasting. After roasting, I scooped out close to 4 cups of pumpkin puree. That is enough for two pies. For comparison, I also roasted two small golden nugget winter squash, which together weighed 1.3 lbs. before roasting. They yielded about a little more than a cup of puree. That's a good amount for a squash soup.
Roast the Pumpkin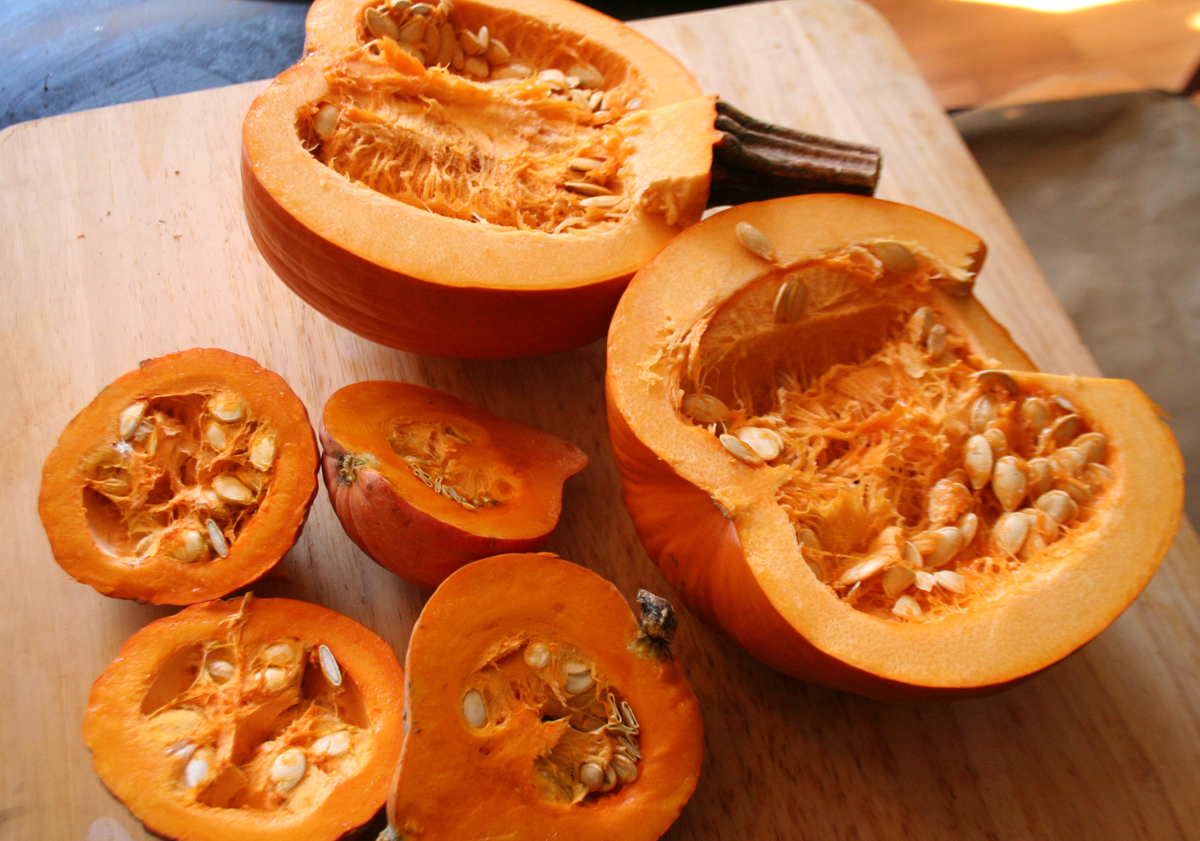 Slice the pumpkin in half and cut out the stem. Scoop out the seeds and strings in the middle. I always save my pumpkin seeds and toast them in the oven for 20-25 minutes in a 350 degree oven with a bit of canola oil and salt. Yummy!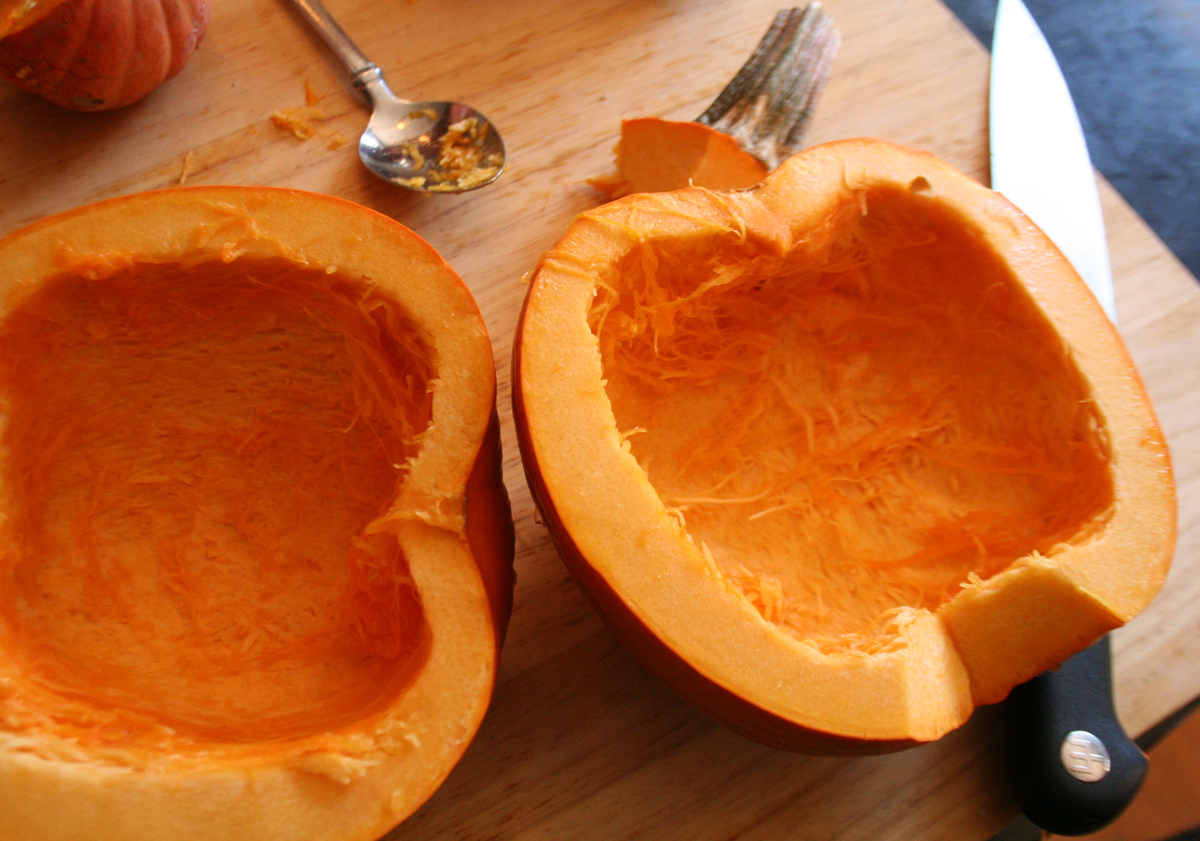 Place your pumpkin halves on a cookie sheet lined with parchment and place in a pre-heated 375 degree oven. Bake for 40 minutes, or until they are tender enough where you can press the tops down easily with your finger. Remove from oven and let cool. When it is cool enough to handle, scoop out the pumpkin flesh with large spoon and put it aside in a bowl. You can puree in a food processor or just use a potato masher or an immersion blender to get it to a smooth consistency.
Make-Ahead Note: pumpkin puree will keep in the fridge for a week or in the freezer for about 3 months. I keep pumpkin puree in the freezer all winter to use in soups, pies and pasta dishes.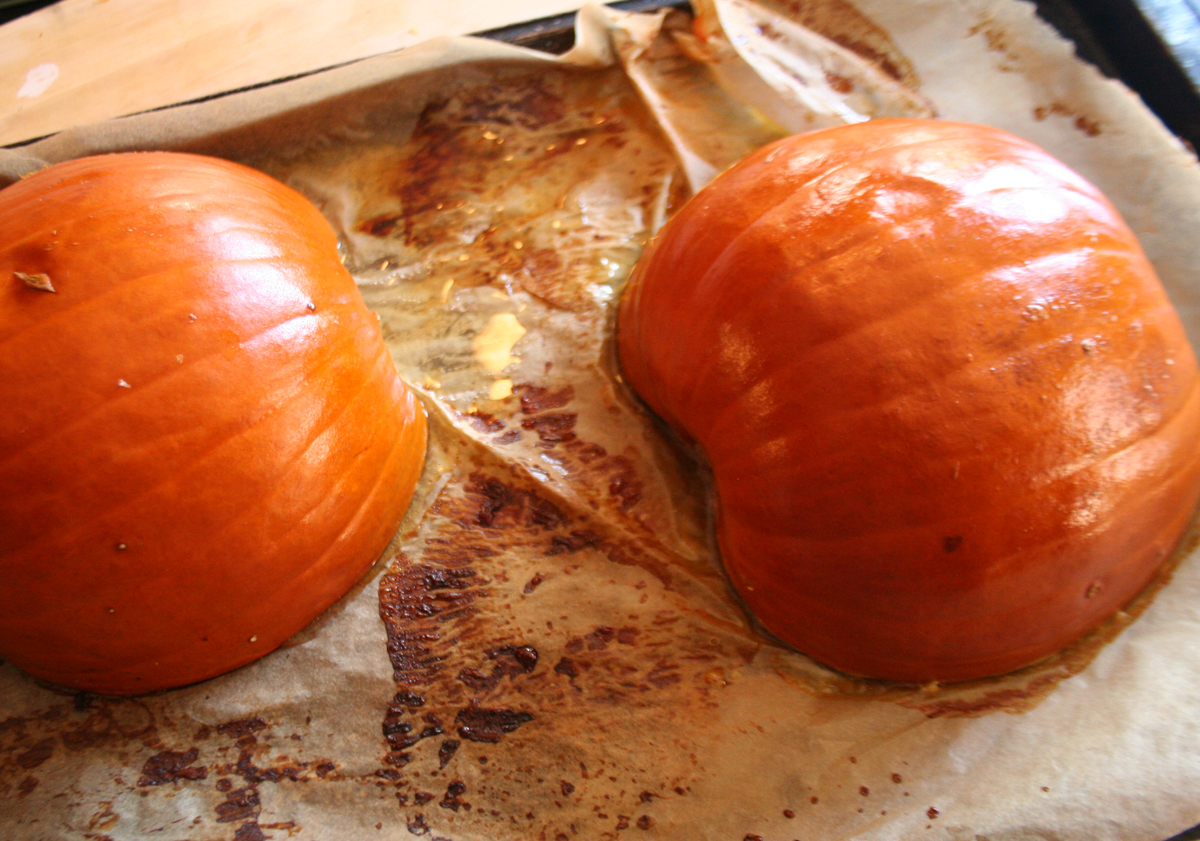 When you have your pumpkin puree finished, you can start your pie…
Pumpkin Pie Recipe
2 cups pumpkin puree (or 1-15 oz. can of pumpkin puree, NOT the Pumpkin Pie filling)
1 teaspoon ground cinnamon
1 teaspoon ground ginger
1/2 teaspoon ground allspice
1/4 teaspoon ground cloves
1/8 teaspoon freshly-ground nutmeg
1/2 teaspoon salt
3 tablespoons butter, melted
1/4 cup sorghum molasses (you can also use maple syrup instead)
1/4 cup sugar
3 large eggs
3/4 cup heavy whipping cream
whipped cream for topping
1 pre-baked pie crust (click here for my basic pie crust recipes)
Pre-baking your Crust with Pie Weights
If you want to avoid a soggy crust, you should pre-bake your pie crust. But, here's a warning! If you DO pre-bake your crust, you want to avoid a common disaster. If you bake a crust without a filling, the sides will shrink down and the center will puff up. I know this from experience and it's really discouraging. You can still use the deformed crust (it will still taste good), but it won't be the pretty crust that you wanted. To keep the dough in place while it bakes, you will need to weigh it down while you pre-bake it. 
Remove your pie dough from the fridge to warm up a little bit. After about 10-15 minutes, put the dough onto a floured surface and dust the top with flour. Roll it out into an 10-11 inch circle using a rolling pin.  Place the dough into your pie pan and press it to the edge all the way around. Tuck any overhanging dough underneath itself and press to flute the edges.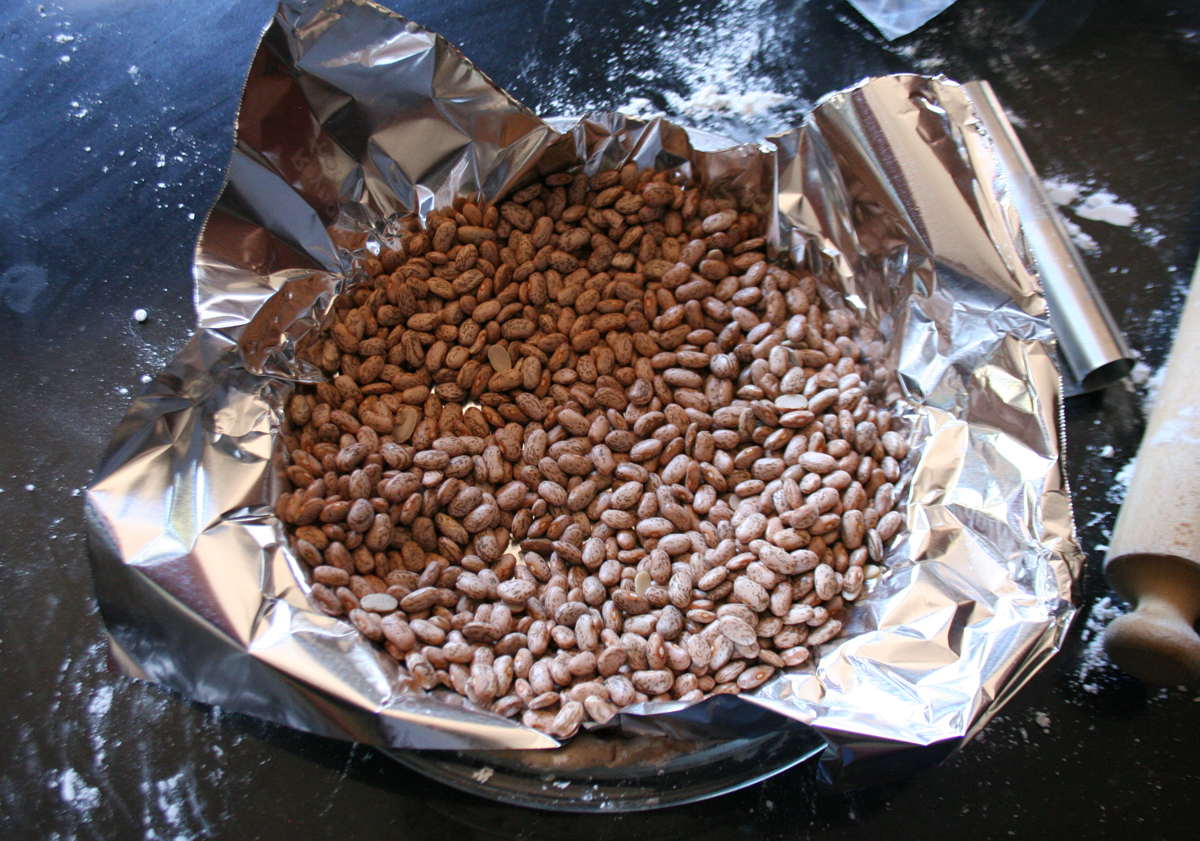 Pre-heat your oven to 350 degrees.  Place a sheet of non-stick aluminum foil down on the bottom of the crust (non-stick side facing the dough). For your pie weights, use a small bag full of dry beans on top of the foil. You will have to discard the beans afterwards. You can also use pennies and loose change as pie weights, as long as you don't let them touch you crust! The advantage of using coins is you don't waste food. Bank the bean (or coins) up against the sides of the crust and cover the bottom. Bake until the crust turns a light brown, about 15 minutes. Remove from the oven. Leave the pie weights and foil in the crust until you are ready to fill. NOTE: once you use the beans as pie weights, you really can't use them to cook with them, but you CAN put them into a ziplok bag and use them again for pie weights.
Making the Pumpkin Pie Filling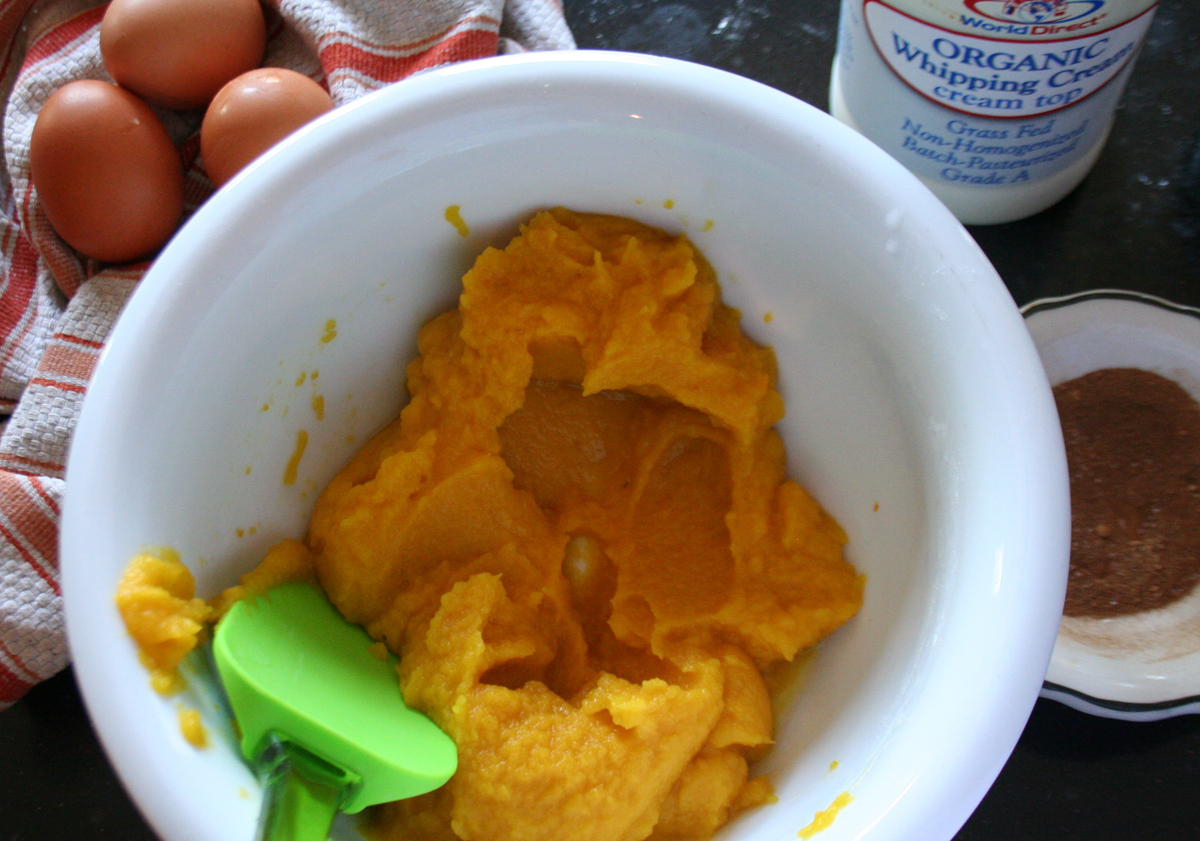 While the crust is cooling, change your oven temperature to 400 degrees and start your pie filling. In a large bowl, mix the pumpkin puree, cinnamon, allspice, cloves, ginger, nutmeg, sugar and salt. Add the eggs, butter, sorghum molasses and whipping cream. Mix until smooth.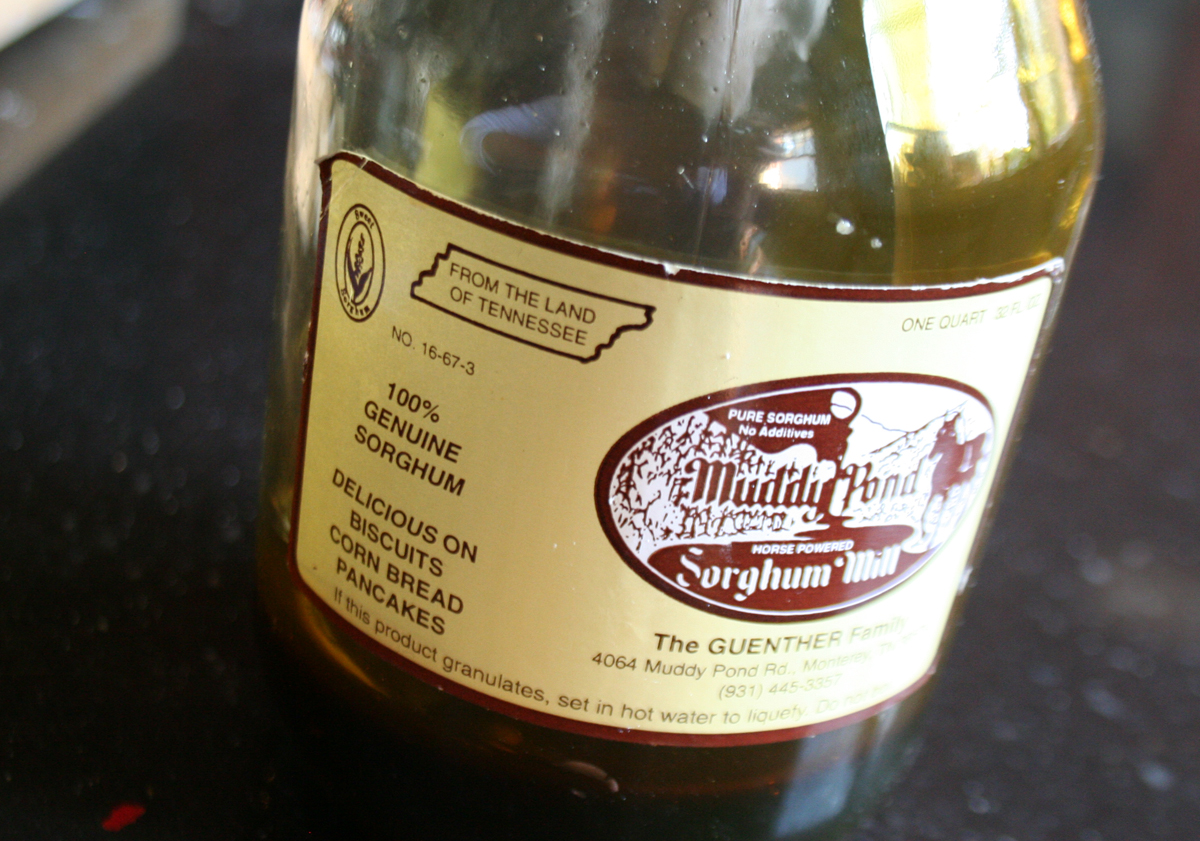 Lift the foil and pie weights out of the pre-baked pie shell and pour in the filling. Place on the center rack of the preheated 400 degree oven and bake for 10 minutes. THEN, drop the temperature down to 350 degrees and bake until the filling begins to firm up, about another 30 minutes. It should still be a little jiggly in the center, like a thick pudding, when it is done.
Remove from the oven and let cool. You can make this the day before and it will keep in the fridge overnight. Serve at room temperature with Vanilla Whipped Cream.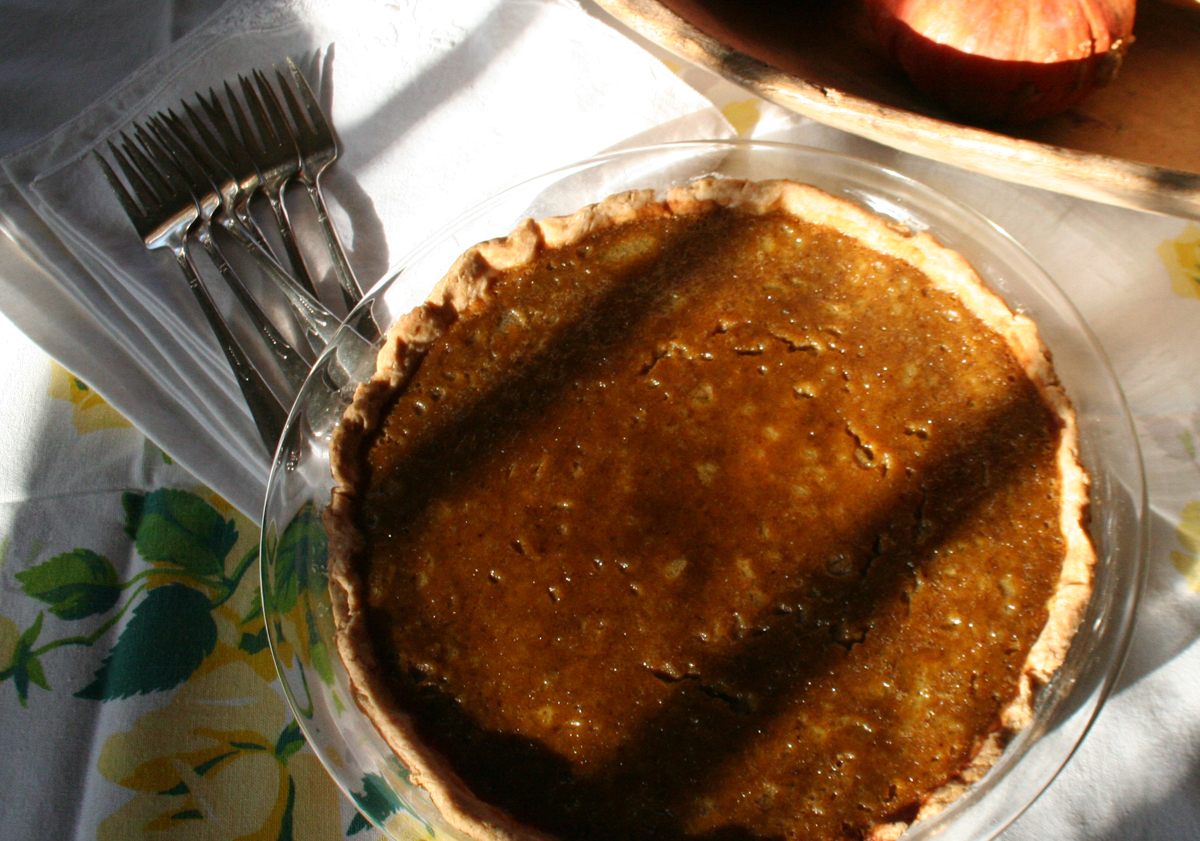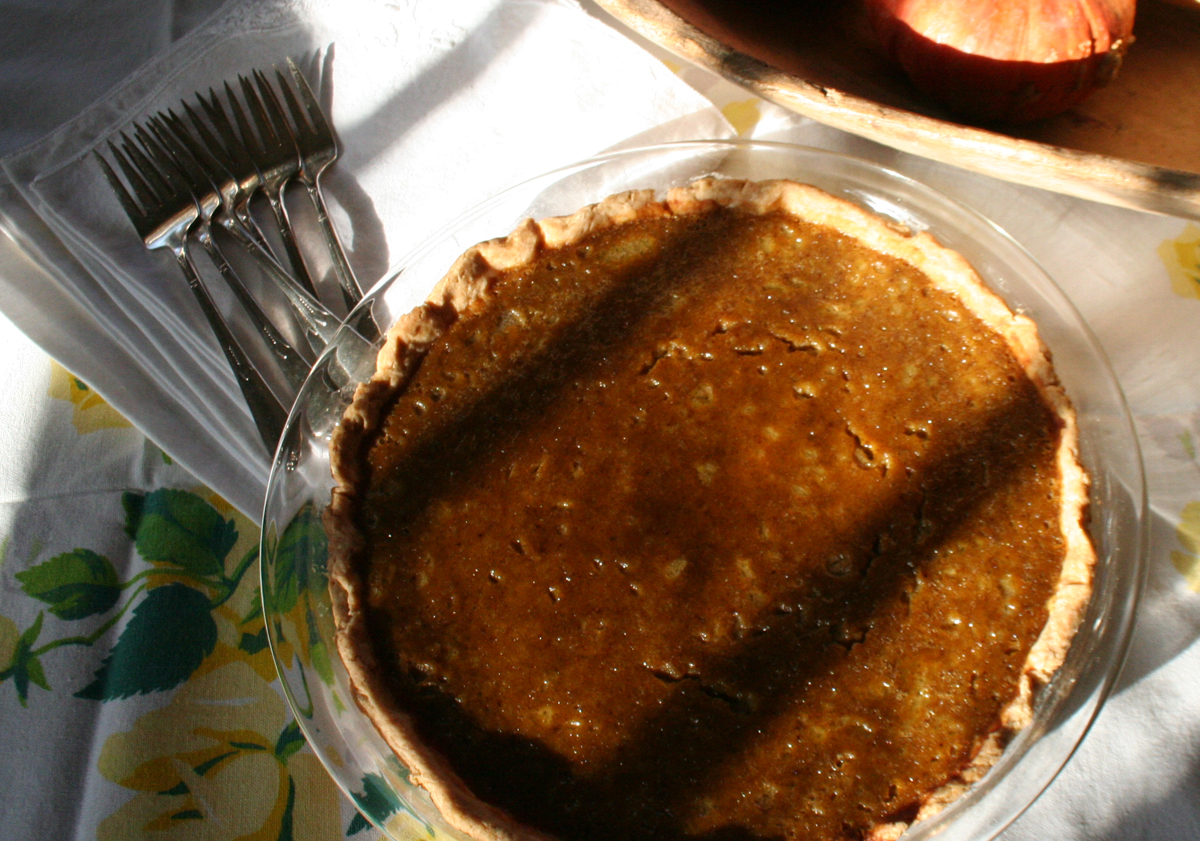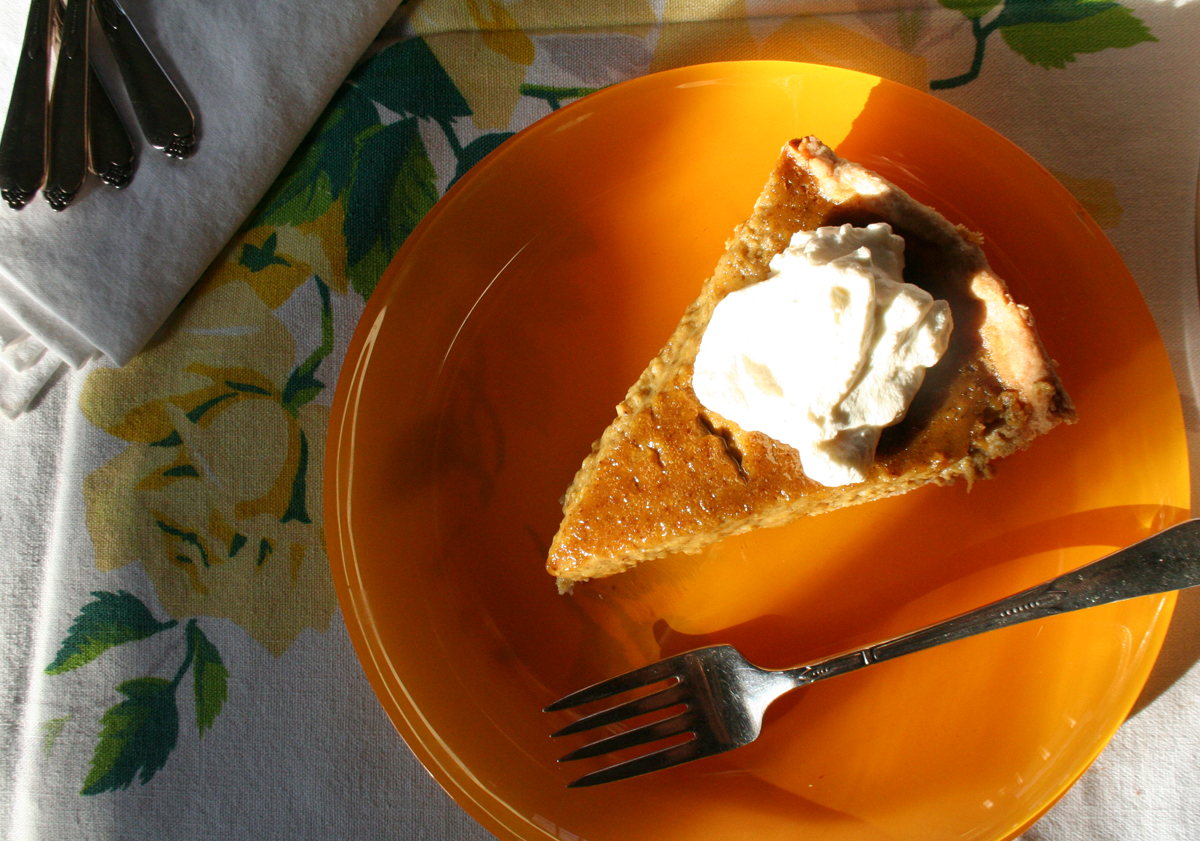 Vanilla Whipped Cream
1 pint heavy whipping cream
2 tablespoons confectioner's sugar (xxx fine sugar)
1 teaspoon vanilla extract
Place all ingredients into a medium bowl. Whip with a hand mixer until if forms soft peaks. Cover the bowl with plastic wrap and refrigerate until serving.