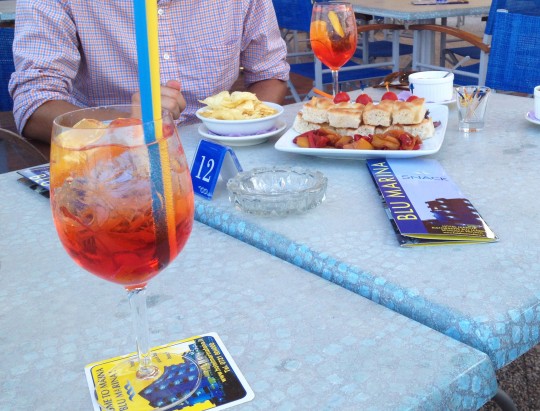 I just spent 10 days traveling through Italy and I'm having a hard time adjusting to life back in Atlanta. Besides the daily gelato, I'm particularly missing my afternoon Aperol Spritz. Everywhere we went in Italy, as the heat of the day waned, people began returning to the piazzas and streets in the late afternoon and early evening hours, sitting down for a glass of wine, a beer or a Spritz. Walking throught the streets, you could spy many glasses of Spritz being served at the outdoor cafes. We easily got into the same rhythm, by looking for our nightly place to people watch and sip on our Spritz. Particularly in Fano, a small resort town on the Adriatic, we would stroll down to the beach in the late afternoon and stop at the BluMarina beachside cafe for an Aperol Spritz. The tray of the bright orange cocktails would arrive, cold and bubbly, served with a plate of antipasti to nibble. 
 Aperol, an Italian apertivo liqueur
The liqueur that gives the Spritz it's bright orange color and bittersweet flavor is Aperol. Aperol is made by the same people who produce Campari. LIke Campari, it is a liqueur that has a slightly bitter taste but with enough sweetness to counter-balance the flavor. According to the official website, the recipe for Aperol is a secret, but is infused with an herbal mix of bitter and sweet orange,and "many other herbs and roots". Aperol has a lower alcohol content (11%) than Campari or a glass of wine.
Because of its low alcohol content, Aperol Spritz is served for aperitivo. Apertivo is a sort of "Happy Hour", with a drink that is served to whet the appetite for the evening meal and a plate of small bites of food as a refreshment. At our little seaside bar in Fano, for the price of a round of drinks, they brought out bowls of nuts, some chips, a plate of focaccia, pickled eggplant, roasted peppers, tomatoes and fresh cheese. Because no one seems to eat until 9:00 at night, the 7:00 round of Spritz and light food kept us from starving until we were fed our proper dinners late in the evening.
How to make an Aperol Spritz
It's simplicity itself. Here's the recipe.
Aperol Spritz
3 parts prosecco
2 parts Aperol
1 splash of soda
Serve over ice with a slice of orange. You can get fancy and add a stemmed cherry or some drinking straws. You can also substitute Campari for the Aperol to make a Campari Spritz.
 Now, all you need is the view….
Salute! Cheers!