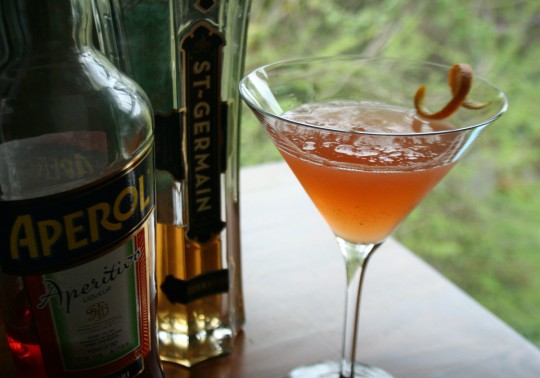 We're in the middle of March Madness fever, and this year, I'm particularly excited because my team, the Tennessee Volunteers, has made it to the Sweet 16 round!. They play tonight, and because the Vols are known as the Big Orange, I need an appropriately  orange-colored cocktail to celebrate. A quick look at my bar and the bottle of bright orange Aperol popped out at me. I wanted to find an Aperol cocktail that wasn't an Aperol Spritz, so looking online, I found one that was originally from the Mr. Boston Official Bartender's Guide. It combined Aperel, St. Germain elderflower liqueur, vodka and fresh lemon juice to make a bright, refreshing mix – The Mr. 404 Cocktail.  
I came to love Aperol, the vibrantly-colored, bittersweet Italian aperitif, on my trip to Italy last fall. Like Campari, it is served as a "spritz" in the afternoon as a light cocktail to go with apertivo, or appetizers. You can read my post here to learn more about the Aperol Spritz and apertivo.
The Mr. 404 Cocktail combines the bittersweetness of the Aperol with the delicate flowery taste of the elderflower liqueur – St. Germain. Together, it has a pale orange color and a  light, slightly sweet taste that reminds me of grapefruit juice. I thought it was delicious. I'll be adding it to my Friday Night Cocktail repertoire, whether Tennessee basketball is involved or not.
The Mr. 404 Cocktail
1 1/2 oz vodka
3/4 oz lemon juice
3/4 oz St. Germain elderflower liqueur
1/2 oz Aperol
1/2 oz. simple syrup
orange or lemon twist for garnish
Measure the ingredients into a shaker full of ice, shake until cold. Serve in a cocktail glass or on the rocks with a garnish of lemon or orange twist. 
A variation I've seen online is to do a version substituting gin for the vodka, calling it the Mrs 404 cocktail. 
Cheers! And… Go Big Orange!