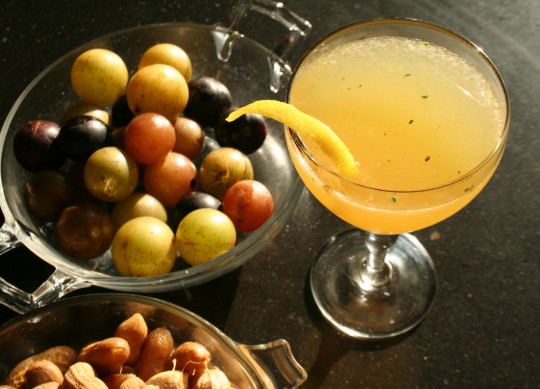 If you live in the South, you have probably have had your share of muscadines and scuppernongs, our native wild grape. In Georgia, a walk through the woods in late summer and early fall will usually yield at least a handful of the Southern wild grapes to enjoy. You can often find them along the ground, where they've fallen from their high perch in the trees.  I usually eat them where I find them, but sometimes we're lucky enough to come upon low-hanging vines that make picking a couple of pints an easy chore. They are fragrant, juicy and sweet. Like pears or apples, the muscadine signals Fall in the South. They are my inspiration this week for a Southern Fall Muscadine Cocktail.
Muscadines or Scuppernongs…what is the difference?
Muscadines and scuppernongs are wild grapes found in wooded areas of the Southeastern United States. Unlike cultivated grapes, these North American native grapes flourish in the heat and humidity of the South, with vines climbing high up in the trees. Easily mistaken for one another, the muscadine, which is purple-colored, and the scuppernong, which is green and bronze, are both members of the same muscadine family. They are both large and sweet-smelling, with thick-skins and large seeds. The standard way to eat them is to bite down through the thick skin of the muscadine, suck out the juicy pulp, then spit out the seeds. Because they are slightly mouth-puckering, eating the skin is optional. Personally, I don't mind them.  
Almost as soon as Europeans settled the South, they began making wines and jellies from muscadines. Many people cultivate muscadine vines in their backyard so that they will have plentiful grapes for juice, jellies and preserves.
Creating a Muscadine cocktail
To make my muscadine cocktail, I chose Laird's Applejack brandy as my base. Applejack is a traditional American apple brandy. It has a very autumnal taste and seemed to go well with the fragrant wild grapes. For my additional tastes, I added white vermouth, lemon juice and peychaud bitters. Muddling the muscadines with thyme sprigs gave it a little bit of herbal flavor, as well.
Southern Fall Muscadine Cocktail 
1 1/2 ounces Applejack brandy
1/2 ounce white vermouth
3-4 muscadine or scuppernong wild grapes
Juice of 1/2 lemon
dash of Peychaud bitters
fresh thyme sprigs
lemon twist for garnish
In your cocktail shaker, muddle the thyme sprigs and muscadine grapes. Try to crush as much juice as you can from the grapes. 
Add the lemon juice, Applejack and the white vermouth. Shake a dash (or two) of the Peychaud bitters over the top. Stir to mix, then add a cupful of ice to the shaker. Shake, then strain and pour into your cocktail glass. I added a lemon twist and a half a muscadine grape to garnish. Serve with boiled peanuts to complete the Southern fall theme.
Cheers!