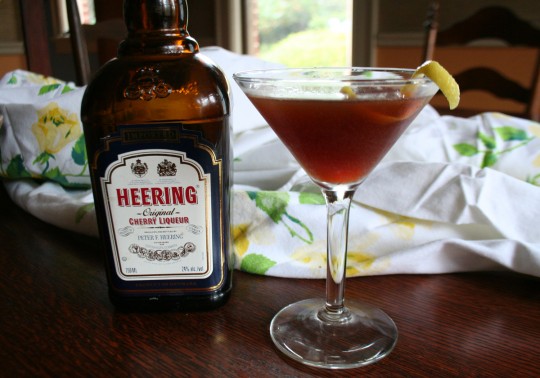 The holidays approach and it's time to bring out the festive and the beautiful cocktails. First up is he Gilroy Cocktail. It is one of those delicious and pretty cocktails that everyone at the party enjoys. The Gilroy Cocktail has one ingredient that gives it a deep ruby color and it's signature cherry flavor – Cherry Heering.
Cherry Heering
Similar to cherry brandy, Cherry Heering is a sweet, spicy Danish liqueur. It is made from crushed cherries and spices that are mixed with a neutral alcohol and aged in casks for five years. Distilled since 1818, It has a dark cherry color and flavor that adds a lot of depth to a cocktail. You'll see Cherry Heering in the classic cocktail recipes, such as the Singapore Sling and the Blood and Sand.
Gilroy Cocktail
1 oz gin
1 oz Cherry Heering liqueur
1/2 oz dry vermouth
1/2 oz lemon juice (fresh, of course)
Shake with ice and pour into a cocktail glass. Garnish with a lemon twist.
Cheers!