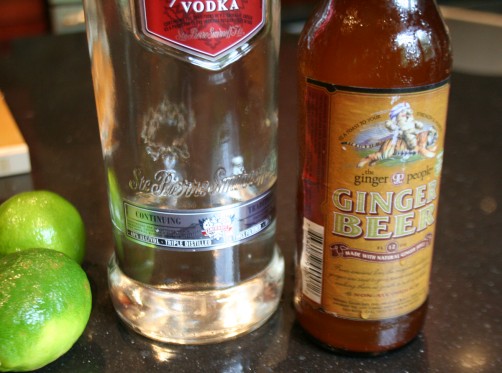 Entertaining friends for the season premiere of "Mad Men" sent me looking for retro cocktails of the 1950's and 1960's to serve.  Looking through cocktail guides from that time, one drink that kept popping up was The Moscow Mule.  A snappy blend of vodka, lime juice and ginger beer always served in a copper mug, it's not really a cocktail that you see much of anymore. But during Don Draper's time, it was very popular.
The Moscow Mule was a clever invention of an American trio, each trying to get rid of their own particular slow-selling products. Up until the 1940's, vodka was not considered a mainstream spirit. Vodka sales lagged way behind gin and whiskey. It was looked on as an exotic Russian spirit and not many bartenders used it for cocktails. But in 1941, the distributor of Smirnoff, John Martin, met the bartender of the Cock'n'Bull bar in Los Angeles, who happened to have an excess of ginger beer. They mixed the vodka and the ginger beer together, added lime juice and the Moscow Mule was born.
To complete the presentation of the Mule, it is alleged that Jack's girlfriend brought in an inventory of copper mugs that she wasn't able to sell. Jack took the mugs and the drink around to bartenders all around California. The cocktail and the mugs took off. Smirnoff's marketing worked so well, The Moscow Mule almost single-handedly tripled the sales of vodka in the U.S. in the 1950's.  
There is some back and forth about whether the Mule MUST to be served in the copper mug. People swear that the copper reacts with the drink and improves its flavor. Personally, I'm skeptical about any great taste difference. I'll just say that serving the Moscow Mule in a copper mug is preferred, but If you don't have any hanging around, just use a tall Collins glass.
The Moscow Mule Cocktail
1 ½ oz. vodka
fresh lime juice from half a lime
3 oz. ginger beer
Fill your copper mug with ice, then pour the vodka over the ice. Squeeze your lime juice into the drink. Top with the ginger beer. Garnish with fresh mint or lime wedge.
 Cheers! Happy Friday!