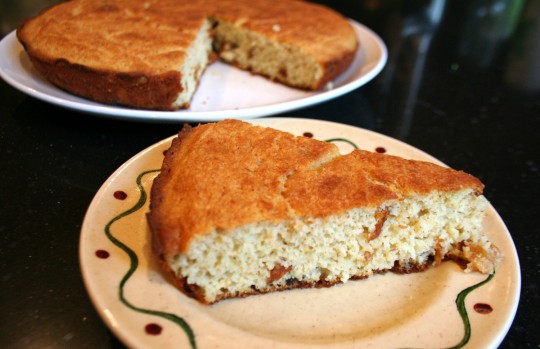 When I finished my lard rendering project, I was left with about 4 cups of cracklins. Cracklins (or cracklings) are crispy bits of fried pork fat. They are pretty much just like the crispy ends of a bacon strip. Not wanting to waste them, I put them in the freezer for later use.
Ever since I had cracklin cornbread at Harold's BBQ in South Atlanta, I've been wanting to make some at home. One exceptionally cool night last week, with a pot of veggie soup on the stove, I pulled out my cracklins from the freezer and made a skillet full.
One thing I want to make clear… you should never, ever, ever add sugar to cornbread. That is just wrong.
Cracklin Cornbread
1 ½ cups fine white cornmeal
1 teaspoon baking powder
1 teaspoon baking soda
½ teaspoon salt
2 eggs
1 ½ cups buttermilk
¼ cup bacon fat or lard or cooking oil
¾ cup cracklings, cut into small cubes
If crackings are frozen, reheat in the microwave for a minute. They should be warm.
Preheat oven to 450 degrees. In a large bowl, mix the dry ingredients – the cornmeal, baking powder, baking soda and salt. In a smaller bowl, add the eggs and buttermilk and whisk until mixed thoroughly. Add your bacon fat into an iron skillet and place the skillet into the heating oven to melt the fat. Keep an eye on it. It will only take a few minutes and you don't want to heat it to the smoking point. Remove from the oven when the fat is melted (3-4 minutes). The pan should be very hot at this point.
Add the wet ingredients into the dry ingredients and mix. Add the cracklings. Then, pour the hot, melted fat from the skillet into the batter. It should sizzle a bit. Stir quickly, then pour back into the hot skillet and place into the oven. The batter should already be sizzling on the sides. Bake until the cornbread is browned on top and pulling away from the sides of the skillet.