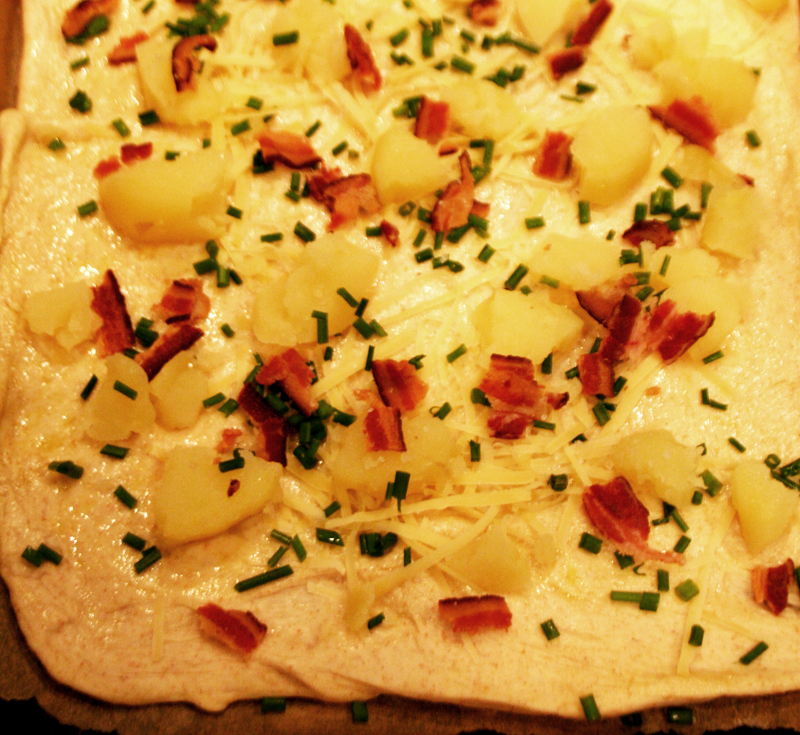 Here is one of our Pizza Night variations – Baked Potato pizza. 
My family loves the Baked Potato pizza made by one of our local pizzerias, so I thought I'd try to recreate it at home. It's essentially a good crust topped with sliced boiled potatoes, crumbled bacon, a bit of swiss cheese, chives and sour cream. No pizza sauce! What's not to love, right?
BAKED POTATO PIZZA
You will also need:
4 medium Yukon Gold potatoes
1 bunch fresh chives, chopped
1 cup grated gruyere or Swiss cheese
4 slices of cooked bacon (I prefer Benton's Bacon)
½ cup sour cream
Olive oil
sea salt and fresh cracked pepper
Homemade Pizza Dough (use 1/2 the dough recipe for one pizza)
First, you need to peel and boil the potatoes. This can be done early in the day. Cook them in salted water, until you can easily insert a knife through to the middle – about 20 minutes. Then, drain and set aside to cool. Once cool, cut into ¾ inch slices. Then, go ahead and fry your bacon, crumble, then set aside.
Stretch and pull the pizza dough and place onto a cooking sheet or pizza pan. I like to line the pan with parchment and put a bit of cornmeal down first, to prevent the crust from sticking. Drizzle a bit of olive oil (around a tablespoon) onto the stretched dough and brush to cover the entire pie, especially the edges. Layer your pizza dough with the potatoes, chives and bacon, the gruyere, then salt and pepper to taste. Bake in the pre-heated 450 degree oven for 15 minutes, or until the cheese is bubbly. Dollop the sour cream across the baked pizza, then garnish with more chives and serve.