Saag Paneer – Indian creamed spinach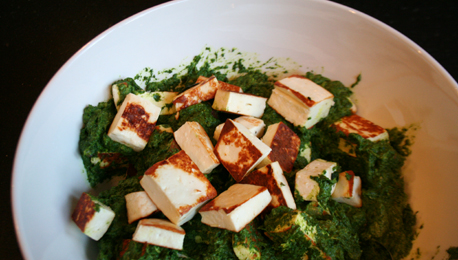 My daughter, Anna, and I decided to give up meat this spring for Lent. Going meatless for a month and a half is not really that big of a deprivation, but it did challenge me to rethink my standard meat-and-two sides family dinners. Even though we have many meatless meals during a typical week, I quickly ran through my usual veggie dinner ideas. I was soon digging through my old vegetarian cookbooks looking for dinner inspiration.
A recent dinner out at Decatur's newest Indian street food place, Chai Pani, gave me a needed push back to Indian food. Because large portions of their population do not eat meat, India has one of the most varied and flavorful meatless cuisines in the world. One of my all-time favorite Indian dishes is saag paneer, which is a traditional, mildly spiced, creamed spinach, served with fried chunks of paneer, an unaged, Indian farmer cheese. It's very healthy AND my kids love it. I would call that a win-win.
Here is how I made it at home…
Saag Paneer
3 bunches of spinach, cleaned and de-stemmed
1 tblsp. fresh ginger root, peeled and minced
1 medium onion, chopped
3 cloves garlic, chopped
1 tsp. each of cumin, coriander and mustard seeds
1 tsp. turmeric powder 3 tblsp. ghee or butter
1 14-oz. package paneer – Indian semi-soft cheese
¾ cup of plain yogurt (I use full-fat Greek yogurt)
salt & pepper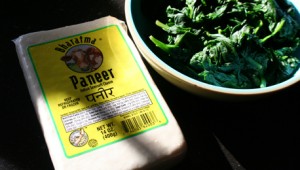 In a large pot of salted, boiling water, quickly cook your spinach until it is limp. This should take just a minute or two. Drain in a colander and let cool. Squeeze the excess water out of your cooled, cooked spinach, then chop it fine and set aside.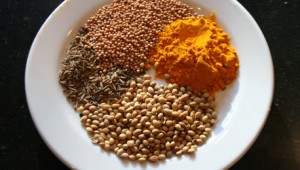 Stir three of the spices – the coriander, cumin and mustard seeds – in a skillet and toast over a medium flame until they become fragrant – about a minute. Be careful not to burn them! Remove from the heat and let them cool. When they are cool, grind them with either a mortar & pestle or a spice grinder. Mix them in a small bowl with the turmeric, salt and pepper. Set aside.
Cut the paneer cheese into 2 inch cubes. Toss into a heated, non-stick pan with a bit of cooking oil, about 1 tbsp. Keep turning the cheese cubes in the pan. The paneer will not melt, but will brown nicely. When they have browned on all sides, remove from the heat and set aside.
Now you have all your components ready. Heat your skillet with the butter or ghee. In the melted butter, sauté the onion, ginger and garlic until they are translucent. Add your spice mix. Then, toss in your chopped spinach and stir and heat through. Add the yogurt and the fried paneer cubes. Stir and heat another minute. It's ready to serve!
I serve saag paneer with jasmine rice and buttery naan bread, an Indian flatbread that I get frozen from Trader Joe's. I know. That's cheating, but it makes my life a lot easier. You can probably use any kind of flat bread, like pita or tortillas, instead. Just give it a brush of butter and heat it in a pan or a griddle before serving. Enjoy!
***