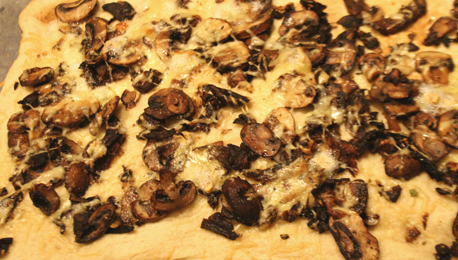 Here is one of our Pizza Night variations – Mushroom Brie pizza with white truffle oil.
I love the combined taste of mushrooms and truffle oil. It has an unbeatable earthy, savory flavor. For this pizza, I use a combination of fresh baby portabello and dried porcini mushrooms to pair with the white truffle oil.
MUSHROOM BRIE PIZZA with White Truffle Oil
You will need:
1/2 cup dried porcini mushrooms – which have been soaked in water for an hour, drained and chopped
12 oz. container of portobello mushrooms
½ cup chopped shallots
3 cloves garlic, chopped fine
1 tsp. dried marjoram
1/2 cup gruyere or swiss cheese
2 oz. truffle brie
white truffle oil
sea salt and fresh cracked pepper
Pizza Dough (use 1/2 the dough recipe for one pizza)
In a large sauté pan, heat a tbsp. of truffle oil, then add the chopped shallots, sliced portobello mushrooms and marjoram. Saute until the mushrooms are golden brown, then add the chopped garlic and porcini mushrooms. Salt and pepper to taste. Cook mushroom mixture until most of the juice is evaporated.
Stretch and pull the pizza dough and place onto a cooking sheet or pizza pan. I like to line the pan with parchment and put a bit of cornmeal down first, to prevent the crust from sticking. Drizzle a bit of truffle oil (around a tablespoon) onto the stretched dough and brush to cover the entire pie, especially the edges. Layer your pizza dough with the swiss cheese, then the mushroom mixture, then bits of the truffle brie. Add salt and pepper to taste.
Bake in the pre-heated 450 degree oven for 15 minutes, or until the crust is brown. You can drizzle more truffle oil on your cooked pizza if you really love truffles. Serve!