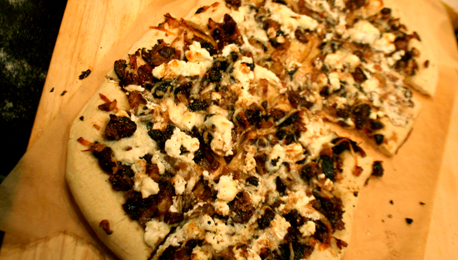 Here is one of our Pizza Night variations – fig and goat cheese pizza. My friend Carolyn offered up the idea and the toppings for this pizza. She started by making a Fig/Onion Jam, adapted from a recipe she found on The Food Network website. She modified the jam by leaving out the goat cheese and adding it at the end, directly on the pizza.
Fig and Goat Cheese Pizza
To make this pizza, you can either make this fig jam from scratch, or buy a jar ready-made to save time.
Fig/Onion Jam, adapted from The Hearty Boys on Food Network http://www.foodnetwork.com/recipes/dan-smith-and-steve-mcdonagh/baked-goat-cheese-with-caramelized-onion-garlic-and-mission-figs-recipe/index.html
1 cup dried mission figs (about 14-15) chopped
¼ cup dry sherry
2 large onions – sliced
1/2 stick butter
10 cloves garlic, minced
3 sprigs rosemary, remove leaves from stem and finely chop
2 tsp. salt
    
Combine figs and sherry in a sauce pot.  Pour enough sherry to cover figs. (about 1/4 cup).  Bring to a boil and remove from the heat to cool and let the figs reconstitute.
Melt butter and add onions.  Carmelize them gently and slowly.  Then add garlic, rosemary, salt and pepper. Add the fig/sherry mixture to the onions and set aside.    
ASSEMBLE THE PIZZA
Other ingredients you'll need for this pizza:
10 oz. goat cheese
1/2 cup mozzarella – grated salt & ground pepper
4 oz. Prosciutto – thinly sliced
Balsamic vinegar
Make your pizza dough earlier in the day and have it ready to go about 1/2 an hour before baking your pizza. When you are ready, assemble all your ingredients to make the pizza.
First, stretch and pull half the pizza dough and place onto a cooking sheet or pizza pan. I like to line the pan with parchment and put a bit of cornmeal down first, to prevent the crust from sticking. Drizzle a bit of olive oil (around a tablespoon) onto the stretched dough. Spread the fig jam all over pizza crust.  Top with crumbled goat cheese on top and mozzarella. Add salt and pepper to taste.  
Bake pizza in 450 degree oven until crust is brown – about 15 minutes.  
When it comes out, immediately place prosciutto all over the top, then drizzle with balsamic vinegar. Serve!