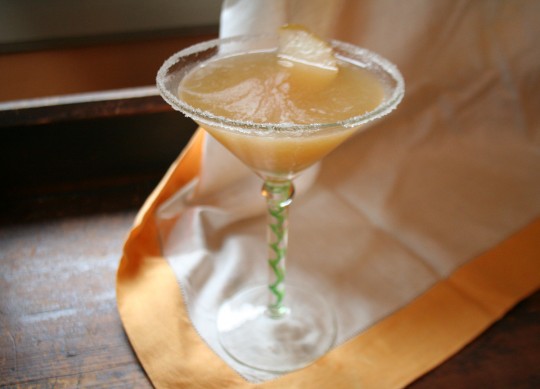 With the end of the hot weather, I think it's time to put away the fruity, fizzy drinks of summer and return to the warmer amber spirits. I do love the classic cocktails that use brandy, rye and whiskey as their base, and the Sidecar is one of my favorites. Variations of the Sidecar cocktail abound, so I felt at liberty to futz around with the general concept and make an Autumn Pear Sidecar cocktail.
 The Sidecar Cocktail
The origins of the Sidecar date back at least to the Roaring Twenty's, when it was popular in London and Paris bars and cafes. There is one story that has it originating in Harry's Bar in Paris, when a bartender named the drink after a frequent customer who liked to arrive by motorcycle sidecar. I like that story, so let's just imagine that it's true and drink up.
A traditional Sidecar is made with brandy, Cointreau and fresh lemon juice, served in a sugar-rimmed glass. It is considered a "sour" cocktail and is very similar to the Margarita. The only difference is you switch out brandy for the tequila and fresh lemon juice for the lime.  
Making an Autumn Pear Sidecar cocktail
To give the Sidecar an autumnal flavor, I wanted to use the fresh pears that are coming to market. To get more fruit flavor into my cocktail, I also used a bit of fresh apple cider. Many recipes call for brandy, but I decided to go with the traditional recipe and use cognac instead. If you have a bottle of pear brandy or calvados (apple brandy), I would certainly use that.
Falernum, a spicy Caribbean cocktail mixer
Another ingredient that I used to add autumn flavor was falernum. Falernum is a lime liqueur with strong spicy notes of ginger, cloves, and almond. It was originally made in the Caribbean and pairs well with rum. It is used in the Mai Tai, the Zombie and numerous rum coolers and punches. You can find falernum at any liqueur store that carries bar mixers.
Autumn Pear Sidecar Cocktail
1 1/2 oz. cognac (or pear brandy, if you have it!)
1 oz. Cointreau
3/4 oz. fresh-squeezed lemon juice
1/2 oz. fresh apple cider
1/4 oz falernum
1/4 of a fresh pear, sliced
Rim your cocktail glass with sugar, by dipping the rim into the lemon juice, then rolling it in a small plate of granulated sugar. Set aside.
Quarter and slice your pear, reserving a thin slice for garnish. Muddle the remaining pear slices at the bottom of a cocktail shaker. Add the cognac, Cointreau, cider, lemon juice and falernum. Stir to mix the pear puree into the liquids. Add a cup full of ice and shake to chill. 
Strain and pour into your rimmed cocktail glass. Garnish with the thin slice of pear.
Cheers! Happy First Friday of Autumn!