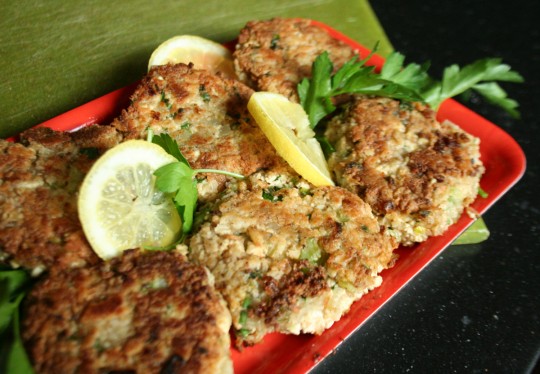 It's summer and some of the classic tastes of the season derive from our memories of trips to the beach. Fried clams, fresh oysters, shrimp boils, lobster rolls. Seafood evokes the smell of the ocean and the feel of the sun on your face. One such summer treat is the crab cake. Crab cakes are rich and tasty, with the spiciness of Old Bay giving them that traditional American seafood flavor. But have you noticed that crab meat is pricey? Very pricey. At $30 a pound, it is a seldom-made special treat at our house (think 4th of July dinner).  On the other hand, a 1-lb. block of tofu only costs $1.50 and can take on all the tastes that make crab cakes so delicious – onion, celery, garlic, parsley, lemon and Old Bay Seasoning. So, for our family, I make a delicious meat-free substitute for crab cakes many times a year – Tofu Crab Cakes (of Tofu "Crab" Cakes).
Cooking with Tofu
If you are trying to cut back on meat, there are plenty of vegetables, grains and legumes that you can fall back on for your daily meals. I'm not one to like "fake" meat substitutes, but I do cook with tofu. Tofu stands up on its own merits – in stir fries or in Asian soups, in sandwiches and sauces. Because it has a very mild, neutral taste, it really is a wonderful chameleon in the kitchen – taking on the tastes of the spices, marinades and sauces that you cook it with. It's one of our most versatile proteins. 
Tofu "Crab" Cakes recipe
1 – 16 oz cake of firm tofu
1/2 medium onion – chopped
2 celery stalks – chopped (about 2/3 cups chopped)
2 cloves of garlic – minced fine
2 tablespoons olive oil
2 scallion – chopped small
1/4 cup chopped parsley
1 1/2 teaspoons sea salt
the zest of one lemon
1 1/2 teaspoons fresh ground pepper
3 tablespoons Old Bay Seasoning
1/2 cup + an additional 1/4 cup fresh bread crumbs
1/4 cup white flour
oil for frying
lemon, parsley for serving
Start by chopping all of your ingredients – parsley, onion, scallions, celery and garlic. Set aside.
In a food processor, pulse your tofu with a cutting blade to get a rough crumbled look. You do not want to over process or turn it into a puree. It should look like large cottage cheese bits. It should look like this…
In a medium pan, add a bit of olive oil. When it is hot, add the celery and onion. Saute these until the onion is translucent. Add and stir in the minced garlic. Cook the garlic with the onion and celery briefly. Take it off the heat to cool a few minutes. 
In a large mixing bowl, add the tofu curds, 1/2 cup of the bread crumbs, 1 teaspoon salt, 1 teaspoon fresh ground pepper, 2 tablespoons of Old Bay Seasoning, the chopped scallions and parsley, then the cooked onion, celery and garlic. Stir all the ingredients thoroughly. Now, add the freshly grated lemon peel. Save the lemon to juice over the crab cakes at the end.
The last thing to add is the 1/2 cup of mayonnaise. This is the "binder" to hold all of the mix together. Mix the mayo in and it will be ready to form patties.
In a small dish, mix the remaining 1/4 cup of breadcrumbs, 1/2 cup flour, salt, pepper and Old Bay. This will be your dredging flour.
Forming your tofu "crab" cakes
The mixture should be moist enough to form into 3″ wide patties. Dredge the formed patties in the flour/breadcrumb mixture and put aside. When you have formed all of your patties, you can put them in the fridge to keep ahead of time (say earlier in the day). If you are ready to cook them now, just heat up a large sauté pan with about 1/4 cup of cooking oil. Add the patties to the hot oil, not crowding them. You will want to cook them until they are brown on both sides – about 3-4 minutes on each side. You will probably have to do two pan-fulls. Remove the browned tofu cakes from the pan and let them drain on a paper towel-lined plate.
This recipe makes about 10 patties – enough to serve 4. Serve with anything you would normally use on crab cakes – Tabasco, lemon juice, parsley, tartar sauce, etc.
Are tofu crab cakes exactly like REAL crab cakes. No, they just don't have the same richness that real crab meat brings. BUT… they are a delicious, light substitute that will not break the bank. Enjoy!