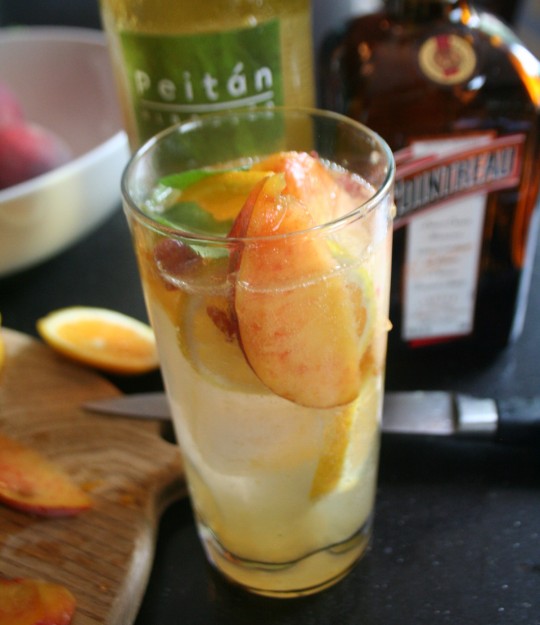 Living in the Peach State (that would be Georgia, by the way) means getting great locally-grown peaches throughout July and into August. Unlike the peaches from the supermarket, the local fruit that I get from the Farmer's Market is ripe and soft to the touch. It also means that I need to use them quickly, while they are at their peak. Yesterday, the weather was nice and the peaches were perfect, so I decided to make a pitcher of White Wine Peach Sangria.  
Sangria, a Spanish Wine Punch
Sangria is a wine punch, popular throughout Spain, flavored with fresh fruit, sugar and sometimes brandy. It is served cold, over ice. There are endless variations on sangria, using different wines – red, rosés, sparking and white. There can also be differences in the fruit added, such as oranges, apples, grapes, berries, melon, mangoes, nectarines… and, of course, peaches. I'm probably wrong, but I think of red wine sangrias as a cool weather drink and white wine sangrias as more for the summer months.
Albariño, Spanish White Wine
One of the reasons sangria has gotten such a bad rap in the past was that people tend to use the cheapest wines to make it, then use the fruit and sugar to mask the bad taste. But that never quite works, does it? My philosophy is that if you start with a decent wine, you'll always end up with a better drink. For my White Wine Peach Sangria, I used an Albariño.  Albariño is a crisp, citrusy white wine from the Galician coastal region of Spain that pairs nicely with my peaches. Viognier or a rosé would also go well with peaches and nectarines.
White Wine Peach Sangria
This recipe makes a small pitcher of Peach Sangria that serves 4. 
1 bottle of white wine – I used a Spanish Albariño
1/2 cup Cointreau, or any orange liqueur
1/2 cup simple syrup
1/2 cup lemon juice
1 cup orange juice
2 ripe peaches
1 apple
1 orange
2 lemons
1 cup grapes (optional)
1/2 bottle of club soda
fresh mint for garnish
Slice your Fruit
Take your lemons, oranges, apples and peaches and slice them very thin. With the apples and peaches, you can cut them into a medium-size dice instead.  If you add grapes, you will want to cut them in half. The idea is to have nice bite size pieces of fruit in each serving.
Mix the Sangria in a pitcher
Put the cut fruit into a pitcher. Add the white wine, the Cointreau, the lemon and orange juice and the simple syrup. Stir to mix all the ingredients together. At this point, you can put the pitcher into the refrigerator to chill.
Serving the Sangria
Fill tall glasses with ice. From the pitcher, pour each glass about 2/3's full, making sure there are plenty of fruit chunks in each serving. Top off each glass with some club soda or sparkling water. Stir briefly and garnish with mint. Serve.
Cheers!