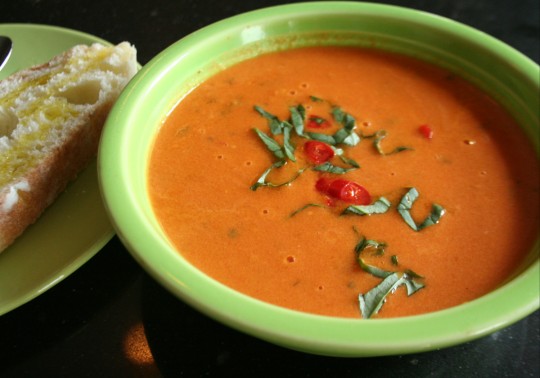 Let's face it. Weeknight cooking when you're working is a challenge and there are some nights you just can't be that fussy about dinner. On those nights, I'm usually looking in the pantry and trying to throw together something that is somewhat healthy and somewhat easy to make. One cool trick that I've learned is to make tomato soup from canned tomatoes. I always keep cans of diced tomatoes in the pantry. If I dig a little deeper, I can usually find a can of coconut milk, too. So, if I just add some onion, garlic, celery, pepper and fresh basil & ginger, I have a delicious, creamy Thai-flavored Tomato Coconut soup that I can make in about 15 minutes. 
Turning canned tomatoes into tomato soup
I grew up eating canned tomato soup and I still love it occasionally with a grilled cheese sandwich. But the taste of canned soup pales in comparison to that of homemade tomato soup, even if you are using canned tomatoes. I think that using the fresh vegetables and aromatics makes a big difference in the taste. 
Do I need to add that this is even MORE amazing with fresh garden tomatoes? If you have them, by all means use them!
Thai Tomato Coconut Soup
1 28-oz can Diced Tomatoes
1 14-oz can Coconut MIlk
1/2 onion, chopped
2 stalks celery, chopped
3 cloves garlic, minced
2 teaspoons minced fresh ginger root
1 to 2 thai or serrano chili peppers, seeded and sliced thin
1 tablespoon vegetable oil
handful of fresh basil leaves
fish sauce or soy sauce
Start by chopping your celery, onion and chili peppers into a medium dice. As always, when you cut up chili peppers, be careful to keep your fingers away from your face and eyes afterwards. You will not be happy if you get any chili oil in your eyes.
Break off a two-inch piece of ginger root. Peel and mince fine. Peel and mince the garlic cloves. Chop your basil leaves into strips, or a chiffonade to be more precise.
In a soup pot, heat the tablespoon of vegetable oil. Add the onion, celery, ginger, garlic and chili pepper. The chili peppers can be very hot, so I always start with half a chili and begin adding more to taste later.
Saute these ingredients until they are softened and the onion is translucent. Add the canned tomatoes, stir and simmer for 5 minutes. Add the coconut milk and chopped basil, reserving some for garnish. Bring to a simmer then cut the heat (you don't want to cook the coconut milk too long). Test the soup for taste. Now is the time to add more chilies if you want more heat. You can also add fish sauce or soy sauce to taste.
You want to blend the soup to get a creamy, smooth texture. I use an immersion blender, but I have also just used a blender or food processor. When the soup is smooth, serve with a bit of chopped serrano pepper and fresh basil. Enjoy!