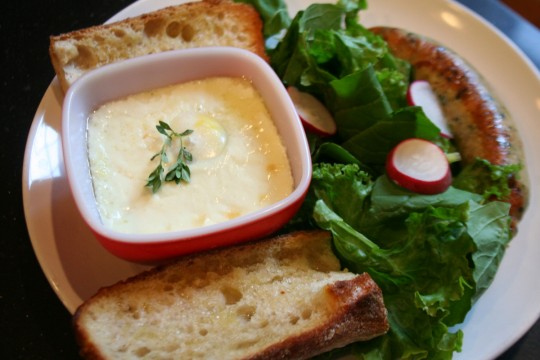 Shirred eggs… as in, eggs cooked gently in an oven inside ramekins placed in a water bath. Shirred duck eggs… as in, I had the chance to buy a half dozen duck eggs from my CSA last week. Shirred duck eggs with a celery cream… as in, I was trying to recreate Atlanta chef Steven Satterfield's lovely Farm Eggs in Celery Cream that I had last summer at his restaurant, Miller Union.
I've never in my life seen or eaten duck eggs, so I jumped on the chance to try them when my CSA offered them last week. Duck eggs are a lot larger than a chicken egg. You can see in the picture above, the duck egg is probably 50% larger. Farm fresh duck eggs are rich in protein, making them prized by bakers for giving cakes more lift and a richer texture. They are also rich in Omega-3's and are richer in taste than chicken eggs.
Having duck eggs in the kitchen seemed like an occasion to do something special with them. I really wanted to do a straight-forward egg dish to see if I could taste the richness and the difference from chicken eggs. As inspiration, I used two memorable egg dishes that I had eaten while out at Atlanta restaurants in the last year – Miller Union's Eggs in Celery Cream (mentioned above) and The Porter's Shirred Eggs with Black Rice Cream. Both of those dishes were so simple, yet so delicious. I've wanted to try to make a shirred egg ever since. 
I found Chef Satterfield's recipe online and I modified it to accommodate my half dozen duck eggs and adding a water bath for a gentler cook.
Shirred Duck Eggs in Celery Cream
Recipe modified from the original recipe of chef Steven Satterfield of Miller Union in Atlanta, GA
Ingredients
– 1 cup heavy cream
– 3 stalks of celery, roughly chopped, including leaves
– 1 shallot, chopped
– 1 teaspoon kosher salt
– 1/2 teaspoon peppercorns
– 1/4 cup chopped fresh chives
– 1 small bay leaf
– 2 sprigs of fresh thyme
– 1 teaspoon butter  
– 6 duck eggs
Make the Celery Cream
In a sauce pot, gently heat cream, celery, shallot, salt, pepper, and herbs together until hot. Remove from heat and and allow to steep for 30-45 minutes. Strain the cream through a sieve to separate out the solids. Taste, then adjust your salt and pepper and put aside.
Preheat oven to 375 degrees.
Butter six ramekins, or small oven-safe bowls, and crack a duck egg into each bowl. Duck egg shells are a lot harder than chicken eggs, so you might want to use the edge of a butter knife to give each egg a good whack to crack it open. Look at how pretty and orange the duck yolks are! 
Get a larger cooking pan ready to hold your ramekins. I used a pyrex 9 x 9 inch dish to fit four ramekins plus an extra pan for my other two ramekins. I'm sure a 9 x 12 dish would have fit all six. You will want to pre-add very warm water (boiling hot) to the large pan to serve as a "bath" for the smaller baking bowls. The warm water should come up about half way to the top of your egg dishes.  You can adjust your water after you add the small bowls.  
Spoon the warm celery cream over each egg just until the egg is mostly covered. Lower the egg dishes carefully into their water bath pan, so the water doesn't spill over into the egg bowls.
Bake the dishes in a 375 degree oven for 9-10 minutes.
Keep a close eye on them.  You want to cook them until the eggs start to set up. You can finish them off by turning the oven to broil and cooking them for another minute or two. The whites should be cooked, but the yolks should still be runny. 
While my eggs were baking, I cooked some chicken sausage and toasted some good French bread, sliced and brushed with olive oil. When my eggs were done, I carefully lifted each ramekin and placed on each serving plate. You really need to eat these while they are warm.
I have to say, the shirred duck eggs were rich and delicious, as promised. I didn't think that the duck eggs were much different from a farm fresh chicken egg, though.  Either one would have worked for this recipe. But, as my daughter Anna said, there was nothing bad about this dinner. Our dinner table was filled with nothing but yummy noises.