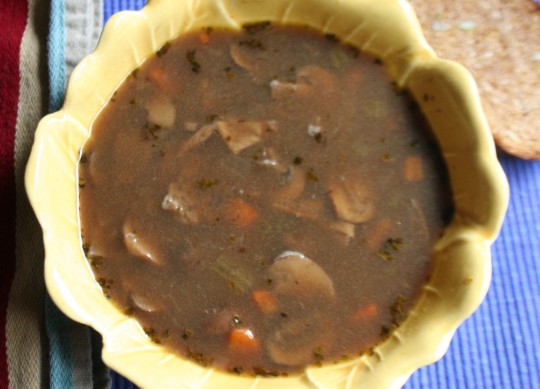 Soup has magical qualities. It warms you and comforts you. If you are on a diet, soup gives you an easy way to bring more vegetables into your diet in that is completely satisfying. When it gets cold, one soup that I love to make is Porcini Mushroom Barley Soup. It is full of "umami", the savory taste that makes you go "mmmm".
Porcini Mushrooms
On a recent trip to Italy, I spent the good part of an afternoon in the San Lorenzo Mecarto Centrale in Florence, grabbing lunch and drooling over the beautiful produce and meats. There were several vendors selling the local porcini mushrooms – fresh and dried. Porcini mushrooms are large, meaty mushrooms that are found wild in Northern Europe. The Italians, especially the Tucsons, use porcini mushrooms, fresh or dried, in sauces, risottos and stews.  When you buy them dried, they have a very concentrated savory mushroom aroma. Because I could not bring home the fresh porcini, I was happy to bring home a few vacuum packs of the dried mushrooms as a souvenir of Tuscany. 
Because I can buy dried porcini mushrooms at my local market easily, I've cooked with them for many years. I've used them in mushroom risotto and mushroom crepes. But I probably use them most in mushroom soup.
Here is my recipe for making a Porcini Mushroom Barley soup, a nutritious vegetarian winter treat. The whole-grain barley has an earthiness that goes great with the porcini.
Porcini Mushroom Barley Soup
1 oz. dried porcini mushroom (about 3/4 cup)
1 cup uncooked barley (along with 3 cups of water or broth)
Mirepoix
– 1 large onion
– 2 stalks celery
– 3 carrots
3 cloves garlic, minced
2 teaspoons dried marjoram or thyme
2 tablespoons butter
12 oz. fresh portabello mushrooms (one large pack)
6 cups water or stock (I use vegetable or chicken stock)
salt and pepper to taste
This soup is very easy to make, but there are a couple of things you'll need to prepare ahead-of-time. First, you will need to re-constitute your dried mushrooms.
Soaking the dried porcini mushrooms
Put a couple of cups of water on to boil. While you are waiting for the water to heat up, measure out one ounce of the dried porcini mushrooms. I use my handy kitchen scale for this. You can see from my picture, an ounce of dried mushrooms is about 3/4 of a cup, loosely packed. Put the mushrooms into a bowl that is heat-resistant, then pour the boiling water over the dried mushrooms until they are covered. The porcini need to soak about 30 minutes. After they have plumped up, take the mushrooms out of the liquid to set aside for chopping. Be sure and save the soaking liquid!  It is very flavorful and will be part of your soup broth. After you take out the mushrooms, you should run the soaking liquid through a fine sieve to separate out the grit that accumulates at the bottom of the bowl.
Cooking the Barley
The second ahead-of-time step is to cook your barley. Just put one cup of barley grains into a heavy pan with 3 cups of water or stock. Bring to a boil, then reduce the heat to low to simmer. Cover and cook gently for 35-40 minutes until all the liquid has been absorbed. You'll probably want to check frequently in the last 10 minutes to make sure it doesn't run out of liquid and scorch on the bottom. After it is fully cooked, take it off the heat and set aside.
What is a mirepoix?
Like many soup recipes, you'll start with a mirepoix.. A mirepoix is basically a trio of uniformly-diced vegetables – onion, celery and carrots. These are the aromatics that form the base of your soup flavors. One of the keys to a good mirepoix is that the three vegetables are diced small and evenly. The uniform dice not only looks nicer in your bowl of soup, but it also allows for a more even cooking time.
Making the soup
You should have your cooked barley, your soaked porcini mushrooms and your mirepoix chopped and ready to go.
Next, chop your mushrooms, both fresh and soaked, and set aside. Mince the garlic cloves and set aside.
In a soup pot, melt a couple of tablespoons of butter. Add the mirepoix and sauté until the onion becomes translucent and the carrots begin to carmelize – about 5 minutes. Add the salt and pepper at this point, then the minced garlic to the pot and sauté another minute. Add the chopped mushrooms and marjoram to the pot and sauté for another 5-7 minutes. 
When the mushrooms are cooked down a bit, add the mushroom soaking liquid and the stock. Cover and simmer for about 20 minutes. Add salt and pepper to taste.
To serve, place a large spoonful of the cooked barley at the bottom of each bowl. Then ladle the finished mushroom soup into the bowl. It's done! Buon appetito!