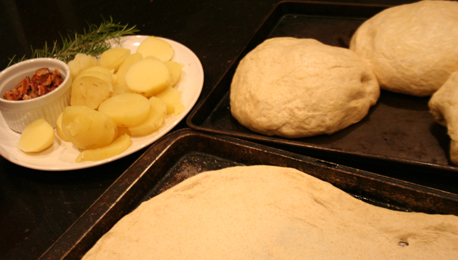 Making your own pizza dough at home is really not that complicated. It just takes a little ahead-of-time planning. If you are planning pizzas for dinner, you will need start your pizza dough in the afternoon. For my Pizza Night entertaining, I started my dough 2 1/2 hours before my guests arrived. I used Deborah Madison's dough recipe from Vegetarian Cooking for Everyone. Here is her recipe, which I doubled to make 4 large pizzas. 
PIZZA DOUGH RECIPE
Adapted from Deborah Madison's recipe in Vegetarian Cooking for Everyone INGREDIENTS
3 cups warm water
4 tsp. active dry yeast (two packets)
2 tblsp. olive oil
3 tsp kosher salt
2 cups whole-wheat flour
6 cups bread flour
Add 1 cup of warm water and yeast into a mixing bowl, stir and set aside for 10 minutes. When the yeast is foamy, add the rest of the water, olive oil, and salt. Mix in the whole wheat and white flour until the dough starts to come together. I use the kneading hook on my Kitchenaid mixer for this. Adjust your dough texture by adding more flour or more water and knead in the mixer until the gluten starts to form and the dough becomes smooth and elastic. Put the dough in an oiled bowl, turn it once to coat, then cover with plastic wrap and set aside to rise until doubled in size (about 40 to 60 minutes).
After the dough is risen, divide and shape it into the number of pizzas you want. Put each dough ball on a lightly-floured counter, cover again with plastic wrap, and let rise for another 20 to 30 minutes. To shape your pizzas, you should stretch or flatten it into a disk. Work the dough from the middle, stretching and pulling as evenly as possible, so that the middle is about ¼ to ½ inch thick and the edge a bitter thicker – 1 inch?
Before I put my dough in my pan, I line it with parchment paper to keep the pizza from sticking. Additionaly, I dust my pizza pan with a bit of fine cornmeal, then set my stretch dough on top, cover with a towel, and let it rest for 10 or 15 minutes before adding the toppings. At this point, I also like to drizzle about a tablespoon of olive oil on the stretched dough and spread to the edges. When your dough is ready, lay out all your ready ingredients for pizza assembly and get your oven ready. You'll need to place two racks in the center of the oven and preheat to 475 degrees. Recruit your guests or family to help assemble. The dough recipe will make eight small pizzas or four large pizzas. Perfect for a large family of four or a dinner party.