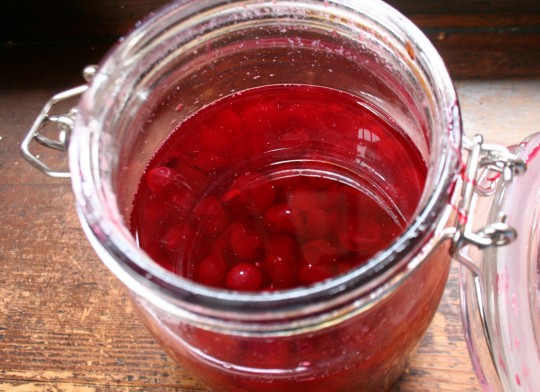 If you are into making cocktails at home, you have probably tried and mastered some of the classics-the Margarita, the Martini, the Manhattan. But if you've stretched your mixology skills beyond that, you've, no doubt, played around with various mixers to add depth and flavor to your cocktail creations. Luckily, there is now an amazing variety of fruit and spice-infused syrups, bitters and shrubs that can be found at any good liquor store or specialty food shop. What is a shrub, you say? Am I referring to a leafy bush? No. A shrub is a fruit-infused vinegar syrup. You may think adding vinegar to any drink would be odd, but the complex, fruity acidity of a shrub syrup adds a brightness and depth that is surprising and very pleasing.
What is a shrub syrup?
A shrub syrup is a sweet and sour cocktail mixer that is a concentrate of fruit, sugar and vinegar. Just like a simple syrup, it can be added to most liquors to add both tartness and sweetness to a cocktail.
Shrubs can be infused with added herbs or spices, such as cinnamon, pepper, allspice, basil, rosemary, ginger, etc. The most traditional shrub syrups are made of berries or stone fruit, but can be adapted to citrus fruits, ginger, and even tomatoes. The acid in the vinegar acts as a preservative to the fruit and gives it a counter tartness to the fruit and sugar's sweetness. 
Also…drinking vinegar is good for you! People have been drinking vinegar to boost their health for centuries and it's proponents claim every benefit ranging from weight loss to healing of heart disease and diabetes. I'm not a physician, so I won't make any such claims, but any foodways with such a long tradition can't be harmful. And, if it tastes great, that is enough of a benefit for me.
The history of the shrub syrup
The origin of the word "shrub" can be traced back to the Arabic word sharāb, which means "to drink". Many cultures have a tradition of making medicinal cordials, which were blends of alcohol, spices and herbs that made a pleasing remedy to any number of ailments. The English developed the first shrubs by adding vinegar to fruit juices to prolong storage. During American Colonial times, berry shrubs were quite popular, as a way of preserving the abundant summer fruit. These shrubs could be added to drinks in the cold of winter to prolong the memory of summer's bounty. Adding a bit of shrub syrup to rum or brandy were really our first American cocktails. 
Making shrub syrups at home
Again, if you have made simple syrup at home, shrub syrups are not much more complicated. If you can melt sugar in water in a saucepan, you're practically there. It is very simple to make, so the fun is in pairing the flavors of the fruit to some complimentary herbs or spices.
Some natural shrub syrup pairings might include:
Cranberry and cinnamon or allspice or clove
Blueberry and thyme
Watermelon and mint
Tomatoes and jalapeño or basil
Grapefruit and ginger root
Basic Shrub Syrup recipe
1 lb. of fresh fruit (berries, peaches, grapefruit, oranges, etc.)
1 cup of sugar
1 cup of vinegar
about a tablespoon (or two) of herbs or spices, paired to match your fruit.
Wash and drain your fruit. Make sure that all berries are firm and fresh. Cut up larger fruit into smaller pieces. 
In a clean quart size canning jar, place the fruit and sugar. Muddle the the sugar and fruit until it has released its juices. Mix and make sure the sugar, fruit and juice are incorporated. Close the jar and place in a cool, dark place overnight. A dark food pantry works well.
The next day, add the vinegar and your chosen spices. Mix and place into the refrigerator. You should let the fruit macerate in the fridge for about a week. At the end of the week, separate the fruit from the shrub by pouring it through a sieve, then putting the shrub back into the jar. The finished shrub syrup should keep in the refrigerator for 6 months.
Here is a recipe for a cranberry shrub syrup, which uses a slightly different technique. 
Cranberry shrub syrup recipe
1 bag of cranberries (12 oz)
1 cup of sugar
3/4 cup cider vinegar
(optional) 1 cinnamon stick, 1 teaspoon allspice berries
(other option) fresh sage leaves
Rinse and drain the cranberries. Pick out any berries that are mushy or discolored. Put the cranberries, vinegar and sugar in a non-reactive saucepan. You can also add the spices at this point. Cook over medium heat until the sugar has dissolved and the cranberries have "popped" – about 5 minutes. Set aside to cool.
When the fruit mixture has cooled slightly, pour it all into a clean, quart-sized canning jar. Close the jar and place in a cool, dark place overnight. A dark food pantry works well. Then next day, give it all a good stir and place it into the refrigerator to macerate. It will be ready to use in about a week. 
You can leave the cranberries in the jar with the shrub, but at this point, you probably want to strain the shrub from the fruit by running it through a fine sieve and putting it back into the jar. The finished shrub syrup should keep in the refrigerator for 6 months.
How to use a shrub syrup
To serve this cranberry shrub as a non-alcoholic beverage, just pour a 1/4 cup over ice and top with club soda and some fresh lime. 
For a cocktail, think about using a shrub wherever you would normally use a citrus juice. A shrub is both a sugar syrup AND an acid, so it takes the place of both in a cocktail recipe. Here is a cocktail recipe that I pulled together to take test out my new cranberry shrub. Because I use Laird's Apple Brandy and it has a beautiful deep red color, I'm calling it the Candied Apple Cocktail. It is delicious! Give it a try.
Candied Apple Cocktail
2 oz. Apple Brandy (Laird's)
1 oz. cranberry shrub
1 oz. fresh lime juice
1 dash orange bitters
Pour ingredients into a cocktail shaker, filled with ice. Shake until cold. Pour into a cocktail glass and garnish with cranberries. Cheers!