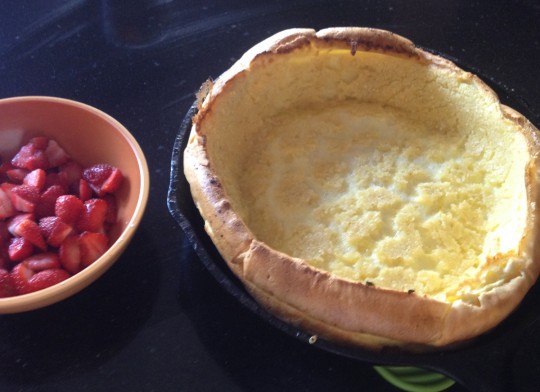 Dutch baby pancakes are light, egg-y popovers that are baked in a hot buttered skillet until they puff up. Maybe, like me, the first time you had a Dutch Baby pancake was at The Original Pancake House, a chain with restaurants all over the US. It is always fun to order there.  It has such a dramatic presentation… coming out to the table puffed up on the edges, golden and crispy on the sides, smelling of butter and eggs. I had to try making one at home. When I found out how easy they are to make, it became part of our regular weekend breakfasts. 
Dutch Baby pancakes start with a thin batter made of eggs, milk, flour and flavorings, such as vanilla or orange zest. It only takes a minute to combine the dry ingredients, then the wet ingredients, then put it all together to throw into the oven. The keys to a successful puffy pancake are having a hot oven and pouring the batter into a pre-heated, buttered cast-iron skillet. I use my mother's ancient cast-iron chicken fryer, which is really just a deep skillet. It easily holds a six-egg batter and gives it room to grow. A regular skillet will work, as well.
Dutch Baby Pancake
1 cup white flour
1/2 teaspoon salt
1 teaspoon orange zest
6 eggs (room temperature works best)
1 teaspoon vanilla
1 cup milk (room temperature works best)
2 tablespoons butter
juice of 1/2 lemon
sprinkling of confectioner's sugar
It's best if your eggs and milk are at room temperature, so start by taking those ingredients out of the refrigerator.
Move the top rack in your oven to the center so that there is plenty of "head" room for your Dutch Baby to rise. Set your oven to preheat to 425 degrees. Go ahead and place a cast-iron skillet onto that center rack so it can heat up.
While the oven and pan are heating up, mix your flour, salt and orange zest in a medium size bowl. Whisk to mix. In a smaller bowl, beat your eggs until frothy, then add your milk and vanilla extract. Mix throughly. A blender works great for this.
When your oven comes to 425 degrees, take out your hot skillet and add the butter. Put it back into the oven to melt the butter for just a minute or two. While the butter is melting, pour your wet ingredients into your bowl of dry ingredients and mix thoroughly. Pull the hot skillet out of the oven. Swirl the melted butter all along the sides of the skillet. Pour your pancake batter into the skillet and put back into the oven. Bake for 20 minutes.
The Dutch Baby pancake is done when it is golden brown and puffed up all along the sides. Take out of the oven and squeeze a half a lemon over the top. Sprinkle powder sugar over the the whole thing. As soon as it starts to cool, the puff will begin to collapse. So, while it is still hot and puffy, bring the whole skillet out to the table and let everyone "ooo" and "aahh" over it before you serve. Cut into fourths and serve with fresh fruit and some honey or maple syrup. Jam is also nice.
Enjoy!