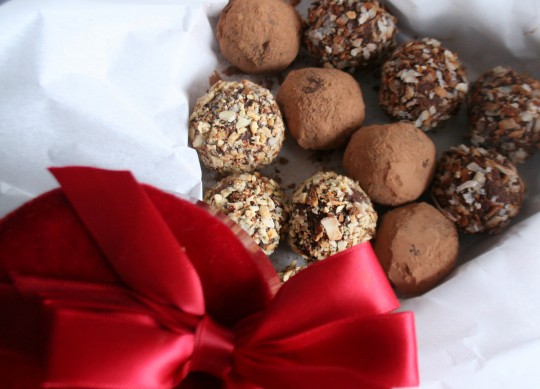 Oh my. Valentine's Day is tomorrow and we are snowed in. No chance to run out for cards or flowers or chocolates. I'm going to have to improvise with what I have in the pantry. I do have some good chocolate, so I'll make chocolate truffles. Here is a simple, step-by-step chocolate truffle recipe that you can easily make in a couple of hours.
Chocolate truffles are something I make during the Christmas holidays for gifts and to have on my sweets tray. They are easy to make, but look so elegant and taste very decadent! Truffles are simply a chocolate ganache (like a frosting) that has been rolled into small balls and rolled in a pretty and delicious coating to decorate.
Always use Good Chocolate!
This recipe makes about 2 dozen truffle balls. They are very rich, so you only need a few to make a satisfying serving. Use the best chocolate that you can afford or have available. I usually have Ghiradelli on hand, but I love Lindt or Scharffen Berger!
Truffles are traditionally rolled in different coatings to cover them with a variety of pretty textures. Cocoa powder is the most traditional, along with ground pistachio nuts and toasted coconut. You can also use toasted almonds or hazelnuts, crushed peppermint sticks or toffee. 
Chocolate Truffle Recipe
4 oz. Semi-sweet chocolate
6 oz. bittersweet chocolate
1/2 cup heavy whipping cream
1 tablespoon Grand Marnier liqueur 
1 teaspoon vanilla extract
Options for truffle coatings: cocoa powder, crushed peppermint candy canes, toasted hazelnuts, toasted almonds, toasted pistachios, coconut, or crushed toffee. You'll need about 1/2 cup of your toppings to coat 10 truffles. I like to use three different coatings to make a pretty assortment.
Making the chocolate ganache
Chop your chocolate into small pieces and place into a microwave-safe bowl. You want both the chopping board and the bowl to be very dry. You don't want water in your chocolate.
Heat the whipping cream in a small saucepan until it is just at the boiling point. You'll want to do this on a low heat and keep a close eye on it. When it is heated, take it off the heat and let it cool for a minute.
Melting the Chocolate
While the cream is heating, melt your bowl of chocolate in a microwave. My microwave has a melting setting, but if your's does not, melt at a low power setting for two minutes, then give it a stir. Keep adding 30 second increments at the low power setting until the chocolate is almost thoroughly melted. YOU DO NOT WANT TO SCORCH YOUR CHOCOLATE! You can also do this in a double boiler.
Take the chocolate out of the microwave and immediately pour in the hot cream. Stir until it is all smooth. Add the Grand Marnier and vanilla extract and stir to incorporate.
Set aside at room temperature for about an hour. At this point, you can put the ganache into the refrigerator and hold it overnight, or until you are ready to form the truffle balls. You just need to take it out of the fridge and let it warm enough to handle. 
Line a cookie sheet with wax paper or parchment. Using a small ice cream scoop or a spoon, scoop out about a tablespoon of ganache and place it on the lined cookie sheet. At this point, it doesn't have to be a perfect ball. Repeat until all the ganache has been formed and on the sheet. Put the sheet of truffles into the fridge to chill. 
After they have chilled for at least a half an hour, take them out of the fridge. Have your truffle coatings ready in small bowls for dipping.
Using your hands to warm up the outside of the truffles, take each one and roll them a bit in your hands until they smooth out to a more perfect ball shape. Then, roll them in one of your ready coatings and put back on the lined cookie sheet. I used cocoa powder, ground toasted almonds and toasted coconut.
Continue until all the truffles are formed and coated. They are finished! Wasn't that easy? This makes close to 2 dozen truffles.
Keep the finished truffles in a sealed container in your fridge. Wrap them in some tissue or cellophane paper and place in a pretty box for your Valentine.