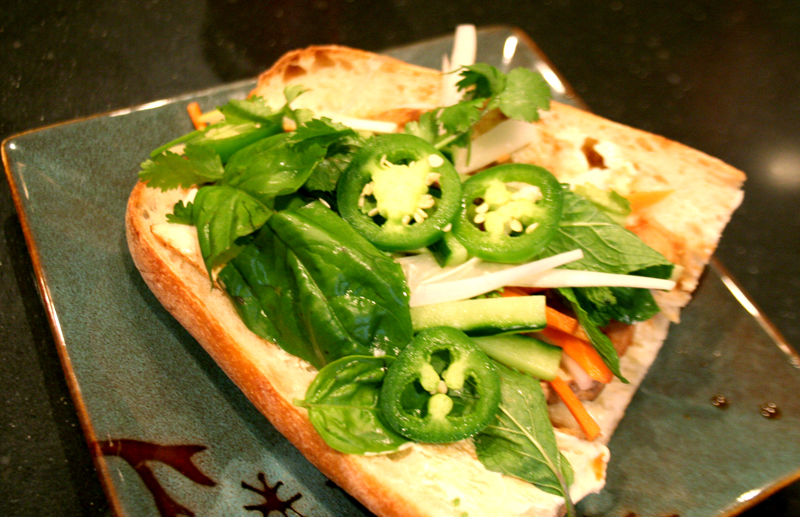 Okay, maybe it's not really an obsession, but there is not much else that will make me drive 10 miles of crosstown Atlanta traffic for lunch. Bánh mì is the Vietnamese equivalent of a sub sandwich. Owing to the French Colonial influence in Indochina, the Vietnamese quickly adapted the baguette to deliver some very local flavors – grilled pork or chicken, pork pate, pickled daikon radish and carrots, mayo, fresh basil, fresh mint, cilantro and chili peppers. If you've had one, you know that a bánh mì is like an amazing salad sitting on top of a grilled meat-filled sub roll. The taste is so fresh and delicious … and they're only a couple of bucks each! 
My friends know that I love these sandwiches and will seek them out in strip malls all up and down Buford Highway, the center of our culinary and cultural melting pot here in Atlanta. I often get texts in the middle of the day from friends asking "Where was that Vietnamese sandwich place you were talking about again?" There are a lot of little places where you can get great bánh mì, but my two favorites are Lee's Bakery and Quoc Huong Banh Mi. You can do a sit-down lunch at either of these places, with more selections of traditional Vietnamese food such as pho noodle bowls, but they are great for take-out. I just wish that they were a little closer to my house.
Maybe because most weeks I'm too lazy to drive over to Buford Highway, I've started making bánh mi at home. Once you gather the ingredients, they're actually quite easy to make. The key is getting the fresh veg and a good crusty baguette as your sandwich base. A quick trip to the Dekalb Farmer's Market works for both.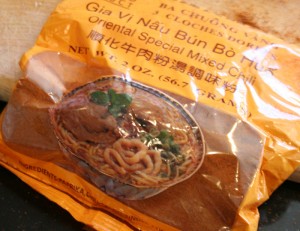 MAKING BANH MI AT HOME
Here is a recipe that comes close to the Lee's Bakery version. Give it a try.
Banh Mi Sandwiches
Pickled Daikon & Radish:
1/4 cup sugar
1/2 cup rice vinegar
2 medium carrots
1 medium daikon radish
1 tsp kosher salt
 
Seasoned Pork:
1 teaspoon olive oil
4 boneless pork chops (about ½" thick)
1 tablespoon Gia Vi Nau Bun Bo Hue – a Vietnamese Chili powder (you can substitute with 5 spice powder or a blend of paprika, onion, ginger and garlic powders)
2 tablespoons fish sauce or soy sauce
 
Sandwiches:
4 (10-inch) baguettes
Mayonnaise
Maggi or soy sauce
1 medium cucumber – cut into thin, julienned strips
Scallions – thinly sliced
Fresh cilantro
Fresh mint or basil, optional
 
Make the pickled daikon & carrots ahead of time:
In a bowl, whisk together salt, sugar and vinegar until it is all dissolved. Cut your carrot and daikon into thin, matchstick-sized strips, then toss in a bowl with the vinegar mixture. This needs to sit for at least an hour, but it's even better overnight.
Marinate your Pork:
In a non-reactive dish, sprinkle the pork chops with fish sauce and the chili seasoning powder. Let them marinate about 6 to 8 hours.
Cooking the Pork:
To cook the pork chops, you can throw them on the medium-high grill. Cook 5 to 6 minutes total, turning once. You can also pan fry the chops. Heat a large cast iron skillet to medium high heat. Add a teaspoon of oil. When the oil is hot, add your pork chops to the skillet and cook until done – about 2 minutes on each side.
After the chops have been cooked, remove from the heat and set aside for about 15 minutes. When they are cool enough to handle, slice the pork into strips for the sandwiches.
Assembling Your Banh Mi:
Slice the baguettes open lengthwise. Spread inside each half with mayonnaise then give a generous shake or two of Magi sauce. Add your slices of seasoned pork. Top with a heaping spoonful of the (drained) daikon radish and carrot pickle, the julienned cucumber, scallions and the basil, cilantro & mint to taste. Makes 4 sandwiches. Eat up!
NOTE: I've done a vegetarian version of this by substituting baked tofu. When you bake your tofu, you can use the same marinade as the pork, with the Gia Vi Nau Bun Bo Hue and fish sauce. It will give it the same savory flavor.