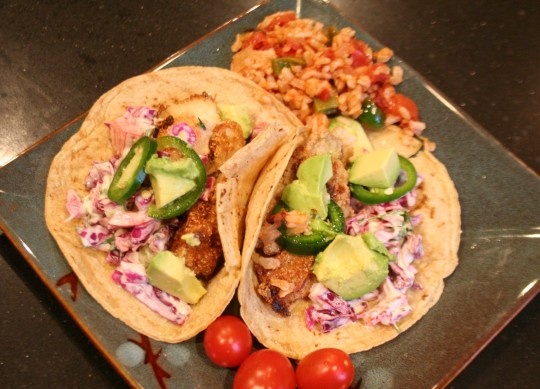 Baja-style fish tacos have become increasingly popular over the last 10-15 years. The grilled fish wrapped in tortillas make a great summer dinner. When it's cold out and the hubby isn't too keen on getting outside to grill, we make a Southern version – Baja-Style Fried Catfish Tacos with slaw.
Baja-Style Fried Catfish Tacos with Slaw
(serves 4)
1 1/2 lbs. of fresh catfish fillets
1 cup buttermilk
1/2 cup cornmeal
1 teaspoon ground cumin
1 teaspoon chili powder
1/2 teaspoon salt
 Oil, for frying (I use peanut oil)
Small tortillas – a pack of 12 gives you enough for 3 tacos for 4 people
Sides: quartered limes, chopped cilantro, diced fresh avocados, diced tomatoes, sliced jalapeños, salsa
Baja Cole Slaw
1/2 head red cabbage, shredded and chopped
1/2 to 1 whole fresh jalapeño pepper, unseeded and diced
1 red bell pepper, unseeded and diced
1/2 red onion, chopped
3 green onions (scallions), chopped
1/2 cup fresh cilantro, chopped fine (about a 1/2 of a bunch)
juice of 1 lime
1 tablespoon apple cider vinegar
1 teaspoon sea salt, or kosher salt
1/2 cup mayonnaise
1 tablespoon Old Bay seasoning
Making the Baja Cole Slaw
You should make your cole slaw ahead of time.  First, shred and chop the red cabbage and place in a medium-size bowl. Dice the onion and red bell pepper, then add to the bowl. Seed and dice the jalapeño pepper (make sure that you keep your hands away from your eyes after you finish cutting the jalapeño!). Add as much jalapeño as you can take to the slaw, depending on your taste for heat. Add the chopped cilantro and scallions.
While you are chopping veggies, now is a good time to cut up your limes, cilantro, jalapeños and avocado to serve on the side. Put these in small serving bowls.
Make a slaw dressing in a separate small bowl. Mix together the lime juice, apple cider vinegar, salt, Old Bay seasoning and mayonnaise. Whisk until smooth. Pour the dressing over the chopped cole slaw vegetables and mix thoroughly. Set aside.
Frying the Catfish
This is where I depart from the regular Baja Fish Taco. In true Southern style, I fry my catfish after a buttermilk soak and a cornmeal dredge.
First, cut your catfish fillets into smaller "planks" or nuggets. Make sure your fillets have no bones. Put the catfish fillets into a bowl and cover with buttermilk. In a shallow pan, mix the cornmeal, cumin, chili powder and salt. You are now ready to fry.
In a frying pan (cast iron skillet is preferred), add enough oil to go up about an inch in your pan. Heat the oil to about 350 degrees, so that a drop of water will sizzle and pop off the surface.  When the oil is hot, take the catfish fillets out of the buttermilk and dredge them in the cornmeal mixture. Shake off the excess cornmeal then gently lay them into the hot oil.  Fry the catfish for about 6-7 minutes, turning about half way through to make sure each side is cooked. When they are golden brown, lift them out with tongs and put them on a paper-towel lined tray to drain.
Assembling the Fried Catfish Tacos
You should now have your cole slaw, sides and fried catfish ready to assemble into tacos. I heat up the tortillas briefly on a griddle, just enough to soften them. I pile the warm tortillas on a plate and call everyone to dinner.
I usually lay everything out for everyone on the kitchen counter and let everyone start putting their tacos together themselves. 
Enjoy!