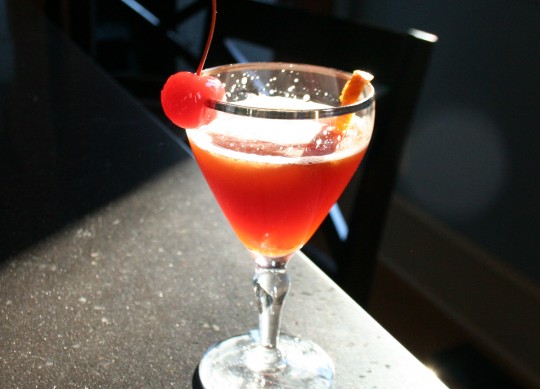 The Blood and Sand cocktail is a throwback to the Prohibition-era days when Rudolph Valentino was one of the greatest stars of the Silver Screen. Named after "the Sheik"'s 1922 movie, this classic cocktail is one of the few that uses scotch as it's base. Like many cocktails from that era, the recipe could be found in Harry Cradock's "The Savoy Cocktail Book". 
Using Scotch in a cocktail
There are not too many scotch cocktails around. Scotch has such a distinctive smoky taste, that it is very difficult to combine with other flavors and not have it overwhelm the whole drink. And, let's be honest.  If you're going to drink a good scotch, you're probably going to drink it neat or with a little ice and water. The Blood and Sand cocktail is a scotch cocktail worth breaking out the good stuff to try. It's a satisfying combination of the smokiness of the scotch and the sweetness of the blood orange, cherry heering and vermouth. For this cocktail recipe, I did use a very nice, single-malt scotch, Ardbeg. Some people actually prefer to use a milder, scotch blend, such as Dewar's or Johnnie Walker. 
Blood Oranges
Blood orange is a sweet orange with a dark red pulp. On the outside, if looks very similar to any other orange, but when you slice one open, it looks almost like a dark ruby red grapefruit, but a lot sweeter. Like many oranges, the blood orange is native to the Mediterranean, but has been cultivated in the U.S. for quite a while. It is a seasonal market find, with the best blood oranges to be found from November to February.
The Blood and Sand Cocktail
1 oz scotch (blended or single-malt is fine)
1 oz. fresh blood orange juice
3/4 oz. cherry heering
3/4 oz. sweet vermouth
orange peel or maraschino cherry to garnish
Place ice in a cocktail shaker. Pour in the scotch, fresh blood orange juice, cherry herring and sweet vermouth. Shake until chilled. Pour into an old-fashioned cocktail glass, then garnish with a wedge of orange peel or a maraschino cherry.
If you want to get fancy, you can do the trick that I showed you a couple of weeks ago… flaming the orange peel. I've got pictures posted on how to do this over at my Tangerine Drop Martini blog post.
Cheers!