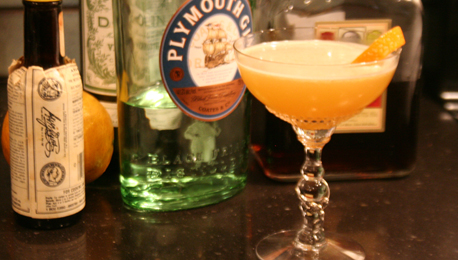 Sorry to be a party pooper, but it's April 12th and that means that it's the last weekend for you to work on your tax returns. So, to either get you in the right frame of mind for going through that shoebox of receipts OR to celebrate the fact that you sent in your 1040 forms two weeks ago, there is a very special cocktail for you today – The Income Tax Cocktail.
I found this vintage cocktail from the 1920's in a great cocktail book, Vintage Spirits & Forgotten Cocktails by Ted Haugh (aka Dr. Cocktail). The Income Tax Cocktail is basically a Bronx Cocktail with the addition of Angostura bitters. I can't find any reference to why this cocktail was named for such an unpleasant subject, but I'm guessing the addition of the bitters was a one-fingered salute to the IRS.
The Income Tax Cocktail
1 ½ oz gin (I use Plymouth gin)
¼ oz dry vermouth
¼ oz sweet vermouth
1 oz of fresh squeezed orange juice
2 dashes of Angostura bitters
Combine in a cocktail shaker with ice. Shake then strain into a cocktail glass. Garnish with orange twist
Happy filing! Cheers!