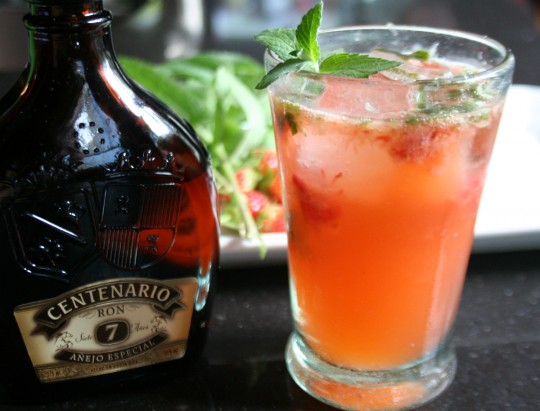 Inspired by the fresh mint and new batch of strawberries out of my garden, I'm celebrating the beginning of warm weather with Strawberry Mojitos on my front porch tonight. This also gives me a chance to break out the Centenario Añejo 7 rum that my sister Jan brought back to me from her recent trip to Costa Rica. Lucky me!
Strawberry mojitos start with rum. And the rum I have is very good. "Añejo 7" indicates that the rum has been barrel-aged for 7 years. The Centenario distillery uses old whiskey and bourbon barrels for the aging. Most clear rums, such as Bacardi Silver, are only aged a year in stainless steel tanks and are then filtered. Añejo rums take on a more complex flavor and deep color from their time spent inside the oak barrels.  Using an aged rum, such as this Centenario, makes for a more flavorful, interesting cocktail. Well, at least more interesting to my taste. 
The name "Mojito" is a derivative of the Spanish word mojadito, meaning "a little wet". This traditional Cuban highball is more than a little wet. With mint, lime and club soda, the mojito is a thirst-quenching summertime drink.  You can do many variations on this cocktail, but the strawberry mojito is particularly good.
Strawberry Mojito
1 1/2 oz rum – I used Centenario Anejo 7 rum
1 lime, cut into quarters
several leaves of fresh mint
3-4 fresh strawberries
1 tbsp. simple syrup or sugar (You may double that. I like mine on the "less sweet side")
Club Soda
Put the lime quarters and whole mint leaves into a tall Collins glass. Using a muddler or strong wooden spoon, gently crush the mint and limes to extract the juice and flavors. When the limes have been juiced completely, remove the spent quarters. Leave the mint leaves.
Now add the fresh strawberries and simple syrup to the mint. Muddle again until the strawberries have been crushed. Add the rum and ice. Top with cold club soda, then stir and garnish with fresh mint or a lime wedge or a strawberry slice.
Cheers! Happy Friday!