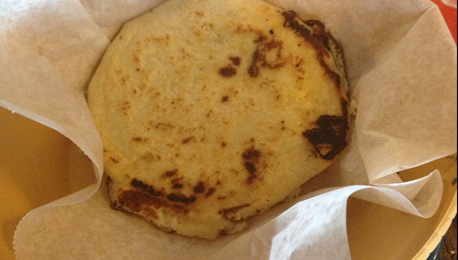 Since we're spending Spring Break this year in Atlanta, we're trying to compensate for our lack of beach action by doing fun "staycation" adventures in town. Part of being a tourist in your own town means hitting up your restaurant wish list, which for us means heading to Buford Highway.
I'd read a review of a Salvadoran restaurant in Doraville called Rincon Latino. I didn't really know much about Salvadoran food, so it seemed like a good place for a food adventure. Rincon Latino is known for it's pupusas, a specialty of El Salvador. Like a Mexican torta, a pupusa is a thick masa flatbread filled with different kinds of meat and cheese, then cooked on a griddle.
We found Rincon Latino is a strip mall at 5055 Buford Highway, at the Shallowford Road intersection. If you're looking for great ambiance, this is not your place. It reminds me of one of the dozen Mexican places that you can go to in Atlanta, like Los Loros or Coyote Cafe. It was clean and well-lit, with televisions at either end of the restaurant broadcasting Spanish language telenovelas and music videos. Nice enough, but we were there for the food.
We all ordered pupusas with different fillings – chicken & cheese, chicarron (ground pork). and cheese & loroco, a flower bud which has a leafy green taste. We weren't sure how many to order, but the waitress assured us that two each was plenty. Tim ordered three just to make sure. At $2.95 each, it seemed hard to over-order. I also ordered an horchata to drink. Horchata is a traditional Central American cold drink made with rice, almonds, vanilla and cinnamon. It's like a cinnamon milkshake.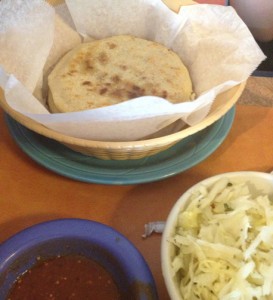 Along with two orders of platanos fritos with crema and our pupusas, the waitress brought out a bowl of curtido and hot sauce to go with our meal. Curtido is a slaw of cabbage, chilies and vinegar. The idea is to heap the curtido slaw and hot sauce on the pupusa and dig in. Which we did. And they were delicious. Hot, melty and toasty off of the griddle, they were flavorful without being too spicy. I ordered one with loroco and cheese. The loroco had a bit of a pickle flavor to it, which I liked. Tim's chicarron mix was great, with a nice bacon taste. The kids liked their chicken & cheese pupusas, although they stayed away from the slaw and hot sauce. The fried plantains with crema were a big hit.
Along with the platanos and curtido, one pupusa was filling enough for me. The kids each ordered two, but Anna could only get through one of her chicken & cheese-filled pupusas. Tim and Coleman cleaned their plates. Sitting there in the afterglow of our pupusa feast, we could only think about how soon we could come back for more.
Rincon Latino
5055 Buford Highway NE
Doraville, GA 30340
(770) 936-8181