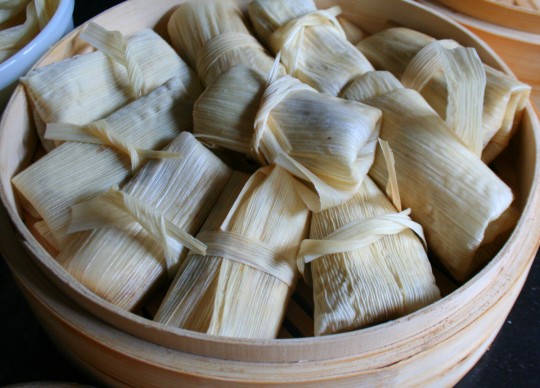 Making pork tamales at home has been on my kitchen to-do list for a long time. Like every re-blooded American, I make salsa, guacamole, tacos, burritos, churros beans and Mexican rice all the time. Tamales, however, always seemed too difficult and time-consuming to bother making. Confronted recently with a rainy cold weekend, I knew that it was time to stop being lazy.  I had fresh lard in my fridge that needed to be used and I had just bought some corn husks from the Buford Highway Farmer's Market.  I had also run out of excuses.  I decided to make pork tamales with chile verde sauce.
Making Pork Tamales is a Multi-Day Process
Making pork tamales is a multi-day process, so it really lends itself to a weekend kitchen project. It's not hard, but it does take a lot of time. The first day, I marinated my pork roast. The second day, I actually roasted the pork all day. Marinating and roasting the pork doesn't take a lot of labor, just time roasting in the oven – almost 5 hours. This is also a good day to make your chile verde sauce, since it too requires roasting time. 
The third day, I actually assembled and made my tamales, including soaking my corn husks and making my masa. This WAS labor intensive. I probably spent two hours in the kitchen,mixing up the masa, then assembling and wrapping and steaming the tamales. If you have another person to help you wrap the tamales, I could see this part going a lot faster. My tamale helpers seemed to disappear this week, so I just put on some good tunes in the kitchen and went to work. 
First Step… Roasting the Pork
You'll need a 4-5 lb. shoulder pork roast. Then make a marinade.
Pork Marinade
In a small bowl, crush 4 cloves of garlic and 1 tablespoon of kosher salt, until it makes a paste. Add 2 tablespoon of dijan mustard, 3 tablespoons of finely chopped fresh rosemary, 1/4 cup red wine vinegar and freshly ground pepper. Mix and rub all over the roast and put into the fridge overnight or for at least 8 hours.
Place your marinated pork roast into a roasting pan. Preheat your oven to 450 degrees. Roast the pork at this high heat for 30 minutes, then turn down the oven to 325 degrees. Roast for 4 hours, turning the meat every hour. It should be falling off the bone when you are done. Be sure and keep reserve any broth or cooking liquids that come from your roast. We'll be using that later for the masa.
Second Step… Make the Chile Verde Sauce
This part is so easy. You just need the right ingredients.
Chile Verde Sauce recipe
1 lb fresh tomatillos – husks removed and washed
1 small onion – quartered
3 chile verde or anaheim peppers
5-6 garlic cloves
1/2 to 1 dried ancho pepper – use as much of the ancho you like, depending on how much heat you can take.
1 teaspoon cumin
2 tbsp. red wine vinegar
1 teaspoon salt
Put the anaheim peppers, garlic, onion quarters and tomatillos on a lined baking pan and place into a preheated 375 degree oven. Bake for 30 minutes, or until the veggies have browned. You will probably want to pull the garlic out after 15 minutes, as it tends to burn quickly. Remove from the oven and let cool.
Meanwhile, re-hydrate the dried ancho pepper by placing it into a bowl and covering it with hot water for a half an hour. 
Put the roasted veggies, the re-hydrated ancho pepper, vinegar, salt and cumin into a food processor and blend until smooth.  Taste and adjust your salt & ancho seasonings as needed. This should make about 2 cups of sauce. Put aside.
Third Step… Make the Masa & Soak the Corn Husks
A few hours before you begin the tamale assembly, like the night before or early in the day,  take out your corn husks and put them in a clean sink full of warm water. They tend to float to the top, so you will need to weight them down with bowls or heavy jars. You want to soak them for at least three hours to make them soft and pliable enough to fold.
Masa recipe
RIght before you begin your assembly, you want to mix up your masa. You should be able to find Instant Masa mix, or Masa Harina, at your grocery store. You'll need:
6 cups Masa Harina
1 1/2 teaspoon baking powder
3/4 cups lard (or shortening), softened
6 cups broth – I used broth reserved from my pork roast, plus additional chicken broth
Warm the broth in a saucepan. Mix your dry ingredients in a large bow. Add the softened lard to the dry mix. Add the warm broth and mix thoroughly. The masa dough should be thick and shapeable, like playdough. Cover and set aside.
Fourth Step… Assembling and folding your pork tamales
By now, you have roasted and shredded your pork, made your chile verde sauce, soaked your corn husks and made your masa. Nothing left to do but assemble and fold your tamales!
In a big bowl, add 4 cups of the shredded pork. Add a cup of the chile verde sauce and mix thoroughly. 
Take your soaked corn husks out of their bath and put to the side. You want to use the larger ones in the bunch first. Take some of the smaller husks and pull them apart to use as tamale ties.
Lay out your corn husks. Take a couple of tablespoons of masa and form it into a long oval shape to lay on your corn husk. On top of the masa, add a couple more tablespoons of the pork mixture. 
First, fold the top and bottom ends around the filling, the fold the wide sides in next. Secure the fold by tying with the strips of corn husk.  
Final Step… Steaming the tamales
Place the wrapped tamales into a multi-tiered steamer (like my bamboo steamer), or just use a vegetable steamer inside a large pot. You can really pile them on, stacking them. You will probably need to use more than one container.
When you have your tamales all packed into your steamer, cook on a medium heat for an hour, or until the husk pulls easily away from the tamale. Be sure you check your water levels in the pan frequently.
When they are done, serve them immediately by pulling them out of the corn husks (which you do not eat) and adding a little of your extra chile verde sauce on top. I served mine with churros beans and some salad. It was delicious!
Freezing Your Pork Tamales
So, even though I spent a lot of time making these, this recipe made a LOT of tamales. I think I ended up making about 60 tamales. We ate three each for dinner, so that left a lot  to freeze for later. To freeze, you just put the wrapped tamales, corn husk and all, into a freezer bag. Push all the air out and seal tightly. The tamales should keep for 3 to 6 months in the freezer….if they last that long. I'm thinking that I'll get at least 3 or 4 more meals out of this. Not bad for a weekend's worth of work.
Enjoy!