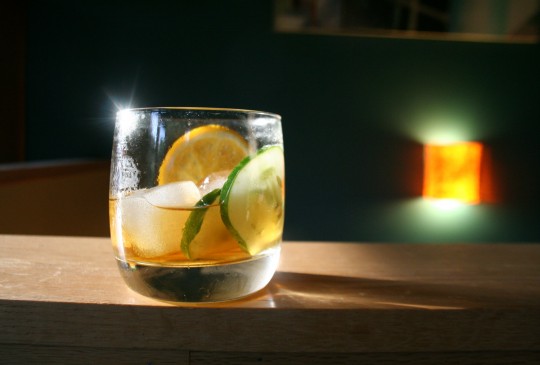 In honor of Andy Murray finally winning the Wimbledon trophy for the Brits this week, I'm making the official cocktail of Wimbledon, the quintessential English summer cocktail – The Pimm's Cup. The Pimm's Cup is a classic English "fruit cup"… a cool, refreshing long drink made of Pimm's No. 1 tonic and a lemony or gingery soda and slices of lemon, orange and cucumber. 
Pimm's No. 1 is a British tonic made of gin and a secret blend of herbs and botanicals. It was invented in 1823 by James Pimm, owner of a London oyster bar, as a way to make his gin "cups" more appealing. So, why is it called No. 1?  Well, over time, there have been 6 Pimm's.
Pimm's No. 1 is the original, with a gin base.
Pimm's No. 2 was made of Scotch whisky
Pimm's No. 3 is made of brandy
Pimm's No. 4 was made of rum
Pimm's No. 5 was made of rye whiskey
Pimm's No. 6 is made of vodka.
Only Pimm's No. 1, 3 and 6 are still available, with Pimm's No. 1 being the only product available widely in the United States. 
Here is the recipe for a single serving. If you want to make a pitcher full, just do 1 part Pimm's No. 1 to 3 parts soda (1 cup of Pimm's to 3 cups of soda).
The cricket match is optional.
Pimm's Cup
2 oz. Pimm's No. 1
6 oz. British-style lemonade or 7-up (I used ginger ale in mine)
sliced cucumbers and oranges 
Half fill a tall or highball glass with ice. Place a couple of slices of cucumber and orange into the glass. Add the Pimm's. Top off the glass with lemonade, 7-up or ginger ale. Stir to mix. It's ready to drink. 
Cheers!