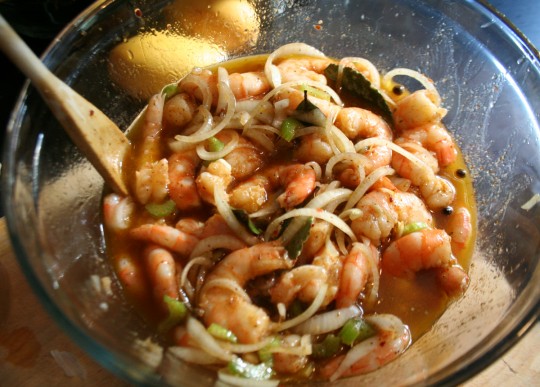 For about half the year, starting in June, we have access to beautiful, fresh shrimp from the the Gulf and from the Georgia coast. If you're lucky enough to live in Savannah or Brunswick, you can get down to the dock in mid-morning and get them fresh off the boat. If you come across a couple of pounds of big, fresh shrimp, you should try this traditional Lowcountry party food – Pickled Shrimp.
Pickled shrimp is not a true pickle, but rather a briny, cold, spicy marinated shrimp salad. Alongside mounds of pimento cheese spread, small ham biscuits and cheese straws, you'll see this sitting on buffet tables at parties. In my house, it serves as cold main course, along with a side salad of greens.  
This recipe is inspired by Hugh Acheson's version in his book A New Turn in the South. Acheson is the head chef at Five and Ten in Athens, GA and Empire State South in Atlanta. Although he is a Canadian, he has embraced Southern regional cooking and has helped to redefine it with modern tastes. Go get the book, if you don't have it already!
Pickled Shrimp
(adapted from "A New Turn in the South" by Hugh Acheson, 2011)
1 1/2 lbs. large fresh shrimp
1 bag shrimp boil
2 tablespoons Old Bay Seasoning
1 tablespoon kosher salt
1/2 teaspoon freshly ground pepper
6 dried bay leaves
1/2 teaspoon allspice berries
1 teaspoon mustard seeds (optional)
1 teaspoon celery seeds (optional)
1 medium white onion, sliced thin
2 stalks of celery, sliced thin
2 lemons, sliced thin
3 cloves garlic, minced
1 teaspoon Worcestershire sauce
juice of 2 lemons
1/2 cup olive oil
 First, you will need to boil your shrimp.
As noted in my earlier shrimp boil recipe, you will need to start with a pot large enough to hold your shrimp, plus lots of water. To your pot of water, add a couple of tablespoons of kosher salt and a prepared shrimp boil bag (like Zatarain's). Bring the water to a rolling boil and add your shrimp. Boil the shrimp a few minutes, until they turn pink (about 5 minutes). DON'T OVERCOOK!
When the shrimp is done, dump them into a colander and let them cool to room temperature. When the shrimp have cooled, go ahead and peel them.
Making the Pickling marinade
Slice your onions, celery and lemons very thin. Mince your garlic. Set these aside.
In a large mixing bowl, begin by adding your spices – Old Bay Seasoning, salt, pepper and bay leaves. Optional spices include celery seeds, mustard seeds and allspice berries. To this, add the Worcestershire sauce, lemon juice and olive oil. Whisk to mix the liquid ingredients with the spices. 
 Mix the Shrimp with Marinade
Toss in your cooked shrimp, along with the onion, celery, lemons and garlic. Mix thoroughly, until all the shrimp is covered in the marinade. You can either keep it in the bowl, or put it into a large, glass jar. If the shrimp aren't completely covered in marinade, top off with extra olive oil. Cover and put in the fridge overnight. It's best if you leave it in the marinade for at least 24 hours.
Serve cold as part of a summer appetizer buffet with toothpicks and small plates. It should last about a week in the fridge.
Enjoy!