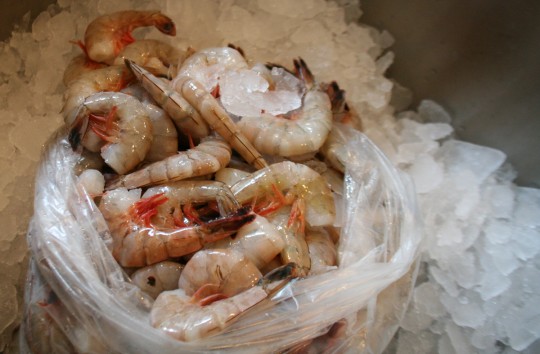 Last month, my sister-in-laws came for a visit and brought with them 5 pounds of beautiful, jumbo shrimp, fresh off the boat in Ocean Springs, Mississippi that morning. Squeee! What a treat! To do justice to that treat, we decided to get out the turkey fryer and do a little cooking outside – a Carolina-style Low Country Shrimp Boil!
Carolina-Style Low Country Shrimp Boil
4 medium onions, quartered
4 whole bulbs of garlic
4 lemons, quartered
10 small red potatoes, washed & quartered
1 bag of Zatarain's Shrimp Boil in a Bag
2 tablespoons Old Bay seasoning
1/4 cup tabasco (but really, to taste)
1/2 cup kosher salt
8 ears of corn, cut into quarters
2 lbs smoked pork sausage, cut into 2 inch pieces
4 lbs fresh shrimp, unpeeled in shells
Turkey Fryer/crab boiling rig – with a 32 quart pot and a strainer basket insert 
Shrimp Boil in a fryer?
You will need a large pot for your boil and a good source of heat to get a lot of water boiling. It should at least be a 32 quart (8 gallon) pot. The best thing we've found for a shrimp boil is our turkey fryer rig. It came with an 8 and a 10-gallon pot and its propane heat source can generate a lot of cooking power. The 10-gallon pot also came with a strainer basket insert, so that we can easily pull the finished shrimp and vegetables out to drain. The pot sits on the rig stand, which has the burner connected to a propane tank. You CAN also do this on your stovetop, using something like a large lobster pot. 
First Steps… Cutting your ingredients
Thanks to my friend Mellie, I have a nice stash of smoked pork sausage from Teet's Food Store in Ville Platte, Louisiana. Teet's sausage is nice and smoky and has just the right amount of spice that I like. It's a small, family-owned meat market and they make and smoke their own sausage there at their place in Ville Platte. I like to keep it in my freezer and pull it out for special occasion gumbos and such. I pulled out a 2 pounds and got my son started on cutting the meat. 
Cut up your onions, corn on the cob, lemons and potatoes. Because the shrimp only takes a few minutes to cook, these vegetables, plus the sausage and seasonings, will go into the pot first.
Get your rig going – boiling the first ingredientsvv
The first thing you will do is to fill your large pot a quarter of the way full of water. Put your pot up on the cooking rig and add the onions, garlic bulbs, lemons, potatoes, sausage, salt, Tabasco, Old Bay and Shrimp Boil seasoning bag into the pot. Turn the burner up to high and bring everything to a boil. When it reaches a boil, turn down the flame and simmer for about 10 minutes.
Then, add the corn and mix in with the other ingredients. You want to simmer until the corn and potatoes are tender and cooked through – another 10 minutes.
Next Step… Add the shrimp
When the potatoes and corn are tender, then it's time to add the shrimp. Your just throw the whole shrimps in and mix the pot up thoroughly. Let the shrimp cook with the rest of the ingredients for another 4-5 minutes, until they turn pink. You do NOT WANT TO OVERCOOK THE SHRIMP!! They cook quickly and they get tough if they are overdone. It's better to undercook them and let them finish cooking as they sit in the warmth of the serving pan.
Lastly… pull it out and serve it up!
As soon as the shrimp turns pink, cut the heat and get your serving pan ready. Lift the basket and let it drain a minute. Then, dump everything – the shrimp, potatoes, onions, sausage, corn, etc. – out onto a serving platter.  A lot of people will just line a table with newspaper and dump the whole thing out on top of that. I prefer a more tidy presentation, so I had a large roasting pan ready to hold all of my boil. 
It was SO good. The shrimp was in the ocean early that morning, off the boat and in Atlanta on our dinner table by that night. Thanks to my lovely sister-in-laws, Janice and Nancy!
Since it's a meal in one pot, you don't really need to serve anything else with a low country boil. In true Carolina tradition, everyone has to peel their own shrimp at the table, so you'll also want to have a big bowl to discard the peels. Also, have extra Tabasco, lots of paper napkins and cold beer or ice tea to go with it.  Enjoy!