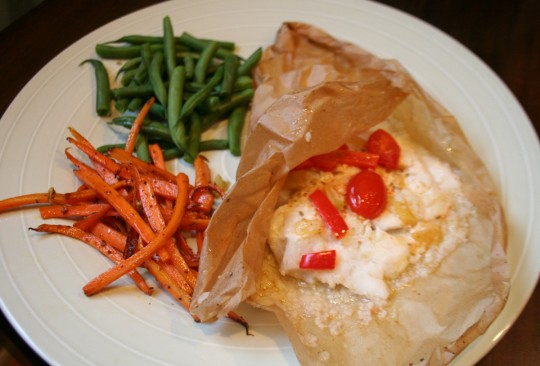 Grilled fish is one of our favorite summer dinners, but not all fish do well cooked over a dry heat. Some fish do better poached or steamed. One way to prepare them is by cooking fish in parchment paper, or "en papillote" which is French for "in paper". En Papillote is a simple technique where you put a fish fillet, some vegetables, some aromatics (such as herbs or garlic) and a bit of liquid & oil into a pouch made of parchment paper, then roast it quickly at a high temperature, steaming the fish in it's own juice. This method seals in the flavors of the fish and veggies, while keeping them very moist. And the best part is when you bring the parchment pouches to the table and everyone gets a peek inside. It's like opening a present… a delicious present. 
 What Kind of Fish to Cook in Parchment Paper?
Although you can use any fish, choices such as cod, halibut, snapper, or sea bass do well cooked in parchment. I found some nice-looking fresh Hake fillets at the farmer's market. Hake is in the cod family and is still abundant in the Atlantic of the Northeast coast of the U.S. It is a white, flaky, lean fish and is perfect for parchment cooking.
Fish with North African flavors
For this version, I wanted to use my newly-made preserved lemons, cumin, garlic and other North African flavors. I found a tube of harissa paste on my last trip to the Buford Highway Farmer's Market and I added that to my marinade. Harissa is a Tunisian red chili pepper paste. It is used as a condiment throughout North Africa, in the way we would use ketchup or salsa. They put it on everything. Harissa does have some heat, so you will want to play with adding the right amount for your tastes. If you can't find harissa, sriracha comes very close in flavor. And, of course, you have to serve your fish with couscous, the staple grain of North Africa.
Hake Fish in Parchment Paper (en Papillote)
serves 4
2 large hake fillets – about 1/2 lb each, cut in half to make 4 pieces
1 cup cherry tomatoes – halved
1 cup red & yellow bell pepper, sliced
2 cups couscous, cooked
Marinade
1 preserved lemon
2 cloves garlic, crushed
1 tablespoon harissa paste (or to taste)
juice of one lemon
2 tablespoons olive oil
1 teaspoon ground cumin seeds 
1/2 teaspoon fresh ground pepper
1/2 teaspoon sea salt
4 sheets 10″ x 12″ parchment paper (use the silicone-coated kind – not wax paper)
Ahead-of-time
Make your couscous by pouring 2 cups of boiling water over 1 cup of uncooked couscous in a heat-proof bowl. Cover and let steam for 20 minutes. You can leave it covered until you're ready to use.
Make the marinade
Remove your preserved lemon from the jar and scoop out the pulp. Slice the remaining peel into thin strips and put them into a small mixing bowl. Grind your whole cumin seeds and garlic into a paste and add to the bowl. I do this using a mortar & pestle, but you can also just chop your garlic and use pre-ground cumin instead. Place the rest of the marinade ingredients (harissa paste, lemon juice, salt & pepper and olive oil) in a bowl and mix. 
Pre-heat oven to 400 degrees. 
Take your 10″ x 12″ sheets of parchment paper, fold in half, then cut into a large heart shape by cutting the half the shape along the fold. It should fold out and look like a large Valentine.
One note about the parchment paper… you can substitute aluminum foil for the parchment, but it will react with the acid from the lemon juice and give an off-flavor. Parchment really works best.
Assembling your parchment pouches
Place your parchment "heart" on top of a baking tray. Place a 1/2 cup of couscous on one side of the "heart". After brushing both sides of a single fish fillet with the marinade, place it on top of the couscous. Put 1/4 of the cherry tomatoes and sliced bell peppers on top of the fish.  Brush with more marinade.
Fold the other side of the parchment over to cover the fish. Line up the edges and, beginning with the rounded end of the "heart", begin crimping or folding the two sides together tightly. 
Go all the way around until the pouch is closed. Take the "tail" and give it a twist and fold underneath to finish. It should look like this…
You can get two pouches to a baking sheet. This recipe makes four pouches, so you will have two baking sheets. Put the baking sheets on the center racks in the 400 degree oven. Depending on the thickness of the fillets, cook them 15 to 18 minutes. It's hard to overcook with this method.
Remove the baking sheets from the oven and place the individual pouches on each plate. When everyone sits down to eat, pull apart the parchment pouches at the table. The escaping steam will be hot, so be careful when opening.  
You can see that my son really liked his!