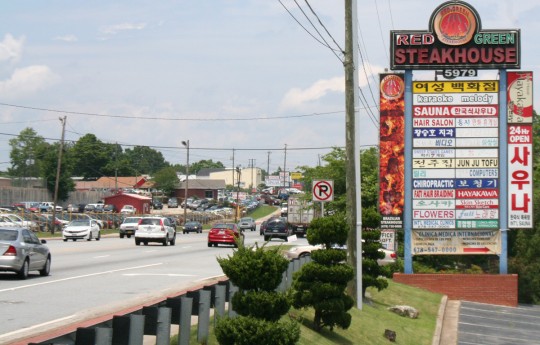 Atlanta is known for many things – its sprawling suburbs, horrific traffic and never ending construction among them. Even if you hate sitting on the Downtown Connector at rush hour, there is no denying that this city has a certain charm and appeal. It is still the economic engine for the entire South. It has a thriving music, arts and food scene. Atlanta has beautiful, leafy, historic intown neighborhoods that attract more new residents each year. But, not known to many people outside the city, there is one part of Atlanta where the flood of new immigrants has quietly come and changed the dynamic of the food scene profoundly – Buford Highway.
Buford Highway is a busy six-lane road that starts at Lenox Road, right on the edge of Buckhead, and goes all the way to … well… to Buford, presumably. Close to the city, the highway stretches for six miles, passing through Chamblee, Doraville and Norcross. Along the way, there are countless older strip malls and apartment complexes built in the 1970's and 1980's. It's one of the last places inside Atlanta to avoid the bulldozer and gentrification. With it's never ending rows of strip malls, the exterior seems like a perfect example of "The Geography of Nowhere", the term coined by James Kunstler describing the blight of American suburban sprawl. It's a bit run down and shabby, to be honest.
But the shabby exterior hides a not-so-secret Atlanta treasure. Because of the numerous cheap apartments close to the city, this has become a natural starting point for immigrant families landing in Metro Atlanta. According to the Creative Loafing, Buford Highway is home to the largest Latino and Asian populations in Atlanta. This has created an explosion of immigrant businesses and restaurants over the last 25 years. There are over 1,000 of these businesses, by some estimates. The restaurants are scattered all up and down Buford Highway, in strip malls and old, abandoned fast-food places. Along the way, you can find Cantonese, Vietnamese, Korean, Malaysian, Bangladeshi, Cuban, Mexican, Salvadoran, Colombian, Japanese, Peruvian and Middle Eastern food.  I'm sure there are more popping up each day, as a different wave of immigrants plants their flag.
You can spend months going from strip mall to strip mall, exploring all of these little restaurants. I do try my darndest to do the same, but there are food bloggers here in Atlanta who dedicate themselves better to this task. One of of the best of these food explorers is Eat Buford Highway blog. Do yourself a favor and click on the link and bookmark it for future reference. It's my "go-to" guide to find the best Korean BBQ, Vietnamese pho and Chinese dim sum on Buford Highway. John Kessler, AJC's food writer and fellow Decaturite, has a great primer written in 2009 on the "Best Of" article – "Buford Highway Tour". Creative Loafing also has a handy guide to the neighborhood, for a nice overview of other businesses and cultural happenings.
I should really call this post "Buford Highway – part one", because I want this to be ongoing. My goal is to spend more time there this year, trying new places and writing about the different food cultures there to add to my Buford Highway tag. I'm sure that I can find some fearless friends and family to go along, so feel free to send me some tips and insights on places I should try. I'll let you know when I need some company!