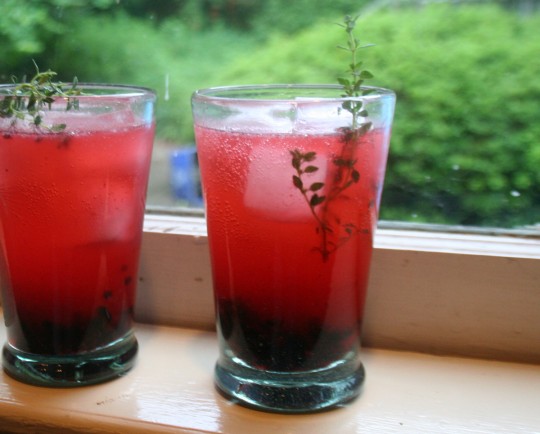 As I mentioned earlier this week, we're in the beginning of blackberry season here in Georgia. We're picking blackberries every few days and we've got a few big containers filled with them right now. When I have this many berries sitting in my fridge, it's too tempting to grab a sweet handful to nibble on or put in bowl with some yogurt. I'm also tempted to toss them into a tall glass and add some thyme, lemon and gin for a summer cocktail –  Blackberry Thyme Bramble Cocktail.
Making up this cocktail, I took elements from a classic Bramble Cocktail, which is a gin sour using crème de mûre, a French blackberry liqueur. I also wanted to play off of the herbal notes of the gin by adding a thyme-infused simple syrup. Then, I replaced the crème de mûre liqueur with fresh, muddled blackberries. Topping it off with club soda made it lighter and more refreshing. Sort of a variation on a Tom Collins. LIke my watermelon vodka cooler made earlier in the summer, this blackberry thyme bramble cocktail tastes like summer.
Thyme-infused Simple Syrup
1/2 cup sugar
1/2 cup water
3 sprigs fresh thyme
Place the sugar, water and thyme sprigs into small saucepan. Heat over medium heat, stirring occasionally. Use the spoon to lightly crush the thyme sprigs in the sugar syrup. Heat until the sugar has dissolved in the water. Do NOT let it come to a boil! Remove from the heat and let cool to room temperature.
Remove the thyme sprigs and pour the syrup into a small container and store it in the refrigerator. It should last for a few months in the fridge.
Blackberry Thyme Bramble Cocktail
2 oz gin (London Dry style)
1 oz fresh lemon juice
1 oz thyme-infused simple syrup (see below for recipe)
1/4 cup fresh blackberries
club soda
fresh thyme sprigs for garnish
In a tall glass, pour in your thyme-infused simple syrup and the blackberries. Using a muddler or a long spoon, crush the berries into the sugar syrup. Add the lemon juice and thyme-infused simple syrup. MIx with a long spoon. Next, fill up the rest of your glass with ample ice, add the gin and top with club soda. Stir briefly and serve with fresh thyme springs and a few whole blackberries as garnish
 Cheers!