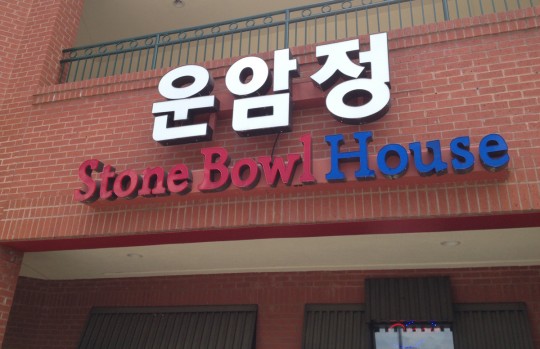 The daughter and I went on a food adventure last week and so, as we always do, we headed to Buford Highway. Among the many, many immigrant populations that you will find represented along Atlanta's melting pot is Korean. Up and down Buford Highway, you can find many places that have typical Korean cuisine – bbq, noodle dishes, soups and rice bowls. So many to choose from but we ended up at Woo Nam Jeong Stone Bowl House, a Korean restaurant that is known for its version of bibimbap.
Bibimbap
Bibimbap is a Korean rice dish served in a sizzling hot stone bowl with thin slices of meat and vegetables and a raw egg added to the top. "Bibim" means "mix and "bap" means "rice, so this is literally Korean for "mixed rice". Which is exactly what you do when the bowl comes to the table. You mix the raw egg into the hot rice and it cooks quickly. After you've mixed your bowl full of rice, egg, meat, veggies, you have a bowl of healthy, delicious lunch!
Anna ordered the regular bibimbap with beef and chili sauce on the side. I ordered the Dolsot Bibimbap with squid (I know, I know. Just think of it as Korean calamari). You can also order it with pork or mushroom. The Dolsot version came with the chili sauce already mixed in, but I didn't find it as spicy as the waitress warned me it would be. 
Banchan – Korean side dishes
Korean meals always comes with banchan, or small side dishes that are shared and are eaten throughout the meal . Woo Nam Jeong offered up dishes with kimchi (fermented & seasoned cabbage), sauteed leeks, diced apples & cucumbers, cubed sweet potato, chili paste, seaweed, etc. Our waitress was very good about explaining everything in each of the banchan dishes. 
You eat the banchan with a bit of rice or on the side. I added mine a bit at a time to my rice bowl. I'm not sure if that is the proper Korean way, but it tasted great to me that way.
Another note… when you get to the bottom of the bowl, you'll find the rice has formed a crispy crust from the heat of the stone bowl. It's really the best part. Yum.
Woo Nam Jeong Stone Bowl House 
5953 Buford Hwy NE  
Atlanta, GA 30340
Open every day except Wednesday – 11 am to 10 pm