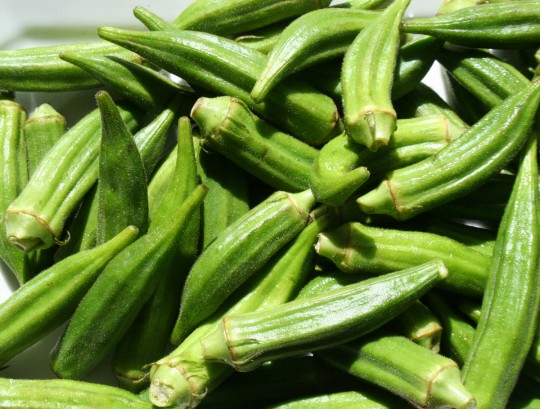 Forget Red State vs. Blue State. Okra divides this country as surely as any October college football rivalry. You either "get" okra, or you don't. And if you live outside of the South, you probably just don't get it. I know. I know. It's weird. It's slimy. It's green and prickly. Maybe you just have to grow up with it to appreciate it. For me, growing up in East Tennessee, our childhood summer dinners would often just be a plate of fried okra, sliced tomatoes (both from with my Dad's big vegetable garden) and cornbread. If there is a better summer dinner, I don't know what it is.
You can easily trace okra's Southern roots back to Africa. In fact the word "gumbo" is a derivative of the West African word for okra. Most of the ways we cook okra today come directly from the slave kitchens of plantation times. In the deep South, you will find it stewed with tomatoes and used in gumbos. It's often pickled. Throughout the entire South, you will find it fried. 
Most complaints about okra are that it is slimy. In okra's defense, if you've had it and it was slimy, it probably wasn't cooked right. If you cook it the traditional Southern way, with a light dredging in cornmeal then a quick pan fry in hot oil, it actually crisps up and the "slimy" insides turn tender and moist. 
In the last few years, trying to get away from fried foods, I've starting grilling or roasting okra instead. Cooking it this way eliminates the extra carbs from the breading and eliminates most of the oil needed. Roasting the okra gives you a slightly crispy, slightly caramelized exterior, while keeping the tender insides (minus the slime). It's become a family favorite.
Roasted Okra
First, you will want to pick okra that is small. Do NOT grab the large pieces of okra out of garden or the market bin. They will be tough and woody. The smaller ones are still tender. You will need about 4 cups of untrimmed okra to feed a family of okra lovers.
Next, wash and trim the stems off the okra. Cut the okra in two, lengthwise. 
Toss the okra halves in a bowl with a bit of olive oil and seasoning salt to taste. I use salt, pepper and paprika. 
Place your seasoned okra halves on a cookie sheet lined with parchment or non-stick foil and put into a pre-heated 400 degree oven.
Roast for about 30 minutes, or until they start to brown. You may want to turn them over with a spatula mid-way through. Remove from the oven, adjust your salt and pepper to taste, then serve immediately.
Grilled Okra
If you are grilling your okra, keep the pods whole, but trim off the stems. Toss with oil and seasoning salt, then put onto a hot grill. Keep a close eye on them. They will burn quickly. You want to keep turning them and cook them to a light char – about 5 minutes on each side. Serve hot from the grill.
We usually have Tobasco on hand so everyone can add a few shakes onto the okra at the table.
And, if you really, really must have okra fried the traditional way…
Fried Okra 
Wash and trim the okra. It's traditional to cut the okra into rounds, about 1/2 to 1 inch wide. You can also cut it in two, lengthwise. Your grandmother would probably frown at that, though.
Toss the pieces in a bowl with about a cup of buttermilk to coat. In another bowl, mix 1 cup of fine cornmeal and about 2 teaspoons of seasoning salt. I just use Lawry's Seasoning Salt. 
Get your skillet hot and add a cup of cooking oil. I like to use peanut oil, because it has a high smoke point. I add a couple of spoonfuls of bacon fat  to the cooking oil to give it flavor. When the oil is hot, toss your buttermilk-coated okra pieces into the dry cornmeal mix to dredge. Shake off the excess cornmeal and add the pieces to the hot oil. You don't want to crowd the skillet. It should be one-layer deep.  Turn the frying okra to make sure that it fries evenly. You will probably have to fry the okra pieces in two batches. 
Remove from the oil and let it drain on paper towels. Serve immediately.  Enjoy!