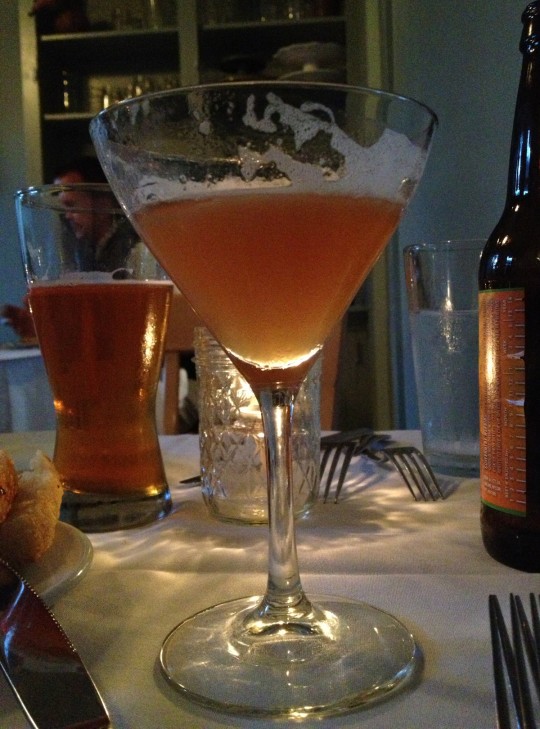 In the cooler months, it's traditional for those who imbibe to switch to the "brown liquors" – bourbon, whiskey, rye. I don't want to mess with tradition, so I've put away the gin until the warm days return in March. In the meantime, instead of just sipping whiskey, I want to build my repertoire of good whiskey cocktails. One that I found last year was the Lion's Tail cocktail. It is a spicy combination of rye or bourbon, lime juice, syrup, bitters and Pimento Dram. The Lion's Tail became last year's biggest holiday party hit.
The Lion's Tail cocktail has been around at least since the 1930's and the cocktail recipe can be found in 1937′s Cafe Royal Cocktail Book. Besides its odd combination of lime and rye or bourbon whiskey, it includes a rather obscure ingredient – Jamaican Pimento Dram. This is not related in any way to the red pimento pepper that you find in the center of an olive. Rather, it refers to the "pimento berry", the dried fruit of the Pimenta dioica tree that we know as allspice. It is also known as Jamaican pepper, a tree native to Jamaica and the Antilles. British explorers brought it back to the Old World and began calling it allspice because it had the flavor of "all spices" – cinnamon, nutmeg and cloves. Pimento Dram is a rum-based liqueur produced in Jamaica that is infused with the allspice berry. It is used in many caribbean cocktail recipes and pairs naturally with rum and bourbon.
You can buy Pimento Dram from finer liqueur stores or you can make it at home easily. You just need rum and whole dried allspice berries. Here is how I make a small batch.
Homemade Pimento Dram
2 tablespoons allspice berries 
1 cup rum
1 cup water
1 cup granulated sugar
Using a mortar and pestle, crush the allspice berries until they are the texture of cracked pepper. Place them into a pint jar with the cup of rum and let them steep for at least a few days, but more like a week.
Make the simple syrup – In a small saucepan, stir the water and sugar over a low heat for a few minutes. When the sugar dissolves, remove from the heat and cool.
Strain the allspice berries from the steeped rum by pouring through a fine sieve or over cheesecloth. Pour back into your jar and add the simple syrup. Most recipes that I've seen for Pimento Dram say that it should rest for a month at this point, but I find it ready to use right away.
NOTE: when I make this recipe, I don't add the simple syrup. I just keep the allspice-infused rum in a jar and add fresh simple syrup for each cocktail. In my mind, this seems more "shelf stable".
The Lion's Tail Cocktail
(adapted from 1937′s Cafe Royal Cocktail Book)

2 oz. Rye Whiskey or Bourbon (I use Redemption Rye)
½ oz. Pimento (allspice) Dram – either homemade or imported brand
½ oz. Fresh Lime Juice
1 dash Angostura Bitters
1 tsp. simple syrup (I use maple or sorghum syrup)
Place all ingredients into a cocktail shaker with ice. Shake until cold. Strain into a cocktail glass and serve. 
Cheers!