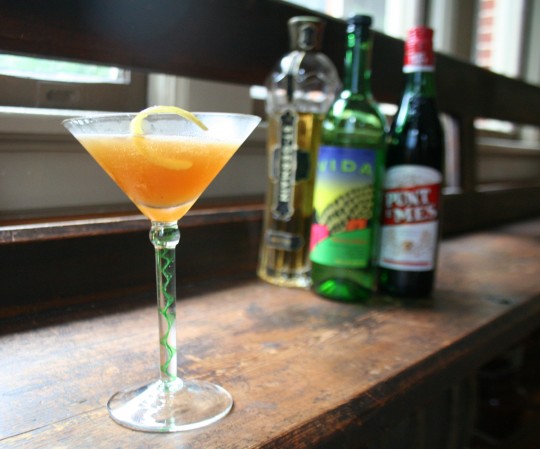 The Maximilian Affair cocktail salutes Mexico and France by combining the tastes of smoky Mexican mezcal with the sweet floral French elderflower liqueur. It's a surprising combination that works great together. Which is odd, considering that it was named for an historic event that took place in Mexico in the 1860′s which wasn't so sweet. The Maximilian Affair involved an Austrian Archduke and an attempt by those meddling French to rule Mexico.
Emperor Maximilian of Mexico
Did you know that France, under Napoleon III, invaded Mexico in the 1860′s? They did. Despite suffering a defeat by the Mexican troops on May 5th, 1862 (yes, that's where the celebration of Cinco de Mayo came from), the French managed to take control of Mexico through military force and by consolidating power with the Mexican elites. The French quickly enthroned Archduke Maximilian of Hapsburg to create a Mexican monarchy, known as the Second Mexican Empire. As you can imagine, an Austrian Emperor (backed by the French government) could not hold power for long and within three years, he was defeated and executed by republican Mexican forces and the French were out of Mexico for good. 
I guess he could have used a cocktail, huh?
The Ingredients –
Mezcal – a smoky alternative to tequila
One of the ingredients for the Maximilian Affair cocktail is mezcal (or mescal). Mezcal is the OTHER Mexican liqueur made from agave. What sets mezcal apart from tequila is the process of roasting the heart of the agave plant over oak or mesquite fires, giving it a smoky flavor. The roasted agave is then crushed and the juice is then fermented and distilled to make mescal.
St. Germain – elderflower liqueur
In 2007, the French distiller, St. Germain, began shipping its elderflower liqueur to the U.S.  They must have done something right with their marketing, because I've been seeing it on cocktail menus all over town.  The liqueur, made from the flower heads of the elderflower harvested in the French Alps, tastes like flower nectar – bright, sweet and fruity. It goes great with champagne and is a great mixer to add to more neutral spirits. It's no wonder that is has become so popular with bartenders and cocktail makers.
Maximilian Affair Cocktail
from Imbibe Magazine
Created by Misty Kalkofen at Drink in Boston
1 oz. mezcal (Mezcal Vida)
1 oz. St-Germain elderflower liqueur
1/2 oz. Punt e Mes (a sweet vermouth)
1/4 oz. fresh lemon juice
Combine mezcal, St. Germain, Punt e Mes and lemon juice in a cocktail shaker with ice. Shake to chill. Strain into a cocktail glass and garnish with a lemon twist.
 Salud! Prost! Cheers!