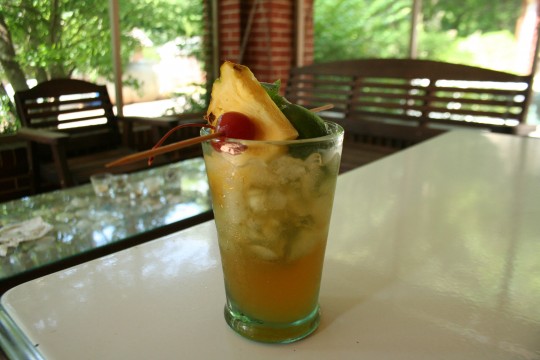 It's Memorial Day weekend – the official start to summer. Time to put away the dark whiskeys and brandies and pull out the lighter liquors and start pouring the fruity drinks. In that spirit, why don't you get out the rum and try a classic summer fruity drink. My weekend is starting with the drink that ruled over the Tiki lounges of the 50′s and 60′s – the Mai Tai cocktail.
Mai Tai ingredients – rum, orgeat and Orange Curaçao
Like many tiki drinks, there are many layers of liquor, fruit and syrup that go into making the delicious Mai Tai. Orgeat (pronounce or-zhat) is an almond syrup which you will often see in tiki cocktails paired with rum and lime. It is really an essential ingredient in the Mai Tai. I don't know of a substitute, but you can make your own with almond milk and sugar.  You can find a recipe for homemade orgeat here. I don't make mine, because I'm able to go to the liquor store down the street and get a pretty good version from the Fee Brothers.
Another key ingredient is Orange Curaçao. As noted in my post about the Pegu Club Cocktail, Curaçao is a liqueur made from the fragrant peel of the laraha fruit, which was cultivated from the Valencia orange on the Southern Caribbean island of Curaçao. It is naturally clear, but color is added – blue for Blue Curaçao or orange for Orange Curaçao. You can substitute Curaçao with other orange liqueurs, such as Cointreau.
Trader Vic invents the Mai Tai… or did he?
There is some dispute about who invented the Mai Tai. It really comes down to two amiable tiki rivals – Trader Vic Bergeron and Donn Beach, aka Don the Beachcomber. On one hand, people credit the invention of the Mai Tai cocktail to the famous restauranteur "Trader Vic" Bergeron. Trader Vic was instrumental in popularizing the Polynesian Tiki theme in restaurants and bars, starting with his first place in Oakland, California during the 1930′s. Trader Vic's quickly expanded, and by the 1950′s, he had restaurants all over the world. According to Trader Vic's story in his book "Trader Vic's Bartender Guide", there is no question that he invented the Mai Tai.
"There has been a lot of conversation over the beginning of the Mai Tai. And I want to get the record straight. I originated the Mai Tai."
It seems that in 1944, Vic was trying to figure out what to do with a particularly good 17-year old dark Jamaican rum sitting on his bar shelf. He blended the dark rum with a lighter rum, then added Orange Curacao, orgeat almond syrup, fresh lime juice and rock candy syrup (sugar syrup). When he offered the first one to his friends visiting from Tahiti, one of them took a sip and proclaimed "Mai Tai-Roa Aé," which means "Out of this World – the best!" in Tahitian. At that moment, the Mai Tai was born. As Trader Vic said… "Anybody who says I didn't create this drink is a dirty stinker." 
But, there is a lot of evidence that points to Donn Beach as the original inventor of the Mai Tai. Donn was born Ernest Beaumont in New Orleans. He was a bootlegger who moved to Los Angeles right after the end of Prohibition, where he soon changed his name to Donn and started a Polynesian-themed bar, Don the Beachcomber. Not as well-know as Trader Vic's, but very popular with the Hollywood crowd, Donn eventually ended up in Hawaii, with a bar on Waikiki Beach, where he lived until he died in 1989.
Donn always claimed that the Mai Tai was his invention. Solid proof rest in the fact that he published his Mai Tai recipe in his 1933 bar guide – "Hawaii Tropical Rum Drinks & Cuisine". That was 11 years before Trader Vic. General consensus is that they both came up with rum drinks of their own invention that they called Mai Tai's. And even though the Don the Beachcomber version came first, it's really Trader Vic's version that became more popular and the version that I make at my house.
Trader Vic's Mai Thai Cocktail

(from
Trader Vic's Bartender's Guide, Revised
)
1 lime
1/2 ounce Orange Curaçao
1/4 ounce simple syrup 
1/4 ounce orgeat syrup
1 ounce dark Jamaica rum and
1 ounce Martinique or another light rum
Cut lime in half. Squeeze juice over shaved (or crushed) ice in a mai tai glass (double old-fashioned). Save one spent lime shell. Add remaining ingredients and enough shaved ice to fill glass. Hand shake. 
Decorate with spent lime shell, fresh mint and a fruit stick.
Don the Beachcomber's 
Mai Tai Swizzle
(from "Beachbum Berry Remixed – A Gallery of Tiki Drinks")
1 ounce grapefruit juice
3/4 ounce fresh lime juice
1/2 ounce Cointreau
1/4 ounce falernum
1 1/2 ounces Myer's Plantation Rum (or substitute Myer's Legend rum)
1 ounce Cuban rum (or substitute gold Virgin Island rum)
6 drops (1/8 oz) Pernod
Dash Angostura bitters
Shake well with crushed ice. Pour unstrained into a double old-fashioned glass. Garnish with mint sprigs.
Cheers and Mahalo!