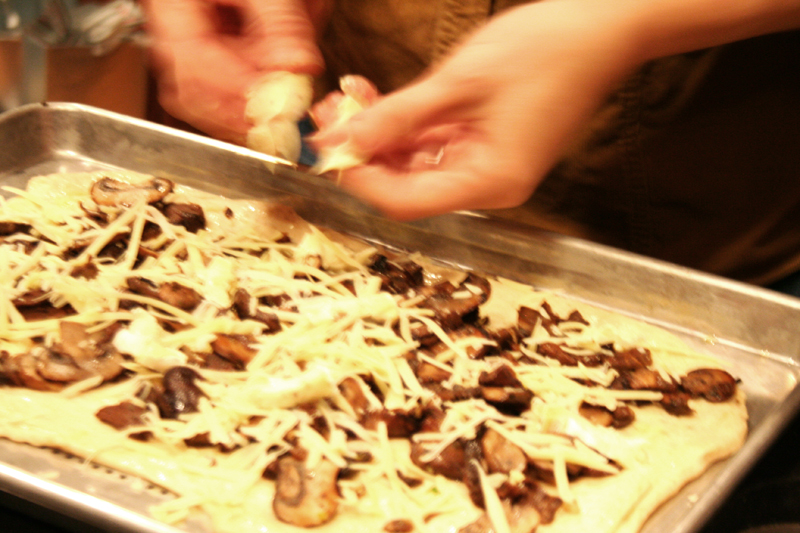 Within walking distance from our house, there are probably three or four amazing pizza places, with another 3 or 4 within a short driving distance. So there is no shortage of fantastic pizza options for us on the nights that I don't want to cook. But making pizza at home is so easy and so gratifying, that it is in my regular "cooking dinner at home night" repertoire. Once you can make a good crust, it's just a matter of deciding what crazy things you want to put on top. It's easily one of my family's favorite homemade dinners.
This past Saturday, we invited friends over to Chez Marker for a casual, grown up dinner. My friends Mary Kay and Carolyn are amazing cooks, so we tend go a little crazy on food whenever we get together. I asked if they wanted to help with pizza ideas and I think that we came up with some great pizzas, if I do say so myself – Fig and Goat Cheese, Mushroom, Brie & White Truffle Oil and Baked Potato & Chive pizzas. We also made a free-form pizza with arugula and prosciutto.
PREPARING INGREDIENTS FOR PIZZA AT HOME
A good way to manage your cooking time is to prepare all your pizza toppings earlier in the day, or even the day before. For our pizzas, we had to: soak some dried mushrooms, cook potatoes, fry bacon and make the fig jam. Your pizza dough will also need to be started earlier in the day. I started mine 2 1/2 hours before my guests arrived. I used Deborah Madison's dough recipe from Vegetarian Cooking for Everyone. Here is her recipe, which I doubled to make 4 large pizzas. Click here for pizza dough recipe.
We ended up with some amazing pizzas….
Mushroom Brie Pizza with White Truffle Oil