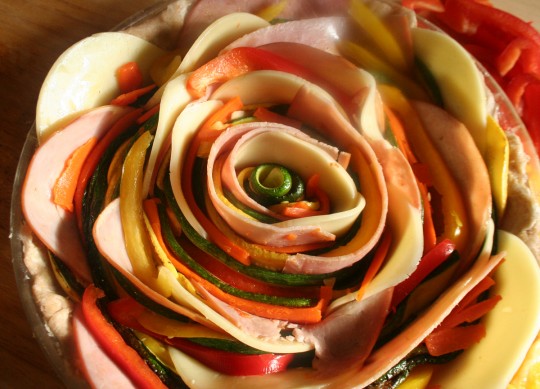 If it's been a while since I've been to the market for groceries, it can be challenging to come up with dinner. If I dig around in my fridge, most of the time I have eggs, cream, vegetables, cold cuts and cheese. I can turn those ingredients into sandwiches or a pasta dish, or a version of "breakfast for dinner". With the addition of a pie crust, I can turn all of that into a quiche. Using a beautiful, multi-colored rolled vegetable tart on Pinterest as inspiration, I decided to try my hand at a wrapped ham vegetable quiche. I think that my results aren't nearly as tidy as the one on the French site, but I was happy with my results. By wrapping all my ingredients from the center out, the simple Ham Vegetable Quiche became a savory, rainbow-colored dish ready for dinner or a party buffet. 
With this quiche, I purposely tried to use minimal eggs and cream. I've seen some recipes for quiche that use 4 to 5 eggs and 1 cup of milk. This version is very vegetable-dense and can easily be made vegetarian by omitting the ham.
Multi-colored Ham Vegetable Quiche
6 small zucchinis (about 1 1/2 pounds)
4 small yellow squash (about 1 pound)
4 medium carrots (fat carrots are best), peeled and ends trimmed
1/2 yellow bell pepper
1/2 red bell pepper
1 tablespoon cooking oil
8 slices provolone cheese (7 ounces)
6 slices ham
1 teaspoon sea salt
fresh ground black pepper, to taste
2 eggs
1/2 cup heavy cream
1 pie crust (1/2 pastry dough recipe) or puff pastry dough
The key to this beautiful quiche is to wrap each ingredient, one after the other, in a tight spiral from the center. 
SLICE and CUT the Ingredients
To make the ingredients soft and flexible, they have to be sliced very thin and pre-cooked. It's very important that the carrots, zucchini and yellow squash should all be sliced lengthwise.  To get that long, thin slice, I use a mandolin slicer or a sharp knife.  The bell peppers need to be sliced and seeded. Cut the provolone cheese and ham into thirds, so that they are roughly the size of the vegetable slices.
PRE-COOK the Vegetables
Carrots – In a medium saucepan of salted water, boil the carrot slices until they are soft, about 5 minutes. Drain and let cool.
Zucchini and Squash – In a saute pan, add a tablespoon of oil, and cook the zucchini and squash slices quickly. Brown them slightly on each side, then remove from the pan to a plate to cool.
When all the ingredients are sliced and cooked, they should look like this… 
Creating Your Multi-Colored Wrap – Assembling your Ham Vegetable Quiche
Roll out your pastry dough and cut it to fit your pan. I use a pie pan, but a deep-dish quiche pan works equally well. Shape the dough so that it comes to the edge and trim the edges, if necessary.
 Now is a good time to start preheating your oven to 350 degrees. 
Starting in the middle, begin wrapping the ingredients into what resembles a rosette, alternating the zucchini, the ham, the cheese, the carrots and the yellow squash. I save the red and yellow peppers till the end. It should look something like this.
Keep alternating layers and expanding the wrap all the way to the edge of the crust. When the entire pan is filled, I start tucking the bell pepper slices and left over carrot slices on top of the layers of squash, ham and cheese. Having the peppers and carrots on top makes even more colorful.
 See how pretty it is! And it hasn't even been cooked yet. 
Next, I add my egg & cream custard. In a small bowl, lightly beat the two eggs and the 1/2 cup of heavy cream. You can add the salt and pepper to this. Pour the egg custard on top of your quiche. I give the whole thing a bit of a shake, to settle the egg custard into the layers. It should look like this.
Place the pie pan onto a cooking sheet. Place in a pre-heated 350 degree oven and bake for 40 minutes, or until the custard is JUST firm. Remove from oven and cool. If you serve it too warm, it will still be runny (not a good thing).  Like any quiche, it's best served cold or at room temperature.