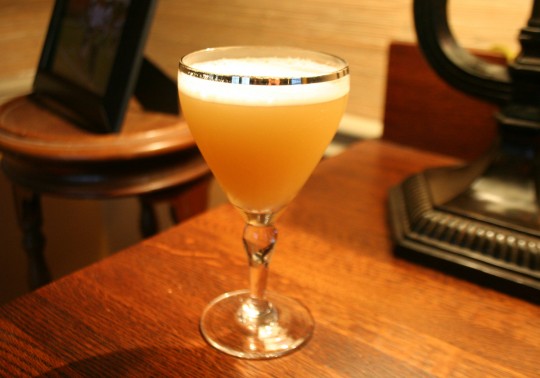 Winter is refusing to leave Atlanta on-schedule this year. With a bit of nip still in the air at night, it makes me want to linger a bit longer in the "brown liquor" season. The Tom Collins and Mojitos will have to wait a few more weeks, I guess. In the meantime, here's a yummy rye drink to hold us over… The Algonquin Cocktail.
 This cocktail is named for the New York City hotel that was home to the legendary Algonquin Round Table – a group of authors, playwrights, critics and actors that included Dorothy Parker, Robert Benchley, George S. Kaufmann, Alexander Woollcott, Tallulah Bankhead, Harpo Marx and Donald Ogden Stewart. Throughout the 1920's, the ever-evolving group, which became known as "The Vicious Circle", met each day for lunch at the Algonquin to trade quips and sparkling wit. Ironically, during the heyday of the Round Table, Prohibition was in full swing and the hotel owner was adamant about keeping the Algonquin Hotel "dry". So, even the hard-drinking Vicious Circle did not actually drink there. This cocktail originated in the 1940's, well after Dorothy Parker had vacated the premises.
The Algonquin Cocktail
1 ½ ounces rye
¾ ounces dry vermouth
¾ ounces pineapple juice
Shake with ice, and then strain into a cocktail glass. Cheers!