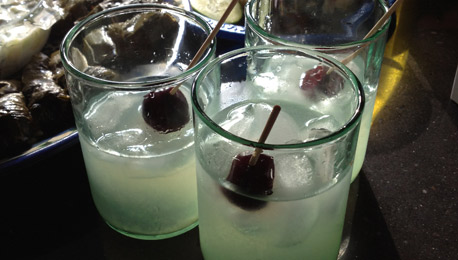 The Casino Cocktail is a pre-Prohibition-era gin cocktail. The recipe can be found in the classic The Savoy Cocktail Book, originally published in 1930. It is a light, dry, gin-forward cocktail served with a lovely cherry garnish. One note about the garnish… I have used fresh, pitted Bing cherries when they are in season, but you can also use any preserved cherries. I don't particularly care for the neon-red Maraschino cherries that you use to top an ice cream sundae, but you can also opt for the high-end Maraschino cherries from Luxardo. At $20 a jar, I'm not sure they are worth it. But, maybe you think it's worth a splurge. I know people who soak their own cherries in brandy. You can do this with dried cherries if fresh aren't in season. That seems like a a great alternative to me. Homemade is always best!
The Casino Cocktail
2 oz gin (Plymouth)
2 dashes orange bitters (Fee Brothers)
1/8 oz maraschino liqueur (Luxardo)
1/8 oz fresh lemon juice
a fresh cherry, pitted
Stir all the ingredients with ice and strain into a cocktail glass. Garnish with a skewered cherry and serve.
Happy Friday! Cheers!