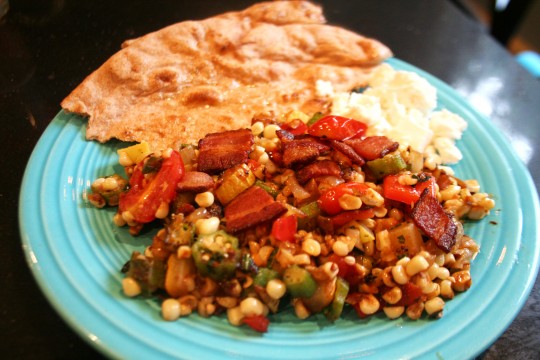 Not to point fingers or anything, but there are a lot of people who think Southern food is just about eating pig and frying things. Not that there is anything wrong with some pulled pork or an occasional piece of fried chicken, but I think that it's the side dishes that make the Southern table different. And no matter what Food Network might be showing you, most Southerners do not just eat deep-fried macaroni & cheese for dinner. We are blessed with a very long growing season, so we have access to lots of great vegetables most of the year. Most Southern cooks know how to cook veggies – green beans, cream corn and squash casserole, etc. One vegetable dinner I make in the summer is a Southern summer vegetable succotash. It's a great way to use up all those veggies in your CSA box this week.
Similar to a New England succotash, this vegetable stir fry is a mix of corn, bacon and whatever summer vegetables you have on hand. This recipe is made from what I just what had around; cherry tomatoes, yellow squash, okra, bell pepper, onion and basil. The difference between this and a classic succotash is the that there are no lima beans. Feel free to add them, though!
Southern Summer Vegetable Succotash
4 ears of corn, kernels cut from cob
1/2 red bell pepper, diced
2 cups okra, trimmed and sliced
1/2 large onion, diced
1 cup sliced cherry tomatoes
1 large yellow squash, diced
1/2 cup chopped fresh basil 
1/2 teaspoon ground cumin
1/2 teaspoon red pepper flakes
salt & fresh ground pepper
3-4 slices of good bacon
NOTE: If you are making a vegetarian version of this veggie fry, obviously leave out the bacon. You can add a bit of smoked paprika if you still want a bit of the smoky flavor.
Cutting, slicing and dicing
Start by cutting the corn from your cob. I know that there are special tools that you can buy for this, but it seems just as easy to turn the corn cob on it's end and use a sharp knife to slice the kernels off. Easy peasy.
Dice your yellow squash, onions and bell pepper. Slice your okra and cut up your bacon slices into 2 inch pieces.
In a medium-hot non-stick pan, cook your bacon pieces until they are brown. Take the pieces out of the pan and put on paper towels to drain. Set these aside for later.
Quick frying your vegetables
Once you've browned your bacon, you can either be "good" and drain away your bacon grease, or you can be "bad" and leave the bacon fat in the pan for vegetable frying. If you do take the bacon fat out of the pan, add a little bit of olive oil back into the pan for your saute. Put the pan back over a high heat and add the vegetables in stages.
First, the onion, bell pepper and squash. Saute quickly until the veggies begin to brown, then add the okra. Mix well. Saute for another 5 minutes, until the okra starts to become tender. Now, add your corn and tomatoes and cook 5 more minutes. Finally, add the basil, cumin, pepper flakes, salt & pepper. Stir and cook until the basil is just wilted. It's done! 
To serve your summer vegetable succotash, top with the crumbled bacon and add a simple side of rice or good bread. Enjoy!
Using Good Bacon – Benton's Bacon
Can we have a little sidebar about bacon? For health reasons (and keeping an eye out on my waistline), I try not to cook with bacon a lot. When I do use bacon, I usually use small amounts at a time, using it more as a flavoring. So, it's important to me that the flavor of the bacon be better than average. Quality over quantity. I guess this makes me a bacon snob, but I don't care. I only want to cook with really good bacon.
What makes a great bacon? Flavor, of course. This flavor comes from using real hardwood smoke and simple curing with salt and sugar only (no nitrates). Unlike mass-produced supermarket brands, great bacon like applewood-smoked Nueske's from Wisconsin and Pine Street Market (from here in Atlanta) are dry-smoked for weeks. My personal favorite bacon is from Benton's Country Hams, which is made in Madisonville, Tennessee. The owner, Allan Benton, has been quietly making country hams and bacon since the 1970's, but he's been "discovered" by the Thomas Keller, David Chang, other chefs and foodies over the last 10 years. He's been written up in New York Times, Esquire magazine, Huffington Post and numerous food blogs.  His bacon and country ham have become cult foods. It's pretty crazy. All I can add is that I've met the man and he is as down-to-Earth and East Tennessee as anyone you'll ever meet. You can still walk into his place off of U.S 411 in Madisonville and chat with him before you walk out with a few pounds of bacon and some great country ham.
Here is their website if you want to order online or drop by for a visit – Bentons Country Hams. Here is a great interview with Allan Benton, showing his smokehouse operation.