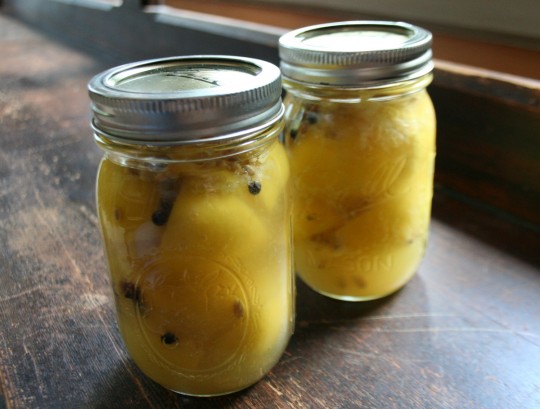 One of my favorite local bakeries, Alon's, makes one of my all-time favorite sandwiches – the Tunisian Spicy Tuna. It is a combination of quality canned tuna, potato, hard-boiled egg, capers, harissa sauce and, an unusual ingredient, preserved lemon. If you have had Moroccan or North African cuisine, you probably have run into preserved lemons before. You'll find it as an ingredient in tangines and stews. It is essentially a salty, lemon pickle. 
Preserved lemons are whole lemons, sliced open, put into jars, then covered in salt and lemon juice to cure. I've seen jars of preserved lemons in gourmet food shops and catalogs. They are laughably expensive, considering how easy they are to make at home.
Making Preserved Lemons at Home
To make preserved lemons at home, you need firm, fresh lemons. You want smaller lemons, so that they will fit easily into a jar.  Most lemons from the grocery store or market have a wax coating, so you will need to scrub the outside of the lemons with warm, soapy water and a sponge to get as much of the wax off as possible. I also give them a good rub down after that with a dry dish cloth. To soften the lemon peel, they need to be soaked in water. Some recipes say to soak them overnight and some say to soak them for three days. I just soak mine for one night. I put mine in a mixing bowl, put a saucer on top of them to keep them from floating to the top, then cover them with cold water.
The next afternoon, you should be ready to go. I had 7 lemons, which I figured I could divide into two medium-size Ball canning jars. I sterilized the jars and lids for about 5 minutes in boiling water and removed them to cool.
Cut and Salt Your Lemons
I quartered each of my lemons, by cutting length-wise, starting at the tip, and stopping 3/4's of the way down, keeping the quarters attached at the end. Putting the cut lemons into a bowl, I rubbed a couple of tablespoons of kosher salt into the interior of each lemon.
Then, pack your salted lemons into your sterilized jars. Using a muddler or a sturdy kitchen spoon, gently press the lemons down to release their juices inside the jar. 
At this point, it's optional to add some typical North African spices or to just keep it a plain salt pickle. For this batch, I added a teaspoon full of mixed whole spices to each jar – whole coriander, black peppercorns and cloves.
Finally, add more kosher salt (another tablespoon) and top the jar with fresh lemon juice. That's it. Just put the lid on the jars and let it sit in a warm place for 3 to 4 weeks. The whole process, minus the soaking, takes about 15 minutes. Easy peasey.
Cooking with Preserved Lemons
To use them, you really just want the peel. So, remove them from their jar, rinse the salt off, scoop away the pulp, then chop or slice to add to your dish. WHEN YOU REMOVE LEMONS FROM THE JAR… be sure and use a  clean spoon or set of tongs so that you don't contaminate the rest of the jar. In other words, don't just dig them out with your dirty fingers! They will keep for about a year at room temperature.
Through the curing process, they take on an intense, salty, silky lemon flavor. I've read that preserved lemons are a way to add umami, or a savory taste, to vegan dishes.Try them in a Chicken and Olive tangine. Or a couscous salad. Or to top some grilled fish. Enjoy!