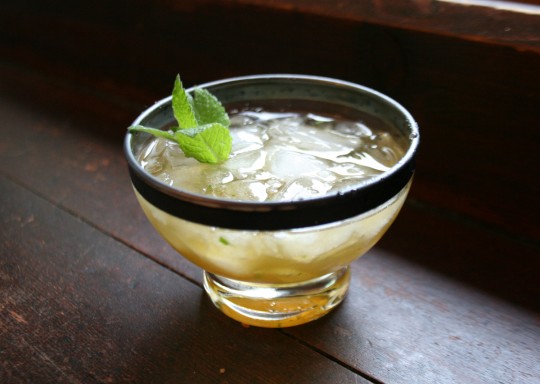 It's only the first week in May but already my garden is overrun with spearmint. It's not to the point where it's choking out my carrots or strawberry plants yet, but give it couple of weeks with some steady rain and I'll be in trouble. Luckily, it's Kentucky Derby weekend so I can pull some of that mint up and use it in a Mint Julep. 
Mint juleps have been the traditional drink of the Kentucky Derby at Churchill Downs since 1938. Traditionally served in pewter cups, it is a "smash" of simple syrup muddled with fresh spearmint and bourbon, poured over crushed ice. I like to think of it as a grown-up mint/bourbon slushie.
Mint Julep
2 oz Kentucky Bourbon
2 tsps. simple syrup*
handful of fresh mint leaves (1/4 cup?)
Put your mint leaves and simple syrup into a cocktail shaker. Use a muddle or bar spoon to crush the leaves into the syrup. This will release the mint oils and make it very fragrant. Pour the bourbon into the mint mix and stir or shake. Strain the bourbon/mint mix into a pewter cup or highball glass filled with finely-crushed ice. Garnish with fresh mint leaves.
*To make simple syrup, put equal amounts water and sugar into a small saucepan. I usually do 1/2 cup of each for a small batch. Put the pan over low heat and stir the sugar into the water to dissolve. Heat until the sugar melts completely into the water. Remove from heat and let it cool enough to put in the fridge. It will keep for a couple of months. You can use it to make cocktails like margaritas, Tom Collins, French 75's, mojitos, etc.