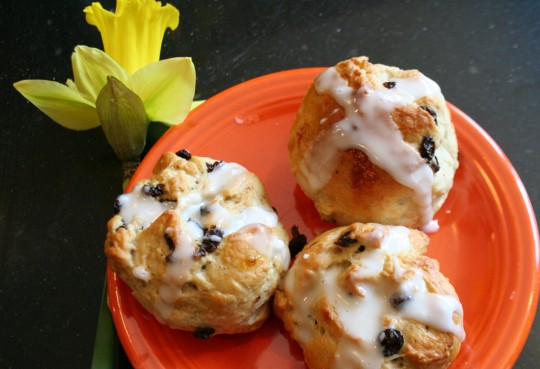 If you ever had to learn to play the recorder in elementary school, you probably learned the song "Hot Cross Buns". "One ha' penny, two ha' penny." You know the one. If you've never actually eaten a hot cross bun, they are a delicious, sweet yeast roll, made with currants, cinnamon, allspice and cloves, then marked with a cross of icing to celebrate Easter. Making and eating hot cross buns for Good Friday is an English tradition going back to the Tudors, after the small spiced cakes were outlawed for most of the year, excepting Easter week.  We carry on this tradition at my house and you can too. Here is a step-by-step guide on making hot cross buns at home. At the end of this post, I've also included instructions on how to make hot cross buns ahead of time, in case you are pressed for time during the holidays.
To Scald or Not to Scald
Hot cross buns are a sweet milk bread and that requires making them with scalded milk. When milk is added to bread dough, it has to be scalded, or heated to 185 degrees, to kill any bacteria or enzymes that could affect the performance of your dough. With today's pasteurized milk, you might wonder if that is still necessary. To scald or not to scald? I say "yes", scald your milk! Scalding completes the breakdown of the milk protein, making for a better rise and it improves the flavor and texture of the bread.
Hot Cross Buns – Step-by-Step
makes 16-20 buns
Ingredients:
2/3 cup dried currants (or raisins)
1/2 cup simple syrup (1/4 cup sugar & 1/4 cup water heated together until sugar melts)
5 tablespoons unsalted butter
1 packet active dry yeast
1 teaspoon sugar
2 cups bread flour
1 ½ cups all purpose flour
¼ tsp ground nutmeg (I use fresh grated nutmeg)
¼ tsp cinnamon
¼ tsp ground allspice
Hot Cross Bun icing
1 cup powdered sugar
2 tblsp lemon juice
Step One: Soak your fruit
To plump up and moisturize your dried fruit, start by soaking the dried currants or raisins in a simple sugar syrup. You can do this earlier in the day, or about an hour ahead of time. Make the simple syrup by melting 1/2 cup of sugar in 1/2 cup of water over a low heat. Pour the warm simple syrup over the currants.
Step Two: Scald your milk
Melt 5 tablespoons butter and let cool. While the butter is cooling, scald 1 cup of whole milk to 185 degrees. Let cool for a few minutes until its temperature comes down to about 110 degrees.
Step Three: Make your dough
Pour the warm milk into a stand mixer and add:
1 packet active dry yeast
1 tsp sugar
Blend in the mixer, then let it rest for 10 minutes, or until the yeast has activated and become nice and bubbly. Add the cooled, melted butter, 2 1/2 tablespoons sugar, 1 large egg and 1 teaspoon of salt.
Using a dough hook, mix these ingredients thoroughly and add:
2 cups bread flour
1 ½ cups all purpose flour (and up to 1/2 cup more)
¼ tsp ground nutmeg
¼ tsp cinnamon
¼ tsp ground allspice
Mix until the dough comes together in a moist, but not sticky, dough. Add up to 1/2 cjup flour more if needed. Turn out onto a floured surface and knead until the dough is smooth and elastic – about 10 minutes. Put into an oiled bowl, turning to oil the surface of the dough. Cover with plastic wrap and let rise for 1 to 1 ½ hours.
Step Four: Fold in fruit
When it has doubled in size, punch the dough down and let it rise again for 30 minutes. Drain the currants and fold them into the dough.
Step Five: form into buns and let rise again (proofing stage) 
Form into buns by cutting the dough in half with a dough cutter, then halving each of these, again and again, until you get 24 pieces of dough. Take each piece and roll them a bit in your hand to form a ball, then place on a greased pan or baking dish. I spread my dough balls over two pans. Cover these and let rise for another 1 to 1/1/2 hours. A good way to do this second rise, or proof, is to heat your oven to 200 degrees with a pan of hot water on the lower rack to create a warm, moist proofing environment. Turn off the oven and place your rising buns in to reach their completed rise.
Step Six: add egg wash and bake
Preheat your oven to 375 degrees.
After the formed buns have risen, they are ready to be baked. Traditionally, hot cross buns are made by cutting a cross into each bun with a sharp knife or kitchen shears. This creates an indention in the baked buns to hold the icing cross.  I usually omit this step, but it does look nice either way.
For the egg wash, mix an egg in a bowl with 1/4 cup of water, then use a pastry brush to lightly brush across the top of each risen bun. You can also use melted butter for this. The egg wash gives the buns a nice shiny appearance after they are baked.
Place the buns into your preheated oven. Bake for about 20-25 minutes, or until golden brown. When they come out of the oven, put them on a cooling rack.
Step Six: cool and decorate with icing cross
While the buns are cooling, make an icing out of:
1 cup powdered sugar
2 tablespoons lemon juice
When the buns are completely cool, they are ready to decorate with their icing crosses. You want them to be cool, so that the icing doesn't just melt and roll off the buns.
Before you add the icing, place the cooling racks of buns over a cookie sheet or waxed paper to catch extra the icing. Then, with a spoon, drizzle the icing over your buns, into the shape of a cross. They're ready to eat!
Sharing a Hot Cross Bun with a friend on Good Friday is supposed to cement that friendship for the rest of the year. So… make a lot.
Make ahead note…
If you are pressed for time during the holiday weekend, you can make the bun dough ahead of time and freeze it. What has worked for me is to freeze the dough right after you have formed the dough into balls and they have risen. Just place the risen buns, still on a baking sheet, into the freezer. About an hour before you are ready to bake, take them out of the freezer and leave them out at room temperature for two hours. Bake as directed. ALSO, you can take the frozen buns out of the freezer and let them thaw overnight in the fridge. They still need to come back up to room temperature, so pull them out of the fridge  an hour before baking. Enjoy!